2nd Annual Youth Ambassador Fashion Show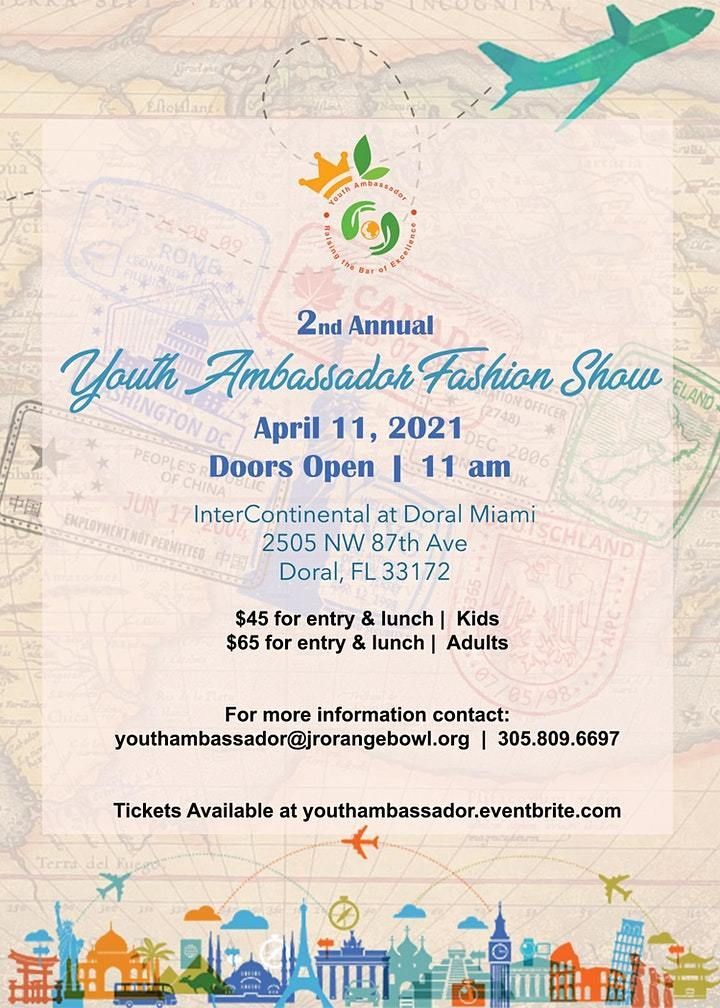 Participants will work the board room during the interview with our selection committee prior to strutting across the catwalk.
About this Event
The Junior Orange Bowl Youth Ambassador program provides young women the opportunity to be engaged with the community through service projects that instill leadership skills. The program offers a variety of workshops throughout the year which feature industry professionals who provide education and mentorship opportunities. The mission is to empower today's youth to become tomorrow's leaders.
A selection process takes place annually, it includes a fashion show and an interview. This two part selection process will result in the crowning of the 2021 Youth Ambassadors.
The selection committee will conduct one on one interviews with each participant. Participants should possess the following qualities: kindness, grace, and a desire to engage in community service.
The coveted Youth Ambassador titles are:
• Teen Youth Ambassador: Ages 14 through 16 (One Ambassador Selected)
• Pre-Teen Youth Ambassador: Ages 11 through 13 (Two Ambassadors Selected)
• Jr. Pre-Teen Youth Ambassador: Ages 8 through 10 (One Ambassador Selected)
The Youth Ambassador Fashion Show Interview is mandatory for participation in our 2nd Annual Fashion Show on Sunday, April 11th 2021.
Location: InterContinental at Doral Miami
2505 NW 87th Ave
Doral, FL 33172
Doors open at 11:00 am
$45 for entry and lunch / Kids
$65 for entry and lunch / Adults
Tickets available via youthambassador.eventbrite.com