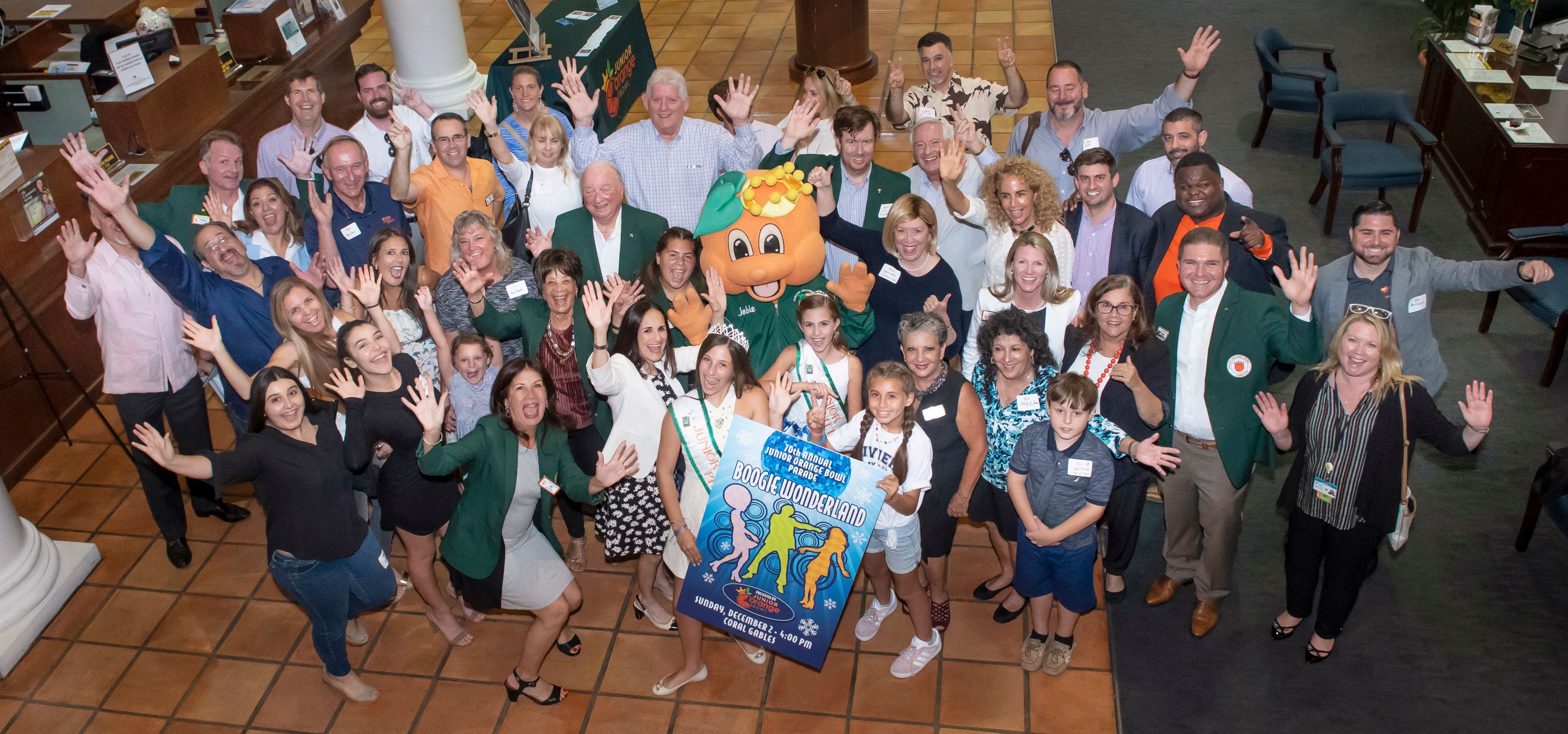 June 29, 2018 – Coral Gables, FL – The Junior Orange Bowl is feeling groovy as its reached a milestone and celebrated the unveiling of the organization's 70th parade theme last week at the AmTrust Bank with members and guests in support of empowering the youth of the world. Parade Co-Chair Don Slesnick III, President Frandley DeFile, Jobie and the Junior Orange Bowl Royal Court revealed the disco chic inspired, "Boogie Wonderland" theme for the annual community parade. The theme will commemorate Junior Orange Bowl's seven decades of impact on the community, while paying homage to the 1970's.
Don Slesnick III parade co-chair of the Junior Orange Bowl proclaimed, "We are so very excited to be celebrating the 70th Anniversary of the Junior Orange Bowl Parade. A great way to kick-off the holiday season; the parade will showcase the redesigned Miracle Mile as it travels through the heart of Coral Gables."
In celebration of active youth and community, the parade will take place on Sunday, December 2, 2018. The parade will march through downtown Coral Gables, the Host City of the Junior Orange Bowl, and stride along redefined Miracle Mile. The Junior Orange Bowl Parade is a 70 year tradition in South Florida created especially for kids – and perfect for families that is free to attend and open to the public. Fostering community pride, the parade features a vivid arrangement of marching bands, colorful floats, community groups and creative parade units.
The Junior Orange Bowl Festival is possible with the sustained support of its Festival Sponsors the Orange Bowl, Nicklaus Children's Hospital, City of Coral Gables and Miami-Dade County.
Please contact parade@jrorangebowl.org for participation or sponsorship information.
PEACE AND LOVE
Be sure to watch the 70th Annual Parade Theme Unveiling Recap Video.
https://www.youtube.com/watch?v=baq84xHW2pY
To view more photos, click the link below.
https://www.facebook.com/pg/jrorangebowl/photos/?tab=album&album_id=1830261590350916