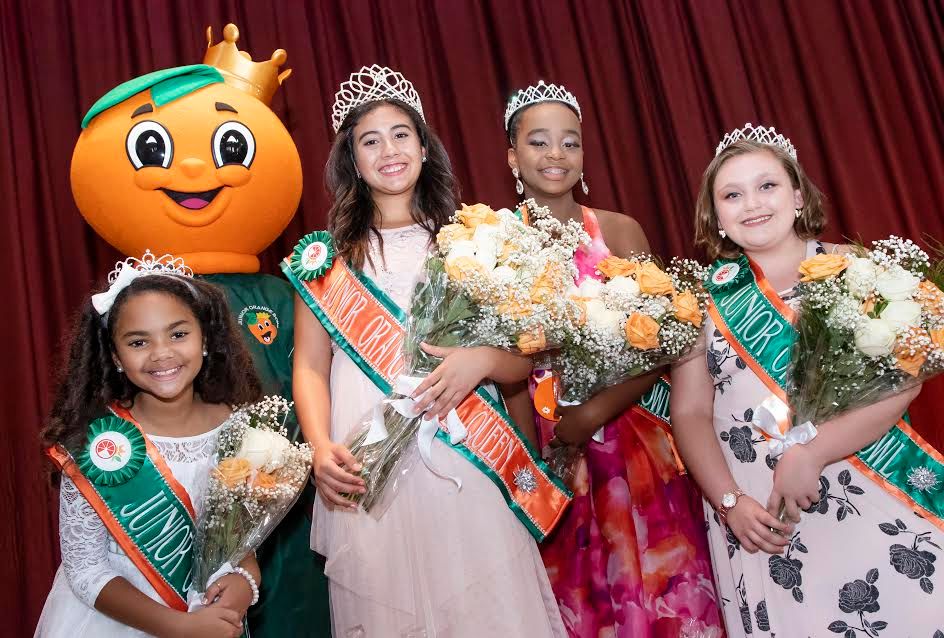 The Junior Orange Bowl celebrated a 67-year tradition of crowning its Royal Court on Saturday, September 15 at the Coco Plum Woman's Club in Coral Gables. Queen Sofia Machado, along with Princess Takiyah S. Belfort, Princess Addison Arce, and Little Sister Khloe Selena Longsworth will reign over all Junior Orange Bowl events during the 2018 – 2019 festival season.
Royal Court Chair, Luisaura Alvarez, says, "We're proud of the outstanding young women who gave their all during the Royal Court finals this year. I'm very excited to get to know the new Royal Court and to watch them shine in their new roles." She went on to say, "With all the exciting new events planned for the Royal Court this year, I look forward to sharing in new experiences with these four wonderful young ladies and empowering them during their yearlong journey with the Junior Orange Bowl."
Junior Orange Bowl President, Frandley DeFilie, says, "Congratulations to our 2018-19 Royal Court! We look forward to keeping in contact with all the participants involved in this year's competition. Our goal is to instill and develop leadership and a passion for community service through the Royal Court Program.  Participants will be invited to ongoing workshops which aims to provide these young ladies with a platform to grow into future influential community leaders." 
The Royal Court will serve as volunteers and goodwill ambassadors at all the 2018-2019 Junior Orange Bowl Festival events. The Royal Court Leadership program will consist of a series of opportunities for the court and their peers to make a positive difference in the community through volunteer activities, social and educational workshops, and leadership development through mentorship.
The Queen, Princesses, and Little Sister will also ride on The Royal Court Float at the organization's marquee event, the 70th Junior Orange Bowl Parade down Miracle Mile in downtown Coral Gables on December 2nd. For Royal Court sponsorship opportunities, or to request a Royal Court appearance at your event, visit https://www.juniororangebowl.org/what-we-do/royal-court.html.