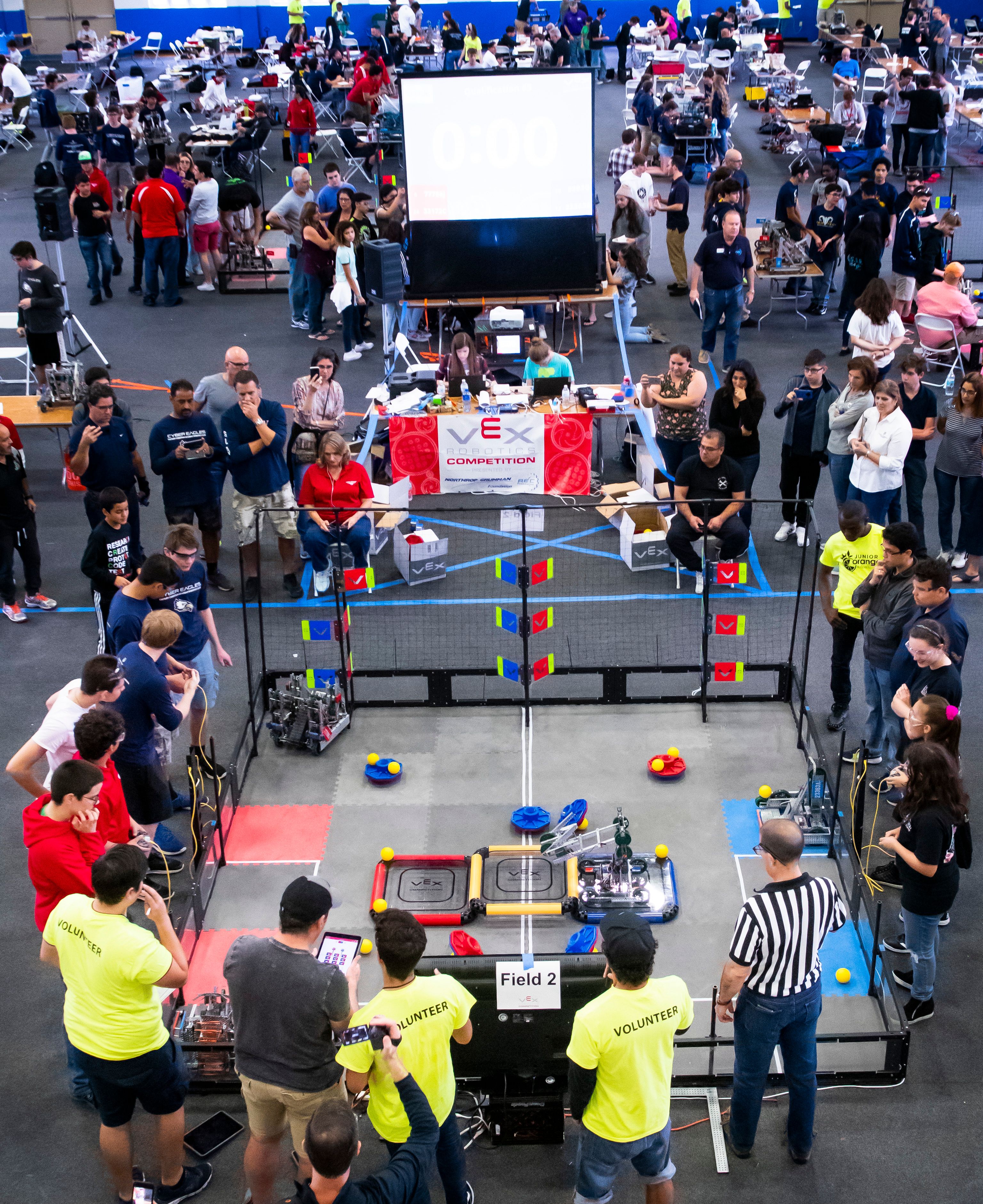 All Bots on Tech – Partnered with Bots for All, the Junior Orange Bowl lead a two-day Robotics Competition, approved by "The Robotics Education &  Competition (REC) Foundation, on November 3-4. The Junior Orange Bowl – Bots for All Robotics Competition welcomed elementary middle and high school students with the opportunity to experience these moments, many for the first time, through an exciting engineering challenge.
A total number of 105 teams of young South Florida future engineers, gathered at the Miami Springs Recreation Center to compete. Many of the eager competitors arrived up to an hour before the event to prepare for the day and set up their Bots in the designated practice area.
­­ACSW Tigers, Quantum Science, Pinecrest Preparatory, and NSU University School earned the competition's highest award – the Excellence Award – in their divisions. The Excellence Award is presented to a team that exemplifies overall excellence in building a high quality VEX robotics program. Key criteria included the team ranking in design, robotics skills, tournament qualification matches, other judged award rankings, and the team's engineering notebook. Judges also considered the team behavior, sportsmanship and professionalism at the event.
An important objective of the Junior Orange Bowl Robotics Competition is to inspire students, fueled to foster growth and interest in robotics among Miami-Dade County middle school, high school, and now elementary school students. In addition to acquiring valuable engineering skills, the future innovators gain life skills such as team-work, communication, collaboration and critical thinking.
Congratulations to all of the dedicated engineers and to top competitors from the Junior Orange Bowl-Bots for All Competition earned places in The CREATE Foundation National Championship in Iowa, the Florida State Championships which will be held in Miami and Tampa, and then earn spots to compete in the VEX World Championships!