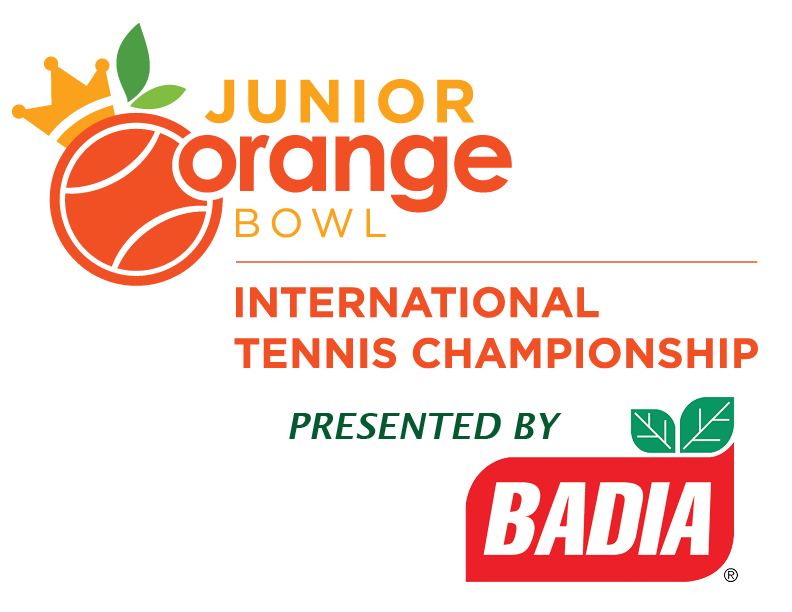 Media contact: Jeff Shain
Phone: +1-305-987-8638
jeffshain@gmail.com

CORAL GABLES, Fla. (Dec. 13, 2018) – As recently as Sunday afternoon, Eleana Yu wasn't sure whether she was going to fly back to Florida for the Junior Orange Bowl International Tennis Championships.
A strained elbow had been a factor in cutting short Yu's last visit to South Florida, and she still hadn't gone with full gusto after allowing it to rest.
"But I really wanted to come here," said Yu, seeded No.2 in the Girls 14 & under division in her final year of Junior Orange Bowl eligibility.
So far, so good. Not only has Yu cruised through her first two rounds at the University of Miami's Neil Schiff Tennis Center, she's done it without dropping even one game. Thursday's 6-0, 6-0 romp over Canada's Orly Ogilvy made her the only player in any draw that has yet to lose a game.
"Yeah, I'm a little worried now," Yu said. "I feel like when I go into my next couple of matches, I'm going to lose some games. I'm kind of nervous about that."
Yu's excellence was just part of another day in which seedings largely held to form at the Junior Orange Bowl. Among the top eight seeds in all four divisions, 26 of the 32 advanced to Friday's Round of 32.
That includes the No.1 seeds in each draw, who combined to surrender just nine games between them on Thursday. One-third of those came in Clervie Ngounoue's 6-1, 6-2 win over Regina Alcobe-Garibay in the Girls 12s that took nearly 90 minutes to play despite the lopsided score.
"I think it was just my mentality," said Ngounoue, runner-up in the Girls 14s earlier this month at the Eddie Herr International in Bradenton, Fla. "I just needed to wake that up a little bit to get into the game."
Victor Lilov, No.1 among the Boys 14s, cruised with a 6-2, 6-0 win over Joseph Phillips (Norcross, Ga.). Rudy Quan, who tops the Boys 12s, advanced by the same score over Canada's Lucas Kimelman.
Girls 14s top seed YaYi Yang, who needed a little extra to keep her Junior Orange Bowl opener from going three sets, had no such problem on Friday with a 6-1, 6-1 romp over Sage Loudon (Delray Beach, Fla.).
Yu is on the opposite side of that bracket, ranked No.1 by the USTA among Girls 14s after winning the Easter Bowl in March and the U.S. Hardcourts title five months later in Georgia.
She also reached the Round of 16 at the USTA Clay Courts in July and has spent most of her post-summer schedule taking on older competition. That includes the Orange Bowl International for Girls 16s and 18s earlier this month in nearby Plantation, Fla.
Yu's stay at that event was brief, though, losing in the first round of the Girls 16s as she was hampered by medial epicondylitis, also known as "golfer's elbow." It's a strain of the inside of the elbow, caused by inflamed tendons that bend the wrist toward the palm.
"I don't even know how I got it," said Yu, who treated the injury at home with rest and plenty of ice. When she returned to hitting sessions, she estimated she only went with 70 percent effort.
She has been playing this week with kinesio tape down her arm and reports no pain. "I feel good," she said.
Ngounoue won without her best stuff Thursday, struggling with her forehand as she netted some relatively easy balls and just missed the line with others. Even so, she trailed only once when Alcobe-Garibay won the opening game of the second set.
"I was losing specific points that I thought to myself I should make," said Ngounoue, noting both players took advantage of a leisurely pace between points. "But she wasn't rushing, so I was going to take my time and think about what I should do next."
Ngounoue expects the Junior Orange Bowl to be her final bow in the Girls 12s, as she focuses on playing up in the new year.
"I've been looking forward to the (Junior) Orange Bowl," she said. "This is my third year here and hopefully I can keep it going."
Complete results can be found online by going to JrOrangeBowl.org/tennis, then clicking on the USTA link.
Each division is contested at a different location – Crandon Park Tennis Center (Boys 14s), Schiff Tennis Center (Girls 14s), Salvadore Tennis Center (Boys 12s) and William H. Kerdyk Biltmore Tennis Center (Girls 12s).
The Junior Orange Bowl International Tennis Championship has a rich history of bringing the world's most promising young players to Coral Gables. Its list of champions who later won Grand Slam titles includes two-time Wimbledon champion Andy Murray (Boys 12s, 1999) and 2009 U.S. Open winner Juan Martin del Potro (Boys 14s, 2002).
Other notable participants have included Roger Federer, Sloane Stephens, Caroline Wozniacki, Marin Cilic, Maria Sharapova, Andy Roddick, Andre Agassi, Monica Seles, Chris Evert, Jim Courier and Mary Joe Fernandez.
The International Tennis Championship is one of 15 athletic, artistic and cultural events that make up the Junior Orange Bowl International Youth Festival, celebrating its 70th anniversary in 2018. The festival draws more than 7,500 youth participants to South Florida's community each year.
For more information on the Tennis Championship or other Junior Orange Bowl activities, visit JuniorOrangeBowl.org.
#####