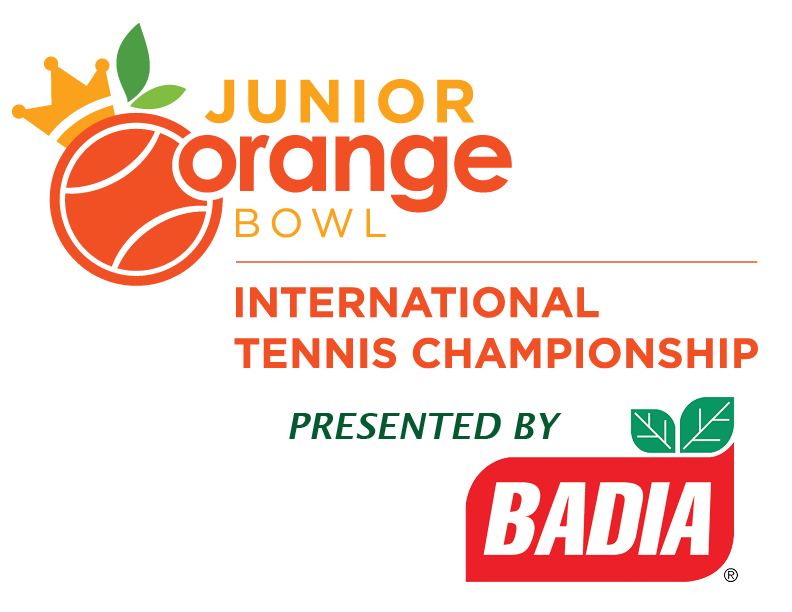 Media contact: Jeff Shain
Phone: +1-305-987-8638
jeffshain@gmail.com

CORAL GABLES, Fla. (Dec. 14, 2018) – Until arriving at this week's Junior Orange Bowl Tennis Championships, it had been 11 months since Victor Lilov entered a 14 & under competition as he opted to test himself against older rivals.
On Friday, he got a reminder that tests can come at any level.
The top seed found himself in a prolonged tussle to reach the Round of 16, standing two points from being extended to a third set before a closing flurry that dispatched Alexander Visser 6-3, 7-6 (7-5) in a little over two hours at Crandon Park Tennis Center.
"I can definitely take with me that I played good points in the tiebreaker when it mattered most. I'll work on the other things," said Lilov, seeking to add the Orange Bowl's Boys 14s trophy to the one he captured two years ago in the Boys 12s.
Though all the top-3 seeds in each division continued to advance, Friday brought a different vibe as the matchups got tougher.
Taiwan's YaYi Yang, the top Girls 14s seed after winning the WTA Future Stars last month, advanced with a 7-5, 6-3 victory over Andorra's Victoria Jimenez. No.2 seed Eleana Yu, who had not surrendered a game in her first two matches, dropped five in a 6-1, 6-4 win over Ria Bhakta (Saratoga, Calif.).
The top seeds in the 12s brackets had it easier. Clervie Ngounoue (Washington, D.C.) continued her march through the Girls 12s by defeating qualifier Sahana Madala, 6-1, 6-1.
Rudy Quan (Sacramento, Calif.) didn't drop a game in ousting Canada's Matthew Yang, extending his record to 40-1 in Boys 12s competition over the past 12 months.
That division also will see a Round of 16 meeting Saturday between twin brothers, as the Phoenix duo of Kaylan and Meecah Bigun took the final steps to a rare family showdown.
"This doesn't really happen," said Kaylan Bigun, who staved off two match points in a marathon against Yubel Ubri before holding up his end of the pairing. "We're just going to go out there and battle it out."
Both Biguns are seeded, with Kaylan holding the No.8 slot and Meecah among a cluster given a No.9 seed. "We're kind of equal," Kaylan acknowledged.
They won't be equal, though, in terms of energy spent to get to the match. While Meecah cruised to a 6-2, 6-2 win over Argentina's Maximo Zeitune, Kaylan needed three hours, 15 minutes to finish off his 7-5, 3-6, 7-5 triumph over Ubri.
The diminutive Ubri had a chance to serve out the match after breaking Bigun's serve in a marathon game that lasted nearly 20 minutes for a 5-3 advantage. But Bigun captured the next four games, including one on his serve after falling into a 15-40 hole.
"He's a really tough player," said Bigun, who rested his head on the scorer's table as he reported his final score. "He got to almost every ball. He made me play so much."
Lilov has not played at the Boys 14s level since winning the Les Petits As trophy last January in France, completing a rare double after a victory at the Junior International Teen Tennis showcase in England. Since then, he's played a steady diet of 16s competition, with an occasional foray into the 18s.
The Junior Orange Bowl, though, offers a chance to join some rarified air. He seeks to become just the 10th player in history to prevail in both boys' divisions.
"I was always going to play this tournament," the North Carolina native said. "There's always pressure, which I expected today. But maybe it's good to go through this for the future."
Lilov missed a chance to break Visser late in the second set, then trailed 5-4 in the tiebreak before firing an ace and a backhand winner on his serve. He got the mini-break on the next point to seal it.
Next up for Lilov will be Nico Godsick, son of tennis agent Tony Godsick and Mary Joe Fernandez who took his third three-set triumph in as many days when he outlasted New Yorker Cooper Williams, 1-6, 7-6 (8-6), 6-4.
Godsick twice stood two points from elimination in the second set, first with Williams leading 5-3 and later with the score 6-6 in the tiebreak. In both cases, he managed to win back-to-back points.
"I just told myself I was going to go out there and give it my all," Godsick said. "Make him win it on his terms; I'm not going to lose it."
Complete results can be found online by going to JrOrangeBowl.org/tennis, then clicking on the USTA link.
Each division is contested at a different location – Crandon Park (Boys 14s), Schiff Tennis Center (Girls 14s), Salvadore Tennis Center (Boys 12s) and William H. Kerdyk Biltmore Tennis Center (Girls 12s).
The Junior Orange Bowl International Tennis Championship has a rich history of bringing the world's most promising young players to Coral Gables. Its list of champions who later won Grand Slam titles includes two-time Wimbledon champion Andy Murray (Boys 12s, 1999) and 2009 U.S. Open winner Juan Martin del Potro (Boys 14s, 2002).
Other notable participants have included Roger Federer, Sloane Stephens, Caroline Wozniacki, Marin Cilic, Maria Sharapova, Andy Roddick, Andre Agassi, Monica Seles, Chris Evert, Jim Courier and Mary Joe Fernandez.
The International Tennis Championship is one of 15 athletic, artistic and cultural events that make up the Junior Orange Bowl International Youth Festival, celebrating its 70th anniversary in 2018. The festival draws more than 7,500 youth participants to South Florida's community each year.
For more information on the Tennis Championship or other Junior Orange Bowl activities, visit JuniorOrangeBowl.org.
 ####