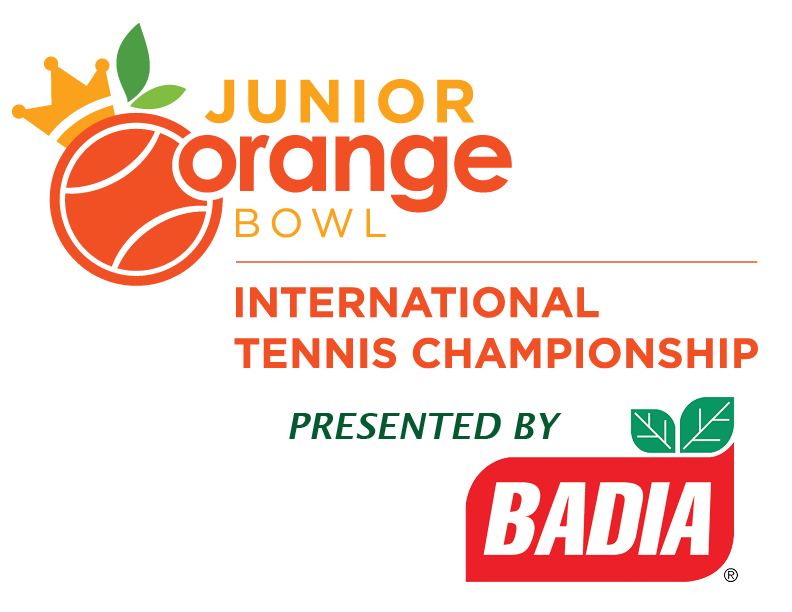 Media contact: Jeff Shain
Phone: +1-305-987-8638
jeffshain@gmail.com

CORAL GABLES, Fla. (Dec. 15, 2018) – Victor Lilov still wasn't thrilled with his play as he advanced to the Boys 14 & under quarterfinals at the Junior Orange Bowl International Tennis Championships on Saturday.
On the bright side, the top seed – and the rest of his Boys 14s counterparts – didn't have to deal with weather fallout.
Rain pelted the tournament's other three venues in late morning and continued intermittently throughout the afternoon, forcing nearly everyone in the girls' divisions to return early Sunday and be prepared for an afternoon encore to get back on schedule.
The Boys 12s managed to finish under Salvadore Park's lights after a delay of more than six hours, with three courts dry enough to resume the suspended main draw matches.
The weather exception came in the Boys 14s, where Key Biscayne's Crandon Park Tennis Center was south and west of the rain's path. Passing clouds and gentle breezes greeted those players, with the quarterfinals set by early afternoon.
Lilov's straight-sets victory over Nico Godsick led a parade of six of the top eight seeds to reach the quarterfinals. Only No.4 Juncheng Shang (Naples, Fla.) was ousted on Saturday, one day after the draw lost seventh seed John Kim.
"If I want to (win the title), I'm going to face three very good players and I'm going to have to beat them," said Lilov, who won the Boys 12s crown two years ago.
After facing older competition all summer and fall – he has not played Boys 14s singles since January – the North Carolina native now seeks to become just the 10th player in Junior Orange Bowl history to capture both divisions.
Though Lilov has yet to drop a set, his two most recent matches haven't exactly been a breeze. He needed more than two hours Friday to dispatch Alexander Visser, going to a tiebreak in the clinching second set, and got off to a slow start against Godsick.
"I think I'm a little too much up and down," Lilov said. "I wish I was a little more steady. Sometimes my shots leave me. I start getting a little too big or too short – the feet stop and my opponent gets control of the point."
The smaller Godsick, son of tennis agent Tony Godsick and Mary Joe Fernandez, never fell more than two games behind in the opening set. Lilov jumped out to a 3-0 lead to take control of the second set, soon pushing the advantage to 5-1.
"I think I could still play better," Lilov said. "It was better than yesterday, but I still have a lot to improve on."
Lilov next faces fifth seed Constantinos Koshis of Cyprus, who advanced with a 6-1, 6-2 win over Canada's Jaden Weekes. Sunday will mark their first meeting.
Though several of Salvadore Park's claycourts still had standing water in late afternoon, the three that were dry enough managed to keep the Boys 12s on schedule.
Top seed Rudy Quan (Sacramento, Calif.) was pulled off the court needing just three points on his serve to finish off his match against Kazakhstan's Danial Rakhmatullayev. He took four, with a double fault mixed in before closing out a 6-3, 6-2 victory.
"It feels like a really long match even though you're not playing," said Quan, "because your mind's still on the match."
Not long thereafter, the Bigun twins resolved their sibling battle as Kaylan Bigun – older by eight minutes – closed out a 6-4, 6-4 triumph over brother Meecah. One day earlier, Kaylan had survived a 3-hour, 15-minute marathon to earn his spot in the showdown.
On the girls' side, just one match in the round of 16 reached its conclusion before rain halted play. Argentina's Solana Sierra made quick enough work in the Girls 14s to dispatch qualifier Blanka DeMicheli, 6-1, 6-3.
Taiwan's YaYi Yang, seeded No.1 in the Girls 14s, came off needing just one game to close out her match against Violeta Martinez.
Complete results can be found online by going to JrOrangeBowl.org/tennis, then clicking on the USTA link.
Each division is contested at a different location – Crandon Park (Boys 14s), the University of Miami's Schiff Tennis Center (Girls 14s), Salvadore Park (Boys 12s) and William H. Kerdyk Biltmore Tennis Center (Girls 12s).
The Junior Orange Bowl International Tennis Championship has a rich history of bringing the world's most promising young players to Coral Gables. Its list of champions who later won Grand Slam titles includes two-time Wimbledon champion Andy Murray (Boys 12s, 1999) and 2009 U.S. Open winner Juan Martin del Potro (Boys 14s, 2002).
Other notable participants have included Roger Federer, Sloane Stephens, Caroline Wozniacki, Marin Cilic, Maria Sharapova, Andy Roddick, Andre Agassi, Monica Seles, Chris Evert, Jim Courier and Mary Joe Fernandez.
The International Tennis Championship is one of 15 athletic, artistic and cultural events that make up the Junior Orange Bowl International Youth Festival, celebrating its 70th anniversary in 2018. The festival draws more than 7,500 youth participants to South Florida's community each year.
For more information on the Tennis Championship or other Junior Orange Bowl activities, visit JuniorOrangeBowl.org.
#####