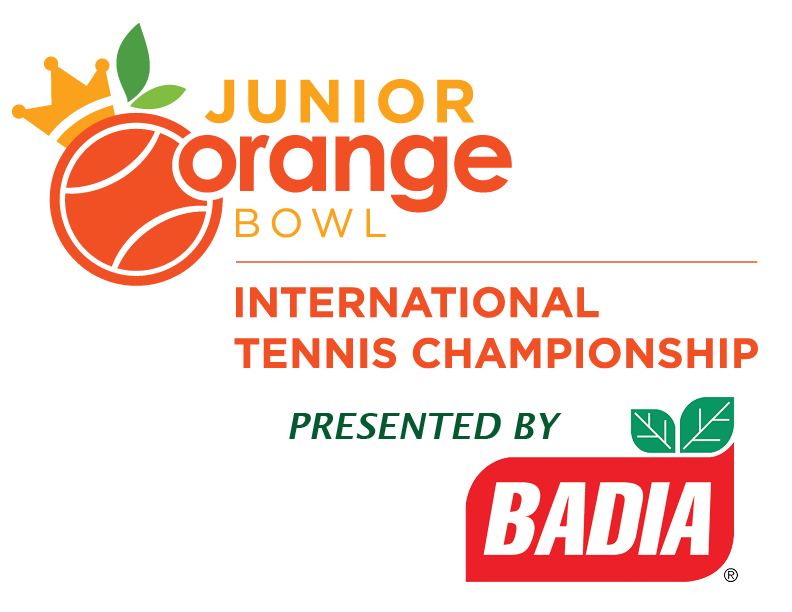 CORAL GABLES, Fla. (Dec. 17, 2018) – Victor Lilov moved one step from joining an exclusive club of double Junior Orange Bowl International winners on Monday, fending off some surprising net tactics from Ozan Colak to reach the final of the Boys 14 & under division.
Lilov needed a few games to find his rhythm when Colak began coming to the net early and often. After dropping two of the first five games, the No.1 seed eventually pulled away for a 6-3, 6-2 triumph at the University of Miami's Schiff Tennis Center.
"He got me out of my rhythm, which is very smart for him," said Lilov, who won the Boys 12s title two years ago. "It was a pretty tricky match and I was a little fortunate in the first set to get through it. Then in the second set I think I got a little more in the groove."
The North Carolina native now seeks to become just the 10th player to take home trophies in both boys' divisions when he faces Hong Kong's Coleman Wong in Tuesday's final. Israel's Yshai Oliel was the last to accomplish the feat when he took the Boys 14s crown four years ago.
"I've always wanted to come back and try to win it," Lilov said. "Obviously there's pressure and all that, but I don't want to get too far ahead. I don't want to tighten up more."
Wong, seeded third, also has a chance to make Junior Orange Bowl history as the first to add his homeland to the champions' roll. He punched his ticket to the final with his second three-set triumph in as many days, dispatching No.2 Bruno Kuzuhara 6-7 (5-7), 6-1, 6-4.
"Just lucky," said Wong, who survived his quarterfinal one day earlier by winning a third-set tiebreaker against Sebastian Gorzny. "Wow, that was really tough."
The Girls 14s final also figures to write its own page of history. Like Wong, Turkey's Melisa Ercan has the opportunity to become her nation's first to win a Junior Orange Bowl crown. Or Canada's Victoria Mboko could hold the rare distinction of being younger than the Girls 12s champion.
"I'm surprised," said Mboko, who turned 12 just last August but advanced with her third straight three-set triumph. "I'm really excited about it. It's the best I've ever done in an international tournament."
Mboko dropped her opening set 3-6 against Alexis Blokhina (Plantation, Fla.) before blitzing the next two by scores of 6-1 and 6-1. Ercan, the No.4 seed, was more efficient in capturing a 6-1, 6-4 victory over Violeta Martinez (Port St. Lucie, Fla.).
Ercan has cruised through her side of the bracket without dropping a set, surrendering just eight games before the quarterfinals.
"Now I (have) more belief in myself," said Ercan, who recently relocated from her homeland to train in Delray Beach, Fla. "Now I know I can do this. I'm just focusing on my game and winning my games."
The Girls 12s will feature a showdown of the top two seeds, as No.1 Clervie Ngounoue and No.2 Brooklyn Olson continued their paths of domination.
Ngounoue (Washington, D.C.) made quick work of Japanese qualifier Hayu Kinoshita by a 6-1, 6-0 scoreline. Olson (Bradenton, Fla.) was only slightly less efficient in a 6-1, 6-2 victory over France's Shanice Roignot. Neither have dropped a set this week.
"I think this might have been my best match," said Ngounoue, who is making the Junior Orange Bowl her final entry at the Girls 12s level. "When I get on the court, I know what I have to do. I get motivation from my past results and know I can put it all together."
Ngounoue reached last year's Junior Orange Bowl semifinals before falling to eventual champion Linda Fruhvirtova. Earlier this month, she was runner-up in the Girls 14s at the Eddie Herr International in Bradenton.
Rudy Quan, seeded No.1 in the Boys 12s, continued his march through the division with 6-3, 6-1 victory over Croatia's Antonio Voljavec on the clay of Salvadore Park. The California native has surrendered just 13 games all week, with five coming in the rain-disrupted Round of 16.
Quan's opponent in the final will be Santiago Muhala, (Katy, Texas), who dispatched Kaylan Bigun by a 6-2, 6-2 count.
Complete results can be found online by going to JrOrangeBowl.org/tennis, then clicking on the USTA link. All of Tuesday's finals will be contested at the University of Miami except for Boys 12s, which remain on Salvadore Park's clay.
The Junior Orange Bowl International Tennis Championship has a rich history of bringing the world's most promising young players to Coral Gables. Its list of champions who later won Grand Slam titles includes two-time Wimbledon champion Andy Murray (Boys 12s, 1999) and 2009 U.S. Open winner Juan Martin del Potro (Boys 14s, 2002).
Other notable participants have included Roger Federer, Sloane Stephens, Caroline Wozniacki, Marin Cilic, Maria Sharapova, Andy Roddick, Andre Agassi, Monica Seles, Chris Evert, Jim Courier and Mary Joe Fernandez.
The International Tennis Championship is one of 15 athletic, artistic and cultural events that make up the Junior Orange Bowl International Youth Festival, celebrating its 70th anniversary in 2018. The festival draws more than 7,500 youth participants to South Florida's community each year.
For more information on the Tennis Championship or other Junior Orange Bowl activities, visit JuniorOrangeBowl.org.
#####