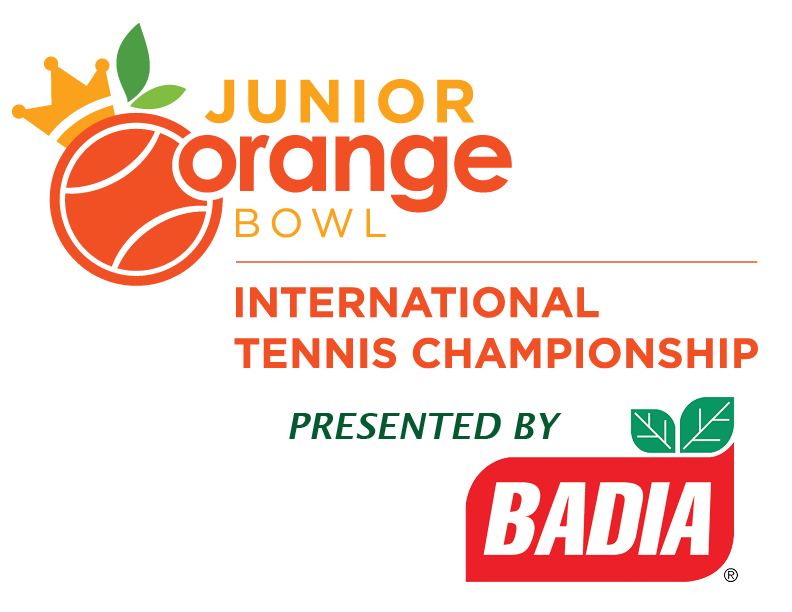 Media contact: Jeff Shain
Phone: +1-305-987-8638
jeffshain@gmail.com
CORAL GABLES, Fla. (Dec. 18, 2018) – Add two new nations to the tapestry of winners that have raised a trophy at the Junior Orange Bowl Tennis Championships.
Coleman Wong became the first titleholder from Hong Kong when he captured the Boys 14 & under title on Tuesday, denying Victor Lilov's quest for a second Junior Orange Bowl trophy. An hour or so earlier, Melisa Ercan put Turkey on the register by winning the Girls 14s crown.
"Unbelievable," Wong said after completing his journey with a 7-6 (7-3), 6-4 triumph at the University of Miami's Schiff Tennis Center. "I never thought I could win this tournament because it's really big, really tough. Every opponent is really good here."
Wong reached the final after surviving a pair of three-set battles the previous two days, which included fighting off match point in a third-set tiebreak of his quarterfinal.
"I can't use words to describe it," Wong said.
Ercan captured the Girls 14s with a 6-3, 6-1 victory over Victoria Mboko, countering the 12-year-old Canadian's power game with composed consistency.
"I wanted this so much and I fought for it," said Ercan, a semifinalist earlier this month at the Eddie Herr International in Bradenton, Fla., and winner of four summer events in Europe. "I'm the first Turkish player to do this, and I'm so honored to be here."
Top seeds prevailed in both of the 12 & under divisions, as both Rudy Quan and Clervie Ngounoue added one more trophy to their collections before turning their full attention to older divisions.
Quan (Sacramento, Calif.) cruised to a 6-1, 6-4 victory over Santiago Muhala, extending his run of dominance to 44-1 against Boys 12s competition over the past 12 months.
That includes titles at the Easter Bowl, U.S. Clay Courts and U.S. Hardcourts, though he put the Junior Orange Bowl at the top of his year, citing the international caliber of competition.
"I never thought in a million years I'd win the (Junior) Orange Bowl," he said. "You think of the Orange Bowl – whoa. Yeah, I'd probably have to rank the Orange Bowl as my best win."
Ngounoue was hardly challenged in a 6-3, 6-0 romp over No.2 seed Brooklyn Olson, a victory made sweeter under the watch of Coco Gauff, who took the Girls 12s title two years ago and this past summer won the French Open junior girls' title.
Gauff hails from nearby Delray Beach, and they've crossed paths in France at the tennis academy of Patrick Mouratoglou – Serena Williams' coach. "I saw her a few weeks ago," Ngounoue said, "and she said she'd come and watch me."
Ngounoue (Washington, D.C.) was runner-up in the Girls 14s at the Eddie Herr International earlier this month in Bradenton, Fla., but came back to the Junior Orange Bowl 12s with the expressed goal of winning the trophy.
"I tried not to put too much pressure on myself," said Ngounoue, who reached last year's semifinals before falling to eventual champion Linda Fruhvirtova. "I came into the tournament with bigger plans, but I tried to take is as any other tournament."
Complete results can be found online by going to JrOrangeBowl.org/tennis, then clicking on the USTA link.
Wong was seeded third in the Boys 14s, coming to South Florida off a victory in Japan that earned him a berth in next month's Australian Open Junior Championships.
Even so, he wasn't sure whether he could join a Junior Orange Bowl International champions list that includes two-time Wimbledon champion Andy Murray (Boys 12s, 1999) and former U.S. Open winner Juan Martin del Potro (Boys 14s, 2002).
"I'm looking at those past champions – really?" Wong said.
Both players missed opportunities to close out the opening set without going to the tiebreaker. Wong's serve was broken by Lilov while leading 5-3, sparking a run of three games by the No.1 seed.
However, Lilov (Raleigh, N.C.) saw five set points go by the wayside while leading 6-5.
"I feel like I should have won the game, but it's tennis," Lilov said. "Then in the tiebreaker, he just played a better tiebreaker than me."
Lilov, the Boys 12s champion two years ago, had been seeking to become just the 10th player to capture both boys' divisions.
"I don't feel like I played my best tennis throughout the week," he said. "Today I didn't play great mainly because of how (Wong) played."
The Junior Orange Bowl International Tennis Championship has a rich history of bringing the world's most promising young players to Coral Gables. Beyond Murray and del Potro, other notable participants have included Roger Federer, Sloane Stephens, Caroline Wozniacki, Marin Cilic, Maria Sharapova, Andy Roddick, Andre Agassi, Monica Seles and Chris Evert.
The International Tennis Championship is one of 15 athletic, artistic and cultural events that make up the Junior Orange Bowl International Youth Festival, celebrating its 70th anniversary in 2018. The festival draws more than 7,500 youth participants to South Florida's community each year.
For more information on the Tennis Championship or other Junior Orange Bowl activities, visit JuniorOrangeBowl.org.
#####