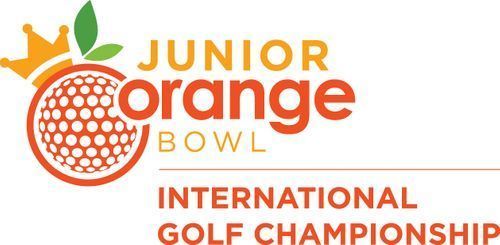 Media contact: Jeff Shain
Phone: +1-305-987-8638
jeffshain@gmail.com
Full scoring: golfstat.com/home.html
CORAL GABLES, Fla. (Jan. 3, 2019) – Though Alex Vogelsong knows full well the Junior Orange Bowl International can't be won on the first day, he couldn't have asked for a much better start in search of that breakthrough victory.
Vogelsong (Palm City, Fla.) birdied three of his first four holes at the new-look Biltmore Golf Club, remained bogey-free through 11 holes and finished with a 4-under-par 67 that left him with a one-shot advantage after Thursday's opening round.
"It kind of took some pressure off," Vogelsong said of his quick start. "I just told myself to stay aggressive and try not to look back."
A quick finish propelled Peru's Daniela Ballesteros to the top of the girls' leaderboard, using a chip-in at No.7 to spark a three-birdie closing stretch. Her 2-under-par 69 was the only girls' round to break 70, leaving her two shots ahead of Yuki Yoshihara's rare 18-par round.
Ballesteros also chipped in at No.18, and a birdie two holes later "made the light come on and I started putting really good."
Winds gusting above 20 mph made it an even more challenging day on the Biltmore layout, which just completed a $2.5 million renovation to restore the course closer to its original Donald Ross footprint.
Thursday produced just four rounds in the 60s, compared with 20 a year ago.
"It was playing pretty long today," said Norway's Alexander Settemsdal, whose 68 left him in a tie for second in the boys' division with Britain's Barclay Brown. "On a lot of holes the wind was blowing against you."
The Junior Orange Bowl is the first tournament to be contested on the revamped layout, which reopened just 2 ½ weeks ago. Greens were returned to their larger Ross dimensions, adding more dramatic runoff, bunkers were added and repositioned to bring them back into play and the course added more than 300 yards in length.
Traditionally played in the days before New Year's, the tournament shifted into January this winter to give the renovation additional time to grow in.
"With them adding so many bunkers to the course, it really tightens your focus," said Vogelsong. "So it's a little bit tougher, but getting in there and having a really tight target line really helps to tighten up your (shot) dispersion."
Though Vogelsong enters the week No.7 in the Junior Golf Scoreboard rankings, he's still seeking that elusive first win at the elite junior level. His portfolio sports an abundance of top-15 finishes –including fourth at the Junior Players Championship and fifth at the Rolex Tournament of Champions – but no victories.
"I don't want to say I'm overdue. They come when they come," said Vogelsong, set to play college golf at Auburn. "High school golf is nice; you can pick up wins because the competition is lesser. But against these top juniors – I wouldn't say overdue but whatever happens, happens."
Told his season compared to that of Justin Rose, whose FedExCup title got a boost from a run of top-5 finishes, Vogelsong said: "I'll take it. That's nothing to complain about."
Brown might have managed to wrest the lead from Vogelsong, opening with an eagle and standing at 4-under through seven holes. However, a bogey/triple bogey sequence at Nos. 9 and 10 forced him to start over at even par.
Ballesteros placed 37th at last year's Junior Orange Bowl, opening with an 82 that she attributed in part to fatigue. She arrived fresher after changing up her year-end preparation and saw immediate dividends.
Though early struggles left her at 2-over through six holes, she birdied six of her final 12 to move in front.
Yoshihara (Irvine, Calif.) had the day's most intriguing round, happy to go bogey-free but annoyed that she couldn't card a birdie either.
"It was tough conditions today with all the wind," she said. "I missed a lot of birdie putts, which was very frustrating. But I stayed patient all round and made some good up-and-downs."
Her best par save came at the par-3 eighth, where she missed the green and faced a 15-foot downhill putt to stay blemish-free. "Made it dead center," she said, "so that was really good."
The Junior Orange Bowl International, now in its 55th year, has a history that features such champions as Tiger Woods (1991), reigning LPGA Player of the Year Ariya Jutanugarn (2010) and Hall of Famer Inbee Park (2002). Others include LPGA major winners Cristie Kerr (1994) and Lexi Thompson (2009), along with former British Open champion Mark Calcavecchia (1977). 
This year's field brings together entrants from such diverse locales as Kazakhstan, Iceland, Zimbabwe, Uruguay, Slovenia, Ecuador, Estonia, Haiti, Peru and Qatar.
The Golf Championship is one of 15 athletic, artistic and cultural events that make up the Junior Orange Bowl International Youth Festival, celebrating its 70th anniversary in 2018. The festival draws more than 7,500 youth participants to South Florida's community each year.
For more information on the Golf Championship or other Junior Orange Bowl activities, visit JuniorOrangeBowl.org.
#####