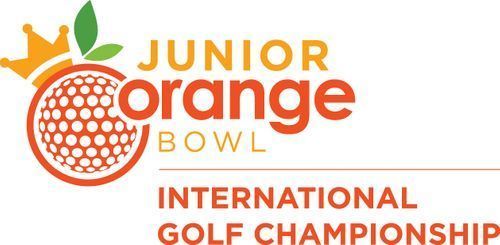 Media contact: Jeff Shain
Phone: +1-305-987-8638
jeffshain@gmail.com
Full scoring: golfstat.com/home.html
CORAL GABLES, Fla. (Jan. 4, 2019) – One swing into his day, Alex Vogelsong walked off the tee with an anxious feeling about his second round at the Junior Orange Bowl International. It took just one putt, though, to put himself in a comfort zone.
A 25-foot par save wound up the catalyst for a 5-under-par 66 on Friday, propelling Vogelsong (Palm City, Fla.) to a four-shot advantage over Italy's Andrea Romano at the midway point of South Florida's 55th annual junior showcase.
"Seeing that one fall definitely calmed me down for the rest of the day," said Vogelsong, who went on to a bogey-free round.
Germany's Nina Lang used a strong back nine to vault into the girls' lead, making four birdies after the turn in a 67 that left her one stroke ahead of first-round leader Daniela Ballesteros of Peru.
"My swing wasn't good for the first six holes," said Lang, noting she changed her strategy at that point to incorporate a natural draw off the tee. "I (began to) relax and started hitting shots with more draw and stopped trying to hit straight shots."
Despite another day of gusty conditions at the revamped Biltmore golf course, scoring averages dropped significantly as players began to get a feel for its nuances. The boys' field averaged 74.46 on Friday, down from an opening 75.33, while the girls' average dropped nearly 1 ½ shots from 76.60 to 75.15.
"It's still quite tough," said Hong Kong's Chloe Chan, whose 67 matched Lang for the best in the girls' field and lurks two shots off the pace. "When I was on the tee box, I just made sure I hit (a good) shot and not try to overthink it."
The Junior Orange Bowl is the first tournament held on the revamped layout, which reopened just 2 ½ weeks ago. Greens were returned to Donald Ross' larger dimensions, adding more dramatic runoff, while bunkers were added and/or repositioned. The course also measures more than 300 yards longer.
Vogelsong's 66 stands as the best on the new Biltmore layout, reaching the midway point at 9-under-par 133. Combined with his opening 67, the Auburn signee now owns two of the top five scores through the first two rounds.
"It fits my eye pretty well," said Vogelsong, ranked No.7 on the latest Junior Golf Scoreboard chart. "I've enjoyed the past couple of days, that's for sure."
Vogelsong wasn't so sure after his opening tee shot Friday, when he drove through the fairway at No.10 and found himself behind a tree. Forced to chip back into the short grass, he still faced a 25-foot putt after his wedge to the green.
The double breaker had the line, dropping just over the edge of the cup.
"That was something huge," Vogelsong said. "You don't want to give a shot back on an easy hole right off the bat. To see that putt fall really calmed me and let me do my thing for the rest of the day."
Romano was nearly as good with his 67, including a 30 on the front nine that featured four straight birdies immediately after the turn.
He drained a 16-footer at No.2 after a tough 6-iron into the wind, hit it close on the next two holes and birdied No.6 after another "amazing" approach shot.
"I couldn't believe it," said Romano. "I never smile on the course, but then I starting thinking about what I was doing."
Romano stood second after last year's first round after an opening 65, but couldn't keep the momentum as he finished 12th behind winner Jerry Ji. "I can say you can only win on the last day, not the first day," he said.
Following Romano, it was another four shots back to a tie for third between Miami's Jake Beber-Frankel (71), Japan's Ryo Hisatsune (71) and Britain's Barclay Brown (73).
Lang was just even-par through Friday's first seven holes, but went bogey-free the rest of the way with four birdies after the turn. Two birdies came in her final three holes.
"I really felt confident about myself," Lang said about going to the draw. "Sometimes I want to hit perfect shots, so I tried to hit more straight (drives) – but that's not really my shot."
Ballesteros endured an up-and-down day that finished on an up note, carding an eagle at the par-5 18th that went in from about 16 feet away.
"I wasn't comfortable with my second shots; not enough greens in regulation," said the Peruvian, whose opening 69 was the only girls' score to break 70 on Thursday. "I had to make many up-and-downs, and most of them I couldn't make the putt."
The Junior Orange Bowl International has a history featuring such champions as Tiger Woods (1991), reigning LPGA Player of the Year Ariya Jutanugarn (2010) and Hall of Famer Inbee Park (2002). Others include LPGA major winners Cristie Kerr (1994) and Lexi Thompson (2009), along with former British Open champion Mark Calcavecchia (1977).
This year's field brings together entrants from such diverse locales as Kazakhstan, Zimbabwe, Uruguay, Slovenia, Ecuador, Estonia, Haiti, Peru and Qatar.
The Golf Championship is one of 15 athletic, artistic and cultural events that make up the Junior Orange Bowl International Youth Festival, celebrating its 70th anniversary in 2018. The festival draws more than 7,500 youth participants to South Florida's community each year.
For more information on the Golf Championship or other Junior Orange Bowl activities, visit JuniorOrangeBowl.org.
#####