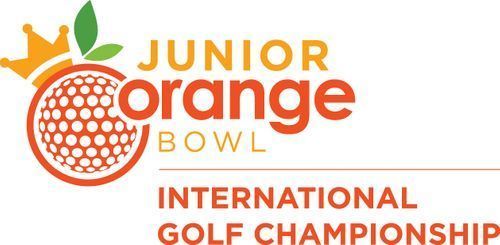 Media contact: Jeff Shain
Phone: +1-305-987-8638
jeffshain@gmail.com
Full scoring: golfstat.com/home.html
CORAL GABLES, Fla. (Jan. 5, 2019) – If Nina Lang could somehow get her rounds off to a good start, she might really be running away with the 55th Junior Orange Bowl International Golf Championships.
The German entrant again overcame what she described as a sluggish start with a strong back nine, firing her second consecutive 4-under-par 67 Saturday to ease out to a four-shot lead with one round to play.
"At the beginning it's always hard for me to get into it," said Lang, who used consecutive birdies at Nos. 15-17 to open some distance between her and Peru's Daniela Ballesteros. "It takes two, three holes to get into it – then when I'm in, it's good."
The boys' division shapes up to be a two-man duel after Italy's Andrea Romano closed with four consecutive birdies for a 66 that left him even with Alex Vogelsong (70).
"My putting is the biggest part right now," said Romano, who switched to a claw grip a little over a month ago. His iron game was pretty solid as well, with three of Saturday's closing birdies coming from inside 7 feet.
Vogelsong birdied two of his final three holes in an up-and-down day at the Biltmore golf course, leaving them deadlocked at 10-under 203. Next comes Britain's Barclay Brown, five shots back in third.
"Just no parts of my game were really on," said Vogelsong (Palm City, Fla.), who opened the week with rounds of 67-66. "I couldn't get really close to flags; not a lot of my putts managed to fall."
Sunday's champions will join a Junior Orange Bowl roster featuring such standouts as Tiger Woods (1991), Hall of Famer Inbee Park (2002) and reigning LPGA Player of the Year Ariya Jutanugarn (2010).
The list also includes LPGA major winners Cristie Kerr (1994) and Lexi Thompson (2009), plus former British Open champion Mark Calcavecchia (1977).
"It would mean a lot," said Lang, making her first appearance after a season of transition when she changed coaches. "Last year was not my best year, so to come back strong like I was before – yeah, I'm looking forward to (Sunday)."
Opening her week with a 72, Lang still found herself at 1-over par at Friday's turn as she struggled to harness her driver. Since then, though, she's cruised through her past 27 holes at 8-under with just a single bogey.
"She was hitting some arrows today," said Ballesteros, who had not witnessed Lang's game until Saturday. "It was crazy; she birdied 14, 15 and 16 like they were pars. It looked so easy for her."
It took a while for Lang to find that rhythm, though. She didn't make her first birdie until the par-4 sixth, including a missed birdie chance from 3 feet at No.3. "That was kind of sad," she exclaimed.
Her birdie at No.6 was followed by a clutch par save at the par-4 seventh, where she struck a 5-wood knockdown shot into a stiff breeze that wound up rolling into a back bunker. A deft bunker blast kept the momentum going.
"I started feeling really good about my game at that time," she said.
Ballesteros carded a 70 as she struggled for a second day on the greens, including a pair of short misses on the back nine inside 8 feet. A birdie at the par-5 18th helped her keep Lang within striking distance.
"It's not going to be easy," the Peruvian said, "but I like tough competition."
Romano also blistered his second nine for the second straight day, taking advantage when Vogelsong cooled off in the middle of his round. He still trailed by four at the turn, before a birdie at No.11 and Vogelsong's bogey one hole later sliced the margin in half.
Then came the Italian's closing birdie barrage, jump-starting his round when a 15-footer at No.15 found the bottom of the cup.
"I wasn't thinking about the lead," Romano said. "I was thinking, 'Just play your golf and make more birdies if possible.' "
Vogelsong birdied two of his first three holes to reach 11-under par, but gave it back with bogeys at Nos. 7-8 and bogeyed again at the 12th.
"I thought I played pretty well," said Vogelsong, who has four top-15 finishes in top junior events but still seeks after a breakthrough win. "I tried to give myself a lot of (birdie) opportunities, and the couple that I had didn't fall."
Even with losing a four-shot lead, Vogelsong suggested he might be more comfortable in a tighter chase.
"A four-shot lead is awesome, but I've never been in that situation before," he said. "You start thinking of how you can keep your lead. Now I'll just be going out there like I did in the first round. Shoot the best score I can and if it's good enough, it's good enough."
The Junior Orange Bowl is the first tournament held on the revamped Biltmore layout, which closed for six months to restore the course closer to its 1925 Donald Ross footprint discovered in renderings a few years ago.
Greens were returned to Ross' larger dimensions, adding more dramatic runoff, while bunkers were added and/or repositioned. The course also measures more than 300 yards longer.
The Golf Championship is one of 15 athletic, artistic and cultural events that make up the Junior Orange Bowl International Youth Festival, celebrating its 70th anniversary in 2018. The festival draws more than 7,500 youth participants to South Florida's community each year.
For more information on the Golf Championship or other Junior Orange Bowl activities, visit JuniorOrangeBowl.org.
#####