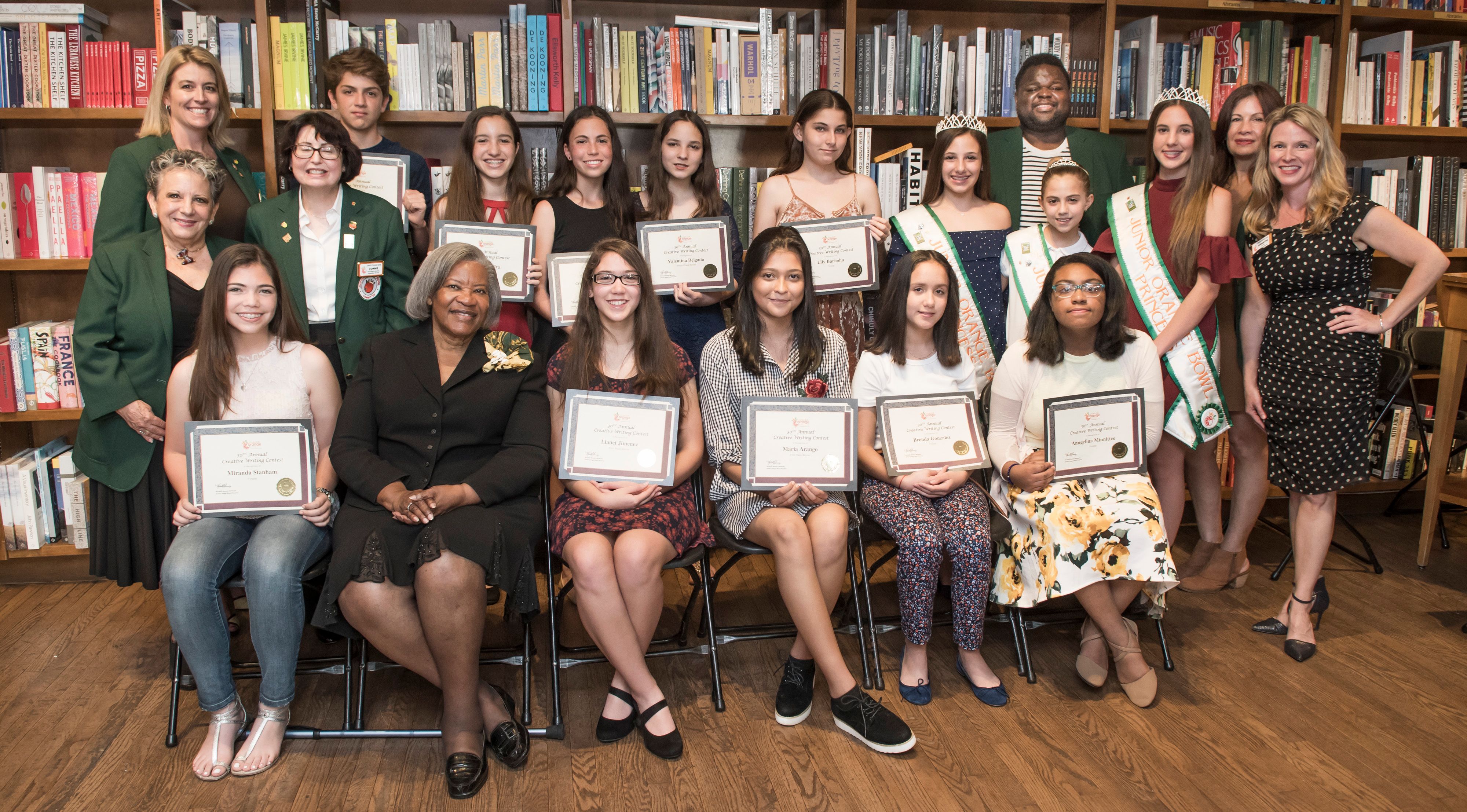 February 4, 2019
Samantha Jones, Junior Orange Bowl Board Member and Creative Writing Chair
The 31st annual Creative Writing Contest, sponsored by the Junior Orange Bowl and the South Florida Writers Association, will recognize 10 eighth grade student finalists during an awards ceremony at Books & Books, 265 Aragon Avenue in Coral Gables, on Sunday, February 10th from 1:00 to 3:00 pm.
This year's theme is "At this time of red tides in South Florida, what do clean oceans mean to me?" Students were asked to submit an essay, no more than 500 words, and were judged by local writers on attention to theme, originality and depth of meaning.
Once the top 10 finalists are recognized, the 1st, 2nd and 3rd place winners will be announced at the ceremony. Winning students and teachers will receive cash awards and prizes. 1st place student winner receives $1000, 2nd place wins $500 and 3rd place wins $250. Winning Teachers receive: 1st place: $250, 2nd place: $150 and 3rd: $100. Winning essays will be published in the Author's Voice newsletter of the South Florida Writers Association.
The finalists include Heather De Jongh and Isabel Mendez from Miami Arts Charter School. Their teacher is Victoria Castells. From St. Louis Covenant School, the finalists include Brian Morales, Caroline Choquette, Mariana Riera, Max Fonseca, Natalia Klein, Natalia Pineda, Nicky Cruz and Paul Young. Their teacher is Elcira Gonzalez.
Speaking at the Awards Ceremony will be an organization deeply committed to this year's theme. Our first speaker is Connie Washburn, Past President and Secretary at Friends of the Everglades. Founded in 1969 by renowned journalist, author and environmental activist, Marjory Stoneman Douglas. Their mission is to preserve, protect and restore the only Everglades in the world.
In its 71st year, the Junior Orange Bowl is host to 11 local, national and international events including: Basketball, Creative Writing, Cross Country, Film, Golf, Parade, Photography, Robotics, Royal Court, Sports Ability and Tennis. Each event is aimed at providing magical moments for its participants through wholesome, competitive and healthy competition. Visit www.jrorangebowl.org for more information. The South Florida Writers Association is an organization dedicated to literary arts and support of writing and writers in the community. Past President and Community Relations Director Connie Goodman-Milone serves as Director of the Creative Writing Contest.