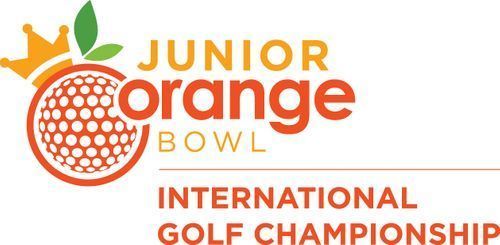 Media contact: Jeff Shain
Phone: +1-305-987-8638
jeffshain@gmail.com
Full scoring: golfstat.com/home.html
CORAL GABLES, Fla. (Jan. 5, 2020) – Andrey Borges suggests he's one of those golfers who's able to raise his game when someone's applying a little heat.
If that's the case, the final round of the 56th Junior Orange Bowl International should present a prime opportunity for the Brazilian golfer to display his mettle as a closer.
A 2-under-par 69 left Borges alone at the top of the boys' leaderboard Sunday, one stroke ahead of Argentina's Abel Caputo and two clear of Justin Hastings (Cayman Islands) heading with 18 holes left to play at historic Biltmore Golf Club.
"I like to play under pressure," said Borges, who completed three rounds in 4-under-par 209 as he seeks to become the first Brazilian to put his name on the trophy. "I feel more comfortable when it's tight and people are close than when I'm five shots ahead. I play better like that."
The girls' leader will be the one playing with a cushion in Monday's final round. Mizuki Hashimoto extended her lead to six strokes while carding a 1-over 72, looking to become the third Japanese champion in Junior Orange Bowl annals.
"It would be an honor. I will do my best," said Hashimoto, who has an outside shot at Lily May Humphries' record nine-stroke margin of victory established two years ago.
The last Junior Orange Bowl champion to hail from Japan was Yusako Miyazato, who won the boys' division in 1998. Akiko Fukushima captured the girls' title in 1990.
Though more gusty winds are in Monday's weather forecast, they aren't expected to be as strong as the first three days. Sunday's round also brought a significant drop in temperatures, with chilly conditions greeting golfers before things warmed up mid-round.
"The wind and the cold were very difficult," said Borges, who began his day one stroke behind Caputo. "Around the ninth hole, the wind stopped a little bit and so I started playing a little bit better."
Borges mixed three birdies with three bogeys through his first eight holes before finally settling down. He went bogey-free the rest of the way, reeling off six consecutive pars before a clutch birdie at the par-5 15th.
Opting not to go for the green in two, Borges got the payoff when his wedge stopped within 3 feet of the pin. He added another birdie at the par-5 18th, again following up a wedge with a short putt.
"It's every golfer's dream to be able to win this tournament," said Borges.
Caputo stumbled a little bit out of the gate, playing his first seven holes in 2-over par that included a double bogey at No.5. He also settled down around the turn, closing with two birdies and nine pars to get back to even-par 71.
"I stayed patient out there and was able to get back to even-par," the Argentine said. "I'm going to work on strategy for tomorrow and hopefully have a good round."
Hastings likewise needed time to find his rhythm, making the turn in 2-over par before using three birdies to post his 71. His biggest trouble again came in the stretch between Nos. 6 and 9, where he recorded two of his three bogeys.
Over three rounds, Hastings has played Nos. 6-9 in 8-over par and the rest of the course in 10-under.
"We'll get that back," said Hastings, who earned his Junior Orange Bowl berth via a December qualifier. "I've put myself in position to attack tomorrow. A two-shot swing can change a lot in one hole."
Hashimoto took a five-shot lead into Sunday's round and quickly opened more distance with two birdies in the first three holes. But she didn't card a birdie the rest of the way, struggling on the greens with a trio of three-putts.
"It was very tough," said Hashimoto, who seized control with a Friday 67 and completed three rounds at 3-under 210. "The driving and irons were a little better today, but the putting was not better."
Monday also could be something of uncharted territory for Hashimoto, who is playing only the second 72-hole event of her young career. This marks her first trip to the United States, and all junior events in Japan are just 54 holes. "I'm quite tired," she said.
France's Lucie Malchirand remains her closest pursuer, going without a birdie on her card on the way to a 73. A frustrating day on the greens began with two short birdie misses, watching three hard lipouts by the end of her round.
"I had a long day," she said.
The Junior Orange Bowl International boasts a history that features such champions as Tiger Woods (1991), Hall of Famer Inbee Park (2002) and LPGA major winners Cristie Kerr (1994), Lexi Thompson (2009), Ariya Jutanugarn (2010) and Brooke Henderson (2013).
This year's field brings together entrants from such diverse locales as Iceland, Barbados, Russia, Uruguay, Croatia, Hong Kong, Slovenia, Ecuador, Finland and Northern Ireland.
Tee times and live scoring can be found all week at JrOrangeBowl.com/golf.
The Golf Championship is one of 15 athletic, artistic and cultural events that make up the Junior Orange Bowl International Youth Festival, which celebrates its 71st anniversary in 2019-20. The festival draws more than 7,500 youth participants to South Florida's community each year.
For more information on the Golf Championship or other Junior Orange Bowl activities, visit JuniorOrangeBowl.org.