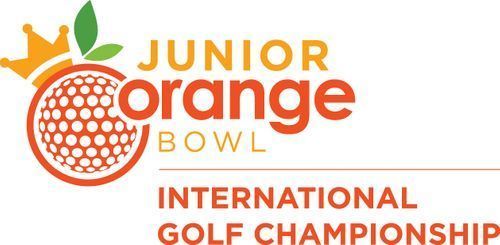 Media contact: Jeff Shain
Phone: +1-305-987-8638
jeffshain@gmail.com
CORAL GABLES, Fla. (Jan. 6, 2020) – Andrey Borges thought he had a cushion. Avoid trouble, make par, and he'd be crowned the first Brazilian winner of the Junior Orange Bowl International golf championship.
Then he saw his Brazil teammate running up the 18th fairway with an update. Spain's Jose Luis Ballester had birdied the par-5 closing hole – his fifth on Monday's back nine – to pull even. Now a par would only force a playoff.
"Things changed a little bit," Borges said. "I knew I had to do something. I couldn't two-putt and win."
Borges responded with a champion's flair, thwarting Ballester's charge with a wedge from just short of the green that stopped within 2 feet for the decisive birdie.
"I can't even explain how I'm feeling right now," said Borges, who recovered from a rough patch midway through his round to play bogey-free over the last six holes of an even-par 71.
Japan's Mizuki Hashimoto also got a little more drama than she anticipated on the way to the girls' title, dealing with a lost ball on her 18th hole before finally putting away a two-shot victory over France's Lucie Malchirand.
"I was very worried, even though I was leading by three strokes," said Hashimoto, whose six-shot lead to begin the day was twice whittled to two before a 12-foot birdie at No.17 gave her some valuable cushion.
She wound up salvaging bogey on the final hole, capping a 2-over-par 73.
"I think she just played better this week," said Malchirand, whose 69 included two birdies in her final five holes. But her birdie try at No.17 stopped two inches short of the cup, unable to keep the margin at two.
Hashimoto became the third Japanese winner of the Junior Orange Bowl International and first in more than two decades, dating back to when Yusako Miyazato captured the boys' crown in 1998. Before that, Akiko Fukushima won the girls' title in 1990.
"I'm just very happy," said Hashimoto, who was competing in just the second 72-hole event of her junior career. Her previous biggest win came in a state tournament in her native Japan.
Hashimoto puts her name on a Junior Orange Bowl winners' list that has produced three LPGA major champions in the past dozen years – Lexi Thompson (2009), Ariya Jutanugarn (2010) and Brooke Henderson (2013).
Likewise, Borges joins a champions' roster with Tiger Woods as its most prominent name but also featuring current PGA Tour pros Kevin Na and Joaquin Niemann, plus a handful of European Tour pros. Niemann, the 2014 winner from Chile, had been the event's last South American winner.
"It's just a great feeling to be on that list," said Borges, who next travels to Mexico to tee it up in next week's Latin American Amateur, where a Masters invitation awaits the winner.
Borges was the only golfer to shoot par or better in every round at historic Biltmore Golf Club, where gusty winds created a stern test over the first three days. Even with milder breezes on Monday, birdies were at a premium.
"There was a lot of pressure from beginning to end," said Borges, who began the day with a one-shot advantage over Abel Caputo (Argentina) and two over Justin Hastings (Cayman Islands).
Borges stretched the margin to three through seven holes before his first bogey at No.8. Two more bogeys followed in the next four holes, catching a bit of a break when a stray tee shot at the par-3 12th stopped just shy of some vegetation guarding a canal.
"I just tried to stay focused on my game and not think about the others," said Borges, who steadied his round with five consecutive pars.
What no one knew was Ballester was starting to heat up on the back nine. The Spaniard made consecutive birdies at Nos. 11-12, parred the next two and followed with two more birdies to pull even with two holes to play.
"I knew I needed to make more putts," said Ballester, who struggled on the greens early in the tournament. "I was playing really good from tee to green and today I was really good with my putting."
A bogey at No.17 dropped Ballester a shot back, but he birdied the 18th to make Borges work.
News finally reached Borges as he came down the 18th fairway. Girls' entrant Beatriz Junqueira and her mom both ran up from the green to provide the update.
"I didn't know I needed birdie," Borges said. "I thought I was OK."
Ballester's 66 matched the best round of the week, marking the second consecutive year that a final-round charge left him in second. A year ago, a closing 65 left him four shots behind Italy's Andrea Romano.
"Almost," said the Spaniard. "I'm happy with the job I have done this week."
Tee times and live scoring can be found all week at JrOrangeBowl.com/golf.
This year's field brought together entrants from such diverse locales as Iceland, Barbados, Russia, Uruguay, Croatia, Hong Kong, Slovenia, Ecuador, Finland and Northern Ireland.
The Golf Championship is one of 15 athletic, artistic and cultural events that make up the Junior Orange Bowl International Youth Festival, which celebrates its 71st anniversary in 2019-20. The festival draws more than 7,500 youth participants to South Florida's community each year.
For more information on the Golf Championship or other Junior Orange Bowl activities, visit JuniorOrangeBowl.org.
BOYS TOP 5
1.   Andrey Borges, Brazil                   70-70-69-71=280 (-4)
2.   Jose Luis Ballester, Spain             74-70-71-66=281 (-3)
3.   Juan Vesga Solano, Colombia       73-69-71-70=283 (-1)
4.   Yuki Moriyama, Japan                  74-70-72-68=284 (E)
5.   Justin Hastings, Cayman Islands  70-70-71-74=285 (+1)
GIRLS TOP 5
1.  Mizuki Hashimoto, Japan               71-67-72-73=283 (-1)
2.  Lucie Malchirand, France               71-72-73-69=285 (+1)
3.  Maria Bohorquez, Colombia            77-74-69-69=289 (+5)
4.  Carla Bernat-Escuder, Spain           74-70-75-72=291 (+7)
5.  Nataliya Guseva, Russia                72-73-75-72=292 (+8)