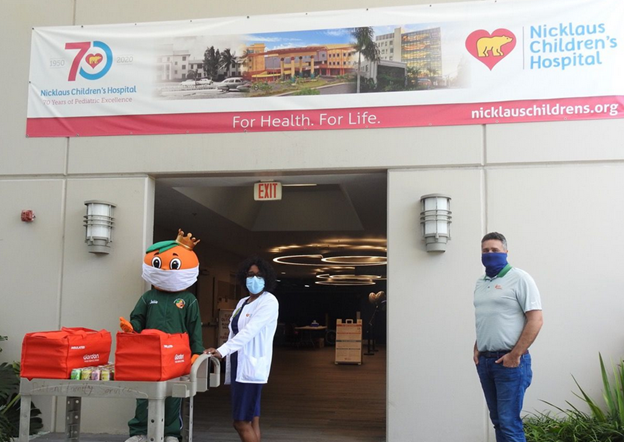 The Junior Orange Bowl's mission is to serve the South Florida community and the youth of the world by providing competitive, academic, and multicultural experiences. The Junior Orange Bowl raised funds via #GivingTuesdayNow platform along with our Tennis Championship presenting sponsor Badia Spices, Inc. to provide lunches from Coral Gables based Clutch Burger to Nicklaus Children's Hospital Foundation COVID-19 team.
The Junior Orange Bowl Family coordinated this initiative in order to thank our front-line workers for the effort and dedication they bring every day to our local community.
Steven Gonzalez, President of the Junior Orange Bowl along with Manuella Janvier, Operations Administrator, Nursing Administration for Nicklaus Children's Hospital Foundation, coordinated efforts to bring meals to our essential frontline workers safely. Steven Bradley owner of Clutch Burger restaurant, expressed to us how important the efforts of providing meals to our local frontline workers has been to his business.