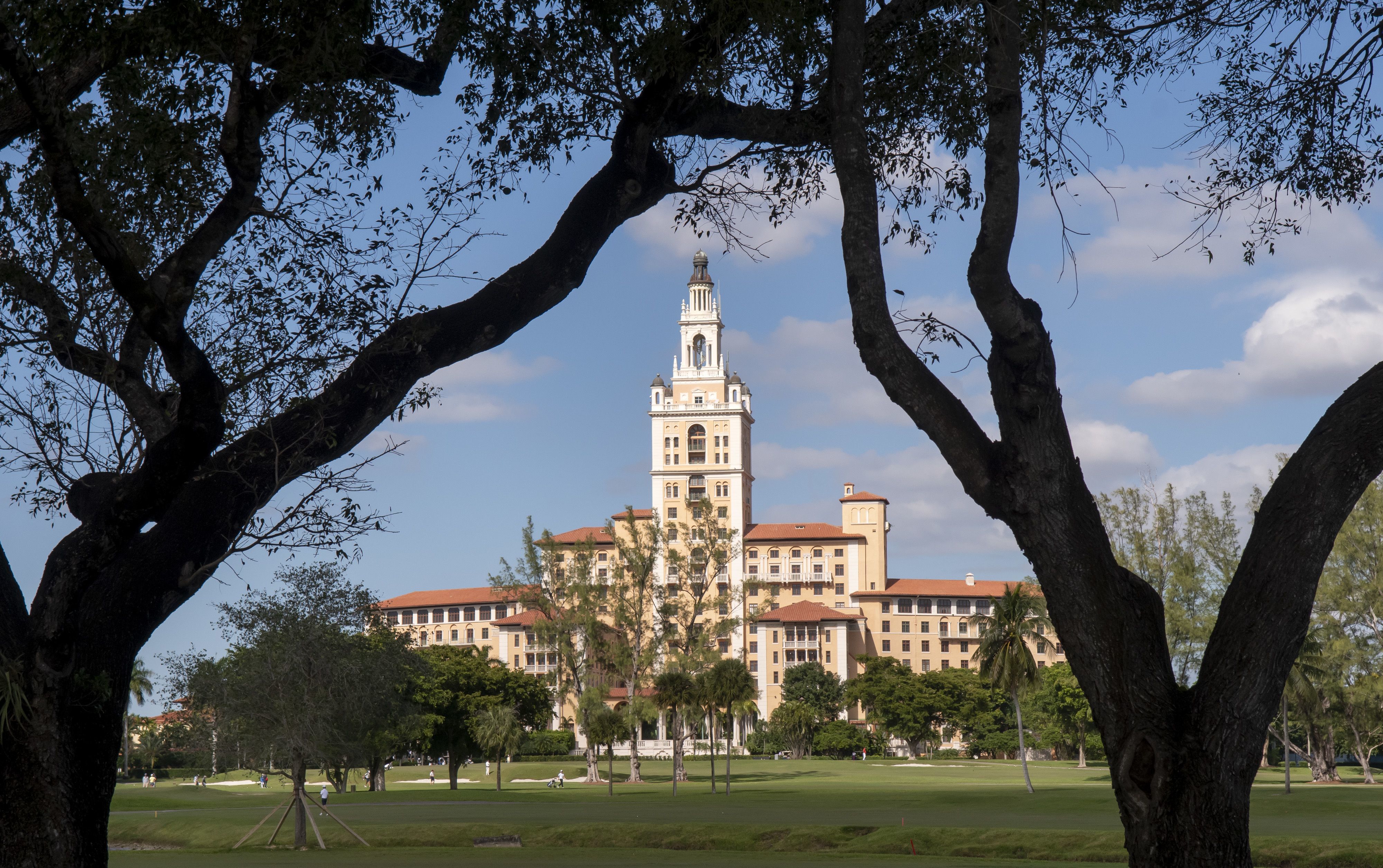 Media contact: Jeff Shain
Phone: +1-305-987-8638
jeffshain@gmail.com
Full scoring: golfstat.com/home.html
CORAL GABLES, Fla. (Jan. 3, 2021) – Before this week, Sebastian Moss had never set eyes on historic Biltmore Golf Club.
The Texan's first point of business: Getting well acquainted with the Donald Ross greens.
"It was a lot of work, but it paid off," he said.
And how. In his debut round at the Junior Orange Bowl International, Moss reset the tournament scoring record Sunday with a blistering 9-under-par 62 that left him five strokes in front of his nearest pursuers.
As Moss read back his scorecard in the socially distanced scoring area, both of his playing partners could only shake their heads.
"I was, too," said Moss, who briefly flirted with a 59 pace after reaching 7-under through 10 holes. "It felt kind of surreal doing it."
Matthew Doyle, alone in second after a 67, noted he stood 3-under at the turn when he was greeted by his father.
"My dad tells me, 'You have a great round going, but there's somebody who's 5-under on the back (nine),' " said the Connecticut golfer. "Oh, lovely. That humbled me a little bit."
The girls' division was far more bunched after Day 1, with Canada's Emily Zhu holding a one-stroke advantage after a 2-under-par 69. Two birdies in Sunday's final three holes allowed her to rise above the pack.
"I haven't shot anything like that in a while," said Zhu, "so I was very happy with that."
Chile's Antonia Matte and Guatemala's Jasmine Youn Shin were right on Zhu's heels after posting 70s, with five more pursuers within four strokes of the lead.
A balmy South Florida day greeted golfers as temperatures rose into the low 80s, with mild breezes gradually growing as play moved along.
"For the first seven holes, it was not windy," said Matte, who owns top-12 finishes in each of the past two Junior Orange Bowls. "Then the wind started to come and made it a little more difficult. But it was fun."
Not that anything seemed it would faze Moss, who started on the Biltmore's back nine, made five birdies by the turn and eagled the par-5 first hole to get to 7-under. That, he said, was when he realized this could be a special round.
"It was probably the tee shot I was least looking forward to," Moss said. "When I hit it down the middle, my irons were spot-on all day and I hit it to about 10 feet. Then I just had to make sure I got (the putt) there. I really wasn't expecting it to go in."
Moss also birdied Nos. 3 and 4 to get to 9-under, then parred his way in to complete a breezy 62. That eclipsed the old standard of 63, set by Norway's Kristoffer Reitan in the third round of the 2016 edition.
It also lowered Moss' personal best by an astounding four strokes, set at a U.S. Amateur qualifier two summers ago. "I like tougher tournaments and tougher courses," he said. "I think it allows me to show my game better."
Though Doyle was disappointed he couldn't birdie any of the Biltmore's three par-5s, two birdies in his last three holes to assume sole possession of second. He played two great shots into the tough par-4 17th, including a low 6-iron to about 15 feet for the birdie.
"I said I needed to make this," Doyle remarked. "I can't hit two shots like I did on this hole and not convert the birdie."
Abel Gallegos, the reigning Latin American Amateur champion who teed it up at the Masters just seven weeks ago, was alone in third after a 68. The Argentine teen shook off a slow start to birdie three of his final four holes.
"I'm a little surprised at (Moss') score," said Gallegos. "But this is a tournament that has great players. My plan is to play as well as I can and see if I can chase him down."
Zhu's round continued to build confidence in swing changes she undertook during the summer. In two tournaments preceding the Junior Orange Bowl, the Ontario golfer's best round had been a 71.
"The first (event) I was kind of sketchy with my swing, but I settled into it pretty well," she said. "Then last week (in Arizona) kind of helped me find errors in my game. Then today I did pretty well."
Zhu capped it off with a flourish, too, hitting her approach shot at the par-4 ninth to 2 feet for a kick-in birdie that lifted her into the solo lead.
The Junior Orange Bowl International has a history that features such champions as Tiger Woods (1991), Hall of Famer Inbee Park (2002) and LPGA major winners Cristie Kerr (1994), Lexi Thompson (2009), Ariya Jutanugarn (2010) and Brooke Henderson (2013).
This year's field brings together entrants from such diverse locales as Russia, Singapore, Bulgaria, Bolivia, Ecuador and the Bahamas.
Tee times and live scoring can be found all week at JrOrangeBowl.com/golf.
The Golf Championship is one of 15 athletic, artistic and cultural events that make up the Junior Orange Bowl International Youth Festival, which celebrates its 71st anniversary in 2019-20. The festival draws more than 7,500 youth participants to South Florida's community each year.
For more information on the Golf Championship or other Junior Orange Bowl activities, visit JuniorOrangeBowl.org.
#####
BOYS TOP 5
1.   Sebastian Moss, Pearland, Texas             31-31=62 (-9)
2.   Matthew Doyle, Madison, Conn.             32-35=67 (-4)
3.   Abel Gallegos, Argentina                         35-33=68 (-3)
t4.  Tommy Morrison, Dallas                         33-36=69 (-2)
t4.  David Stanford, Vienna, Va.                    34-35=69 (-2)
GIRLS TOP 5
1.  Emily Zhu, Canada                                   33-36=69 (-2)
t2. Antonia Matte, Chile                                 35-35=70 (-1)
t2. Jasmine Youn Shin, Guatemala               34-36=70 (-1)
t4. Maria Cabanillas, Argentina                     35-36=71 (E)
t4. Valeria Ramirez, Colombia                        35-36=71 (E)