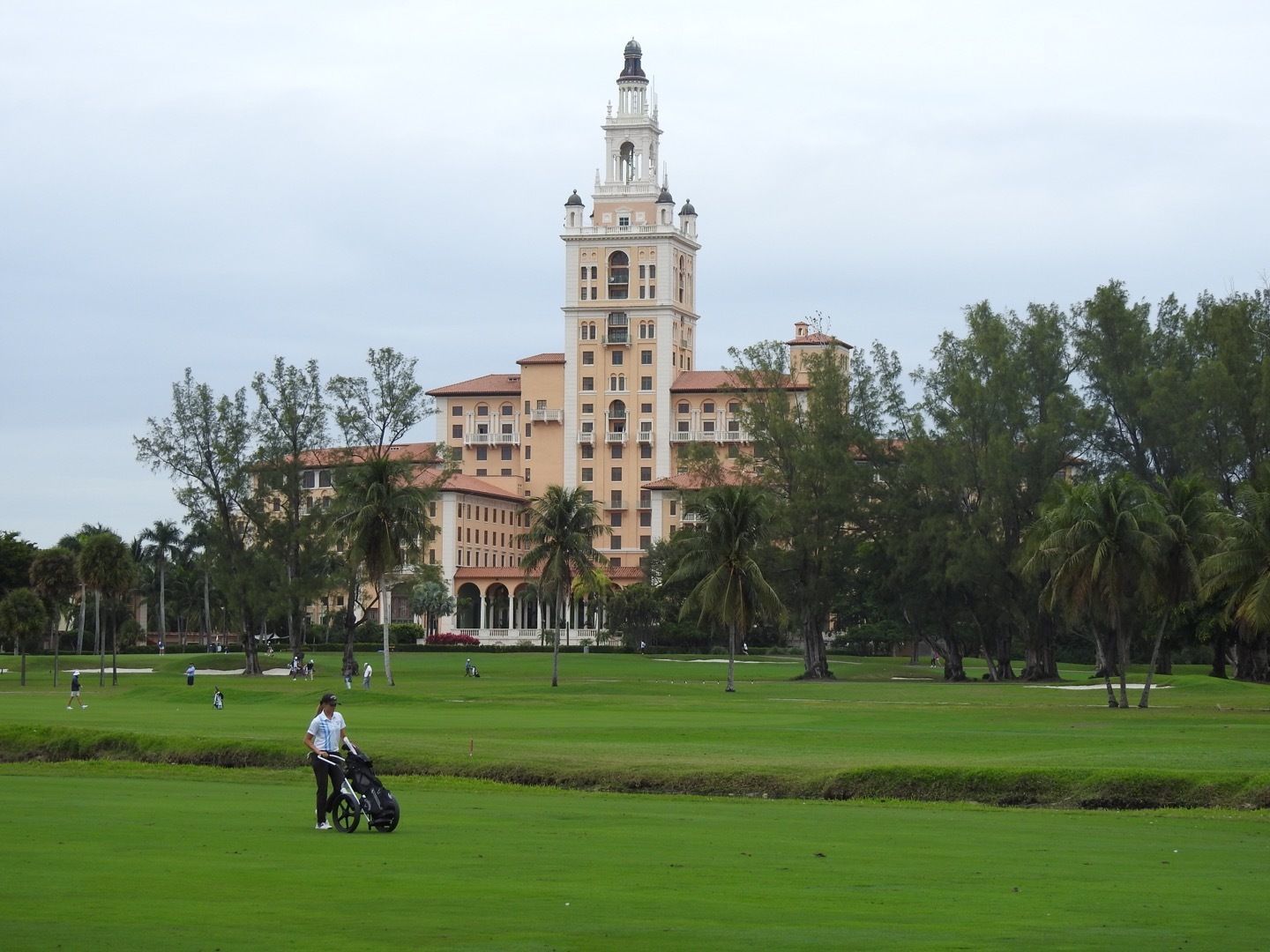 Media contact: Jeff Shain
Phone: +1-305-987-8638
jeffshain@gmail.com
Full scoring: golfstat.com/home.html
CORAL GABLES, Fla. (Jan. 4, 2021) – With every passing round, Canada's Emily Zhu appears more and more confident in the swing changes she's labored on since summer.
And when she can get a couple of early putts to fall, it sets up for a day like Monday's 5-under-par 66 at the Junior Orange Bowl International.
"I made a couple of long ones at the start, and that kind of got it going," said Zhu, who watched a pair of downhill 30-footers at Nos. 4 and 6 find the bottom of the cup, helping propel her to a four-shot cushion after 36 holes at historic Biltmore Golf Club.
Zhu's 66 was two shots better than anyone else – boy or girl – managed on a day when the sun stayed hidden most of the day and winds switched from what they'd seen in practice rounds and Day 1.
"I'm feeling good about my game," said Zhu, who reached the tournament's midway point at 7-under-par 135. After not breaking 70 competitively in more than a month, she owns two of the three rounds in the 60s thus far in the girls' division.
Boys' leader Sebastian Moss also managed to hold onto his sizeable cushion, following Sunday's tournament record 62 with a 69 that kept him five shots clear of Matthew Doyle.
Two early birdies got Moss to 11-under through six holes, and he played even-par the rest of the way. The Texan is the first Junior Orange Bowl entrant golfer to reach double digits under par through 36 holes since Jerri Ji got to 13-under on the way to the 2017 title.
"Most of the times I've had a lead, it's been a three-day tournament," said Moss, making his Junior Orange Bowl debut. "So I'm not used to it in that sense, and especially not at five shots."
Zhu, an Ontario native, went through an inconsistent summer as she undertook changes to her grip and backswing. Despite periods when she admittedly was "all over the place," she began to gain confidence in two events to finish 2020.
That seemed an ideal setup for the Biltmore, where she tied for eighth at the Junior Orange Bowl two years ago.
"I remember (the course) very well," she said, "and my game has been developing over the past couple of tournaments."
Zhu has carded just one bogey through the first two rounds, and got a couple of unexpected bonuses early in Monday's proceedings.
Staring down a 30-foot, slightly downhill putt at the par-4 fourth hole, she couldn't convince herself to factor in any break. "It seemed straight, so I aimed straight," she said. "I hit a good putt and it fell in."
Two holes later, the scenario repeated itself. The birdie at No.6 moved Zhu to 5-under for the tournament, and she added two more birdies on the back nine.
"I tried not to think too much about it," she said of her growing lead. "If it gets into my mind, I kind of lose focus a little bit. So I wasn't really thinking of it too much; it just fell into giving me confidence for the rest of the round."
Chile's Antonia Matte carded a 69 to remain in second, overcoming a troublesome start with three birdies in her final six holes.
"It was just a few bad shots and I couldn't make the putt for par," said Matte, who owns a pair of top-12 finishes in the past two Junior Orange Bowls. "I just wanted to keep calm and play the second (nine). It was like a new round, and I tried to keep focused."
Zhu and Matte were the only two girls under par through 36 holes. Colombia's Catalina Monroy used a 70 to move into third at 1-over 143.
Though Moss carded three bogeys on Monday, he managed to follow each one of them with a birdie to keep from giving back any ground after his record round.
"It kept me in good spirits," he said. "I knew my game was still there, it was just one little mistake or something. I felt I didn't have to worry about anything."
Doyle (Madison, Conn.) also carded a 69 on Monday, though it was an adventurous one that required a number of critical par saves.
"It was a very, very stressful round," he said. "There were a lot of 10- to 15-footers that I needed to make. That's not something you hear every day when you're shooting a 69."
Among the saves were a pair out of greenside bunkers at Nos. 3 and 17, both times with the green sloping away from the pin. "Those definitely kept my round going," Doyle said.
Argentina's Abel Gallegos, the reigning Latin American Amateur champion, struggled to a 74 on Monday to slip 11 shots behind Moss' pace.
The Junior Orange Bowl International has a history that features such champions as Tiger Woods (1991), Hall of Famer Inbee Park (2002) and LPGA major winners Cristie Kerr (1994), Lexi Thompson (2009), Ariya Jutanugarn (2010) and Brooke Henderson (2013).
This year's field brings together entrants from such diverse locales as Russia, Singapore, Uruguay, Bulgaria, Bolivia, Ecuador and the Bahamas.
Tee times and live scoring can be found all week at JrOrangeBowl.com/golf.
The Golf Championship is one of 15 athletic, artistic and cultural events that make up the Junior Orange Bowl International Youth Festival, which celebrates its 72nd anniversary in 2020-21. The festival draws more than 7,500 youth participants to South Florida's community each year.
For more information on the Golf Championship or other Junior Orange Bowl activities, visit JuniorOrangeBowl.org.
#####
BOYS TOP 5
1.   Sebastian Moss, Pearland, Texas            62-69=131 (-11)
2.   Matthew Doyle, Madison, Conn.             67-69=136 (-6)
3.   David Stanford, Vienna, Va.                    69-69=138 (-4)
4.   Jean-Philippe Parr, Canada                     71-68=139 (-3)
5.   Tommy Morrison, Dallas                          69-71=140 (-2)
 
GIRLS TOP 5
1.   Emily Zhu, Canada                                  69-66=135 (-7)
2.   Antonia Matte, Chile                                70-69=139 (-3)
3.   Catalina Monroy, Colombia                      73-70=143 (+1)
4.   Valeria Ramirez, Colombia                       71-73=144 (+2)
t5.  Jasmine Youn Shin, Guatemala              70-76=146 (+4)
t5.  Camila Negroni, Puerto Rico                    72-74=146 (+4)