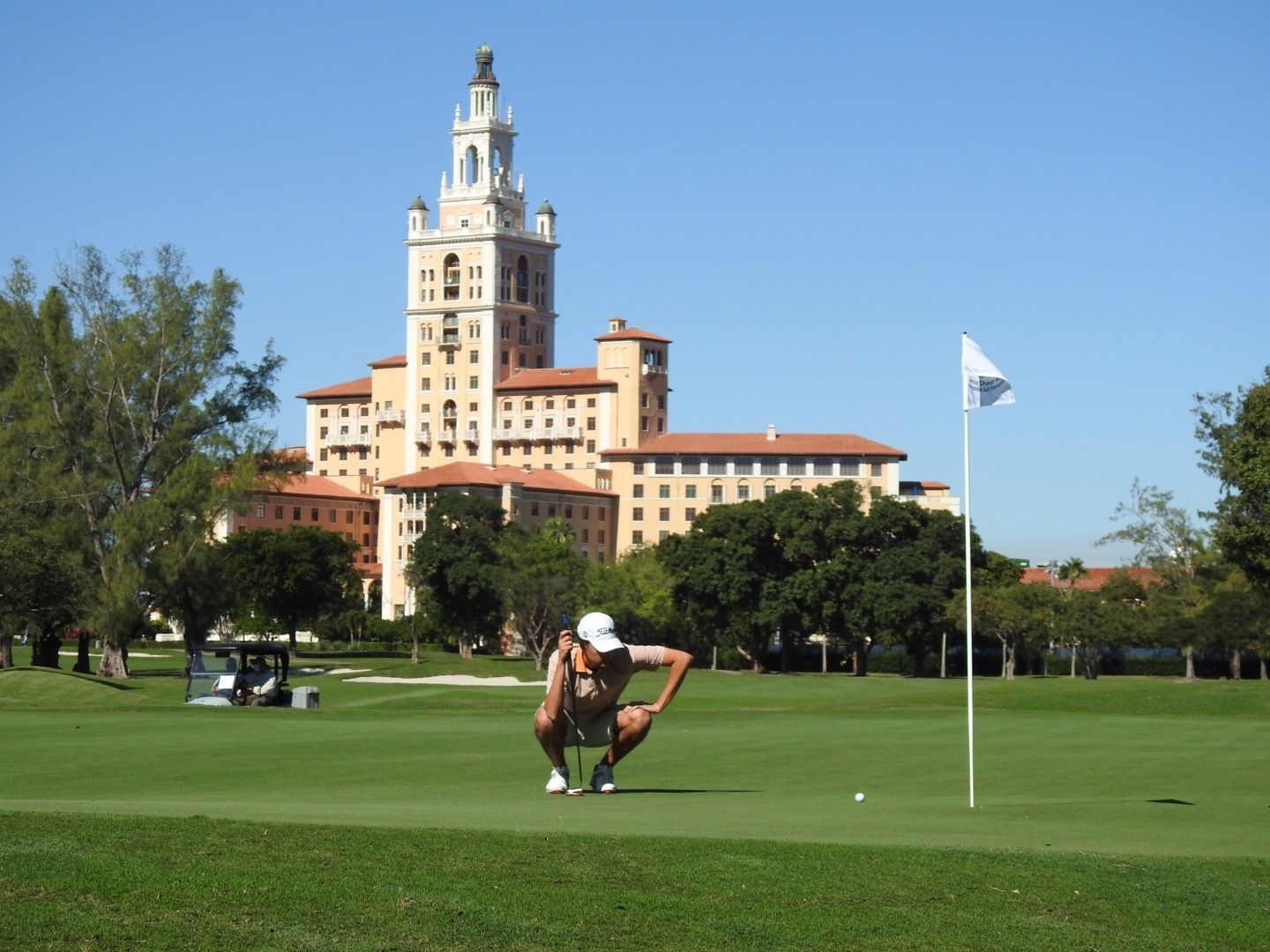 CORAL GABLES, Fla. (Jan. 5, 2021) – Asked for the biggest margin of victory in his young career, Sebastian Moss was rather blunt.
"Not many," said the Texas native. He needed a two-hole playoff to notch his last triumph in August. Before that, it was a one-shot victory in February.
Suffice it to say, then, that the final round of the Junior Orange Bowl Invitational will be new territory.
Moss, who opened the tournament with a record 9-under-par 62, takes an eight-shot advantage into the final day after Tuesday's 68 at historic Biltmore Golf Club continued to expand the gap with his nearest pursuers.
A front-nine 31 by Moss actually built the margin to 10 strokes before taking a small step back. Even so, he's well on pace for the Junior Orange Bowl's largest margin of victory since England's Patrick Kelly produced a 13-shot romp in 2012.
"I've just tried to look at these last two days as new tournaments," he said, "and not look at the cushion I had built before."
At 14-under 199, Moss' three-day total is the best since Jerry Ji (Netherlands) reached 15-under on the way to the 2017 crown.
Things got a little more interesting in the girls' division, as Canada's Emily Zhu and Chile's Antonia Matte went to Tuesday's second nine tied before Zhu re-established her edge. The Ontario native takes a three-shot lead into the final day after an even-par 71.
"I just thought to myself, 'This is a new nine, keep it around even (par) and it should be good,'" said Zhu, who completed three rounds at 7-under 206. "And I birdied the first hole, so that was good."
They seek to join a roster of Junior Orange Bowl International champions that features such names as Tiger Woods (1991), Hall of Famer Inbee Park (2002) and LPGA major winners Cristie Kerr (1994), Lexi Thompson (2009), Ariya Jutanugarn (2010) and Brooke Henderson (2013).
"There's some really good players on that list of names," said Moss, who happened to share a room with 2016 champion Karl Vilips at a golf academy three years ago.
Moss also stands to become the Junior Orange Bowl's first U.S.-born champion in more than a decade, going back to Thompson's triumph in December 2009. On the boys' side, you have to dial back to fellow Texan Chris Ward in 2004.
"I'm just going to try to go out and play my best golf," Moss said. "I'll try not to let pressure or emotions or anything anyone does get to me."
Tuesday's round produced the toughest scoring yet this week, with cool temperatures greeting golfers on the first tee before warming up into the low 70s. Moss' 68 made him one of just three golfers to break 70, all on the boys' side. Matte's 70 was Tuesday's best among the girls.
For a time, though, it appeared Moss had tapped into the magic that helped produce his 62 on Sunday. He birdied four of his first seven holes, including three in a four-hole stretch that took him to 15-under for the week.
After kick-in birdie at the short par-4 fourth hole, Moss drove through the fairway at No.5 and hit a punch shot onto the green before draining a 15-foot birdie. Following a par, he striped a 4-iron from 205 yards at No.7 that settled five feet away for another birdie.
Visions of another 62, perhaps?
"That didn't really come to my mind," Moss said. "I was just going out and playing my game."
Canada's Jean-Philippe Parr closed with a flourish to move into a share of second, carding birdies on three of his last four holes on the way to a second consecutive 68. That moved him to the front of the chase pack alongside Connecticut's Matthew Doyle (71) at 6-under 207.
"My game's in a good spot," said Parr. "I know (Moss) is so far ahead, I can't do anything about what he shoots. I'll just try to focus on my game and do the best I can."
Zhu had to withstand an early challenge from Matte, who strung together birdies at Nos. 16, 17 and 18 to pull even at 6-under as they turned to the front. It was short-lived, though, as Matte bogeyed the par-5 first hole while Zhu birdied.
"That kind of gave me some space," said Zhu, who also birdied No.9 when she watched her 22-foot putt from the back of the green creep the final few inches before dying in the hole.
"I was kind of worried it was going to finish right before the hole," she said. "If that happened, I would have been really mad. I'm glad it didn't."
Matte, meantime, stands as the only golfer in the girls' field to break par in all three rounds so far.
"A few bad shots, but nothing to worry," the Chilean said. "Tomorrow I have one more day left."
This year's field brings together entrants from such diverse locales as Russia, Singapore, Uruguay, Bulgaria, Bolivia, Ecuador and the Bahamas.
Tee times and live scoring can be found all week at JrOrangeBowl.com/golf.
The Golf Championship is one of 15 athletic, artistic and cultural events that make up the Junior Orange Bowl International Youth Festival, which celebrates its 72nd anniversary in 2020-21. The festival draws more than 7,500 youth participants to South Florida's community each year.
For more information on the Golf Championship or other Junior Orange Bowl activities, visit JuniorOrangeBowl.org.
#####
BOYS TOP 5
1.   Sebastian Moss, Pearland, Texas            62-69-68=199 (-14)
t2.  Matthew Doyle, Madison, Conn.               67-69-71=207 (-6)
t2.  Jean-Philippe Parr, Canada                      71-68-68=207 (-6)
4.   Tommy Morrison, Dallas                          69-71-73=213 (E)
5.   Jackson Rivera, Rancho Santa Fe, Calif.   71-70-73=214 (+1)
GIRLS TOP 5
1.   Emily Zhu, Canada                                  69-66-71=206 (-7)
2.   Antonia Matte, Chile                                70-69-70=209 (-4)
3.   Valeria Ramirez, Colombia                       71-73-73=217 (+4)
t4.  Maria Jose Marin, Colombia                     74-73-73=220 (+7)
t4.  Jasmine Youn Shin, Guatemala                70-76-74=220 (+7)