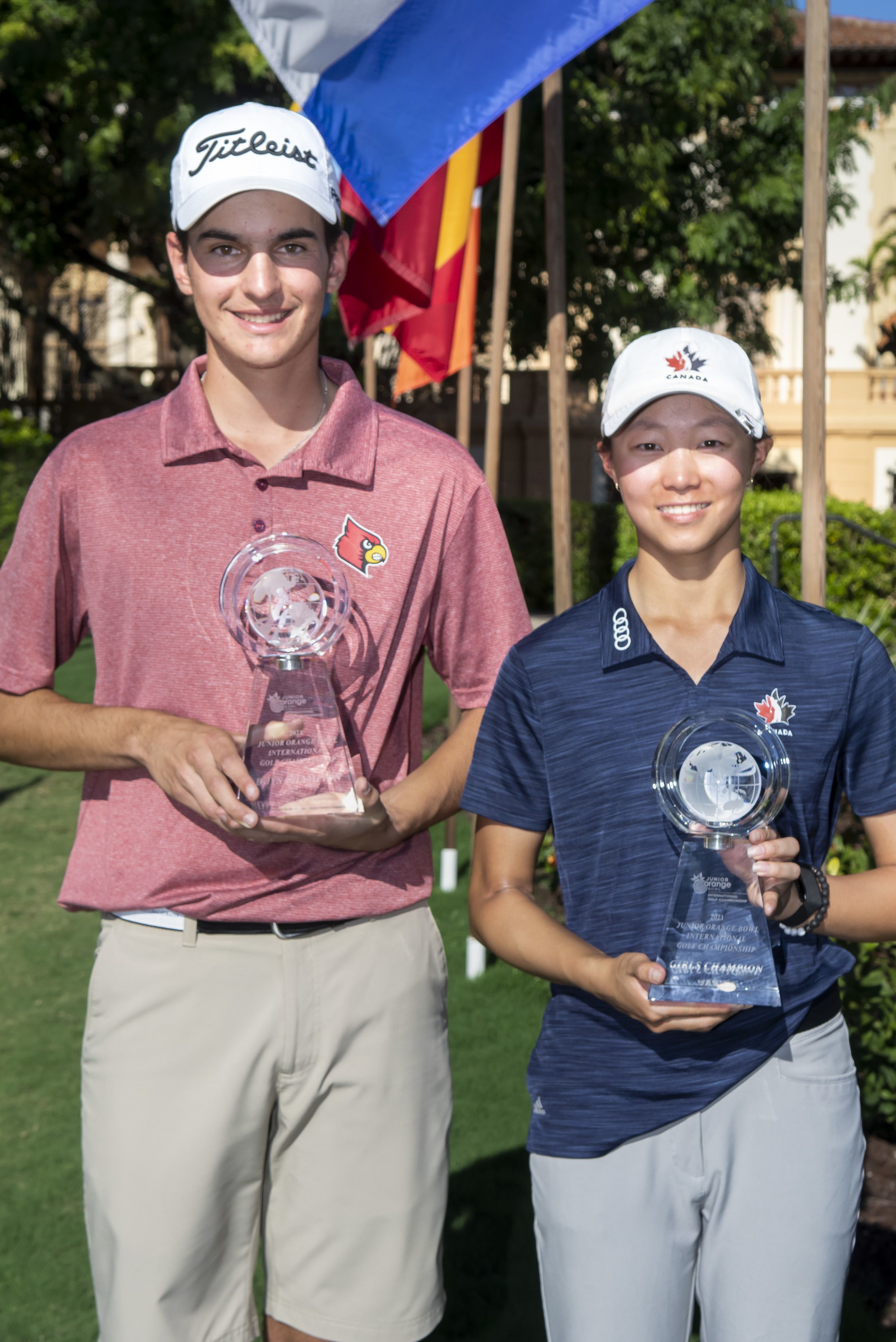 Media contact: Jeff Shain
Phone: +1-305-987-8638
jeffshain@gmail.com
Full scoring: golfstat.com/home.html
Attached photo: Junior Orange Bowl International winners Sebastian Moss (left) and Emily Zhu
CORAL GABLES, Fla. (Jan. 6, 2021) – Over time, it will be remembered solely as one of the more dominant weeks in the annals of the Junior Orange Bowl International golf championship.
And it speaks to the quality of Sebastian Moss' performance over his other 71 holes at historic Biltmore Golf Club that he was able to absorb a major hiccup and still manage to cruise by three shots.
"It's my best golf that I've ever played," Moss said Wednesday after finishing off a 2-over-par 73 that included a quadruple bogey two holes from the finish line. "I was able to enjoy myself, no stress. I only played six holes out of 72 with bogey or worse. Not much stress; I never got mad."
Moss, who rewrote the tournament scoring record with Sunday's opening 62, completed four rounds at 12-under 272 in a wire-to-wire performance over Matthew Doyle (68).
Had he simply parred No.17, Moss would have been the first entrant since 2012 to record four rounds in the 60s. Nonetheless, the lanky Texan stands as the Junior Orange Bowl's first U.S.-born winner in more than a decade.
Canada's Emily Zhu captured the girls' division, staving off a charge from Chile's Antonia Matte for the second consecutive day to end a winless drought that had reached 17 months.
"It's amazing," said Zhu, whose even-par 71 left her a three-stroke winner. "I hadn't won a tournament in a while, so it's really nice. It's a great way to start 2021."
Zhu took a three-shot advantage into the final day, but saw Matte use four birdies in a seven-hole stretch to close within one with six holes remaining. Two bogeys down the stretch, though, kept the Chilean from getting any closer.
"I think I understood what I had to shoot," Zhu said, "and I was just trying to shoot that as best as possible."
Moss and Zhu are the newest names set for engraving onto a Junior Orange Bowl International trophy already featuring Tiger Woods (1991), Hall of Famer Inbee Park (2002) and LPGA major winners Cristie Kerr (1994), Lexi Thompson (2009), Ariya Jutanugarn (2010) and Brooke Henderson (2013).
The fact that there are names to engrave in 2021 also can be considered a success. Though the COVID-19 pandemic kept several top European juniors from making the trip, the tournament still managed to play a 2021 edition with a smaller field.
"It was huge for us," said Junior Orange Bowl president Steven Gonzalez, noting that the festival had been forced to cancel a number of events, including its esteemed tennis tournament and parade.
"It's been a very frustrating year, and luckily golf is one of those things throughout this whole pandemic that has been allowed to move forward. The kids have been resilient; they've been up for the (procedural) changes we've made."
Moss and Doyle, by the way, might have been borderline candidates for invites under the usual selection criteria. However, they turned in two of the week's most dynamic performances.
"I knew I had something special going this week," said Moss, who played his first 45 holes in 15-under par and briefly looked like he might take aim at James Vargas' 2001 scoring record of 261. "That (opening 62) gave me confidence to move along the next three days, knowing my game is where I need it to be."
Even on Wednesday, Moss was rock solid for the first 16 holes with one birdie to go with 15 pars. Then came the adventure at No.17.
From a greenside bunker, Moss caught his bunker shot a little thin and watched it roll into a canal on the other side. Forced to drop from the other side of the water, he rushed his next shot and wound up wet again.
"Fortunately I was able to tell myself that I was OK and I could still recover from this," Moss said.
That was in part because Doyle also found water at No.17.
"I'm in between a 5(-iron) and a 6," the Connecticut native said. "What I should have done is go with a full 6, but I tried to baby the 5 out there and hit the wall of the (canal) and it fell back in."
Doyle wound up with a double bogey, his second on the back nine after making the turn in a stellar 32. An eagle at the par-5 18th came too late, though he still could take solace in a 68.
"It's golf. It's not over until it's over, as Sebastian and I both showed on 17," Doyle said. "I take a lot of positives out of this week."
Moss becomes the Junior Orange Bowl's first U.S.-born winner since Thompson's triumph in December 2009. On the boys' side, the void goes back to fellow Texan Chris Ward in 2004.
Zhu goes into the books as Canada's third champion, following Henderson and Maude-Aimee LeBlanc (2006). It was especially gratifying in light of her winless drought, which prompted a swing change over the summer.
"It was frustrating that I couldn't play like I'm capable of playing," said Zhu, whose most recent win had been the 2019 Canadian Junior Championship. "I couldn't show it in my scores. That was the most frustrating part. But I'm glad that I've settled it and pretty much got my golf in check."
Matte still figured to have a chance down Nos. 16, 17 and 18, which she had played in 7-under par over the first three days. But she couldn't conjure up the magic Wednesday, taking bogey after finding the water on No.17.
"It landed maybe three yards short. I was saying to it, 'Fly!'" said Matte. "I didn't have the finish that I wanted, but it was a really fun tournament."
This year's field brought together entrants from such diverse locales as Russia, Singapore, Uruguay, Bulgaria, Bolivia, Ecuador and the Bahamas.
The Golf Championship is one of 15 athletic, artistic and cultural events that make up the Junior Orange Bowl International Youth Festival, which celebrates its 72nd anniversary in 2020-21. The festival draws more than 7,500 youth participants to South Florida's community each year.
For more information on the Golf Championship or other Junior Orange Bowl activities, visit JuniorOrangeBowl.org.
#####
BOYS TOP 5
1.   Sebastian Moss, Pearland, Texas            62-69-68-73=272 (-12)
2.   Matthew Doyle, Madison, Conn.             67-69-71-68=275 (-9)
3.   Jean-Philippe Parr, Canada                     71-68-68-72=279 (-5)
4.   Abel Gallegos, Argentina                          68-74-74-66=282 (-2)
5.   Tommy Morrison, Dallas                          69-71-73-70=283 (-1)
GIRLS TOP 5
1.   Emily Zhu, Canada                                  69-66-71-71=277 (-7)
2.   Antonia Matte, Chile                                70-69-70-71=280 (-4)
3.   Valeria Ramirez, Colombia                       71-73-73-70=287 (+3)
4.   Maria Jose Marin, Colombia                    74-73-73-72=292 (+8)
5.   Yoko Tai, Singapore                                 73-77-76-69=295 (+11)