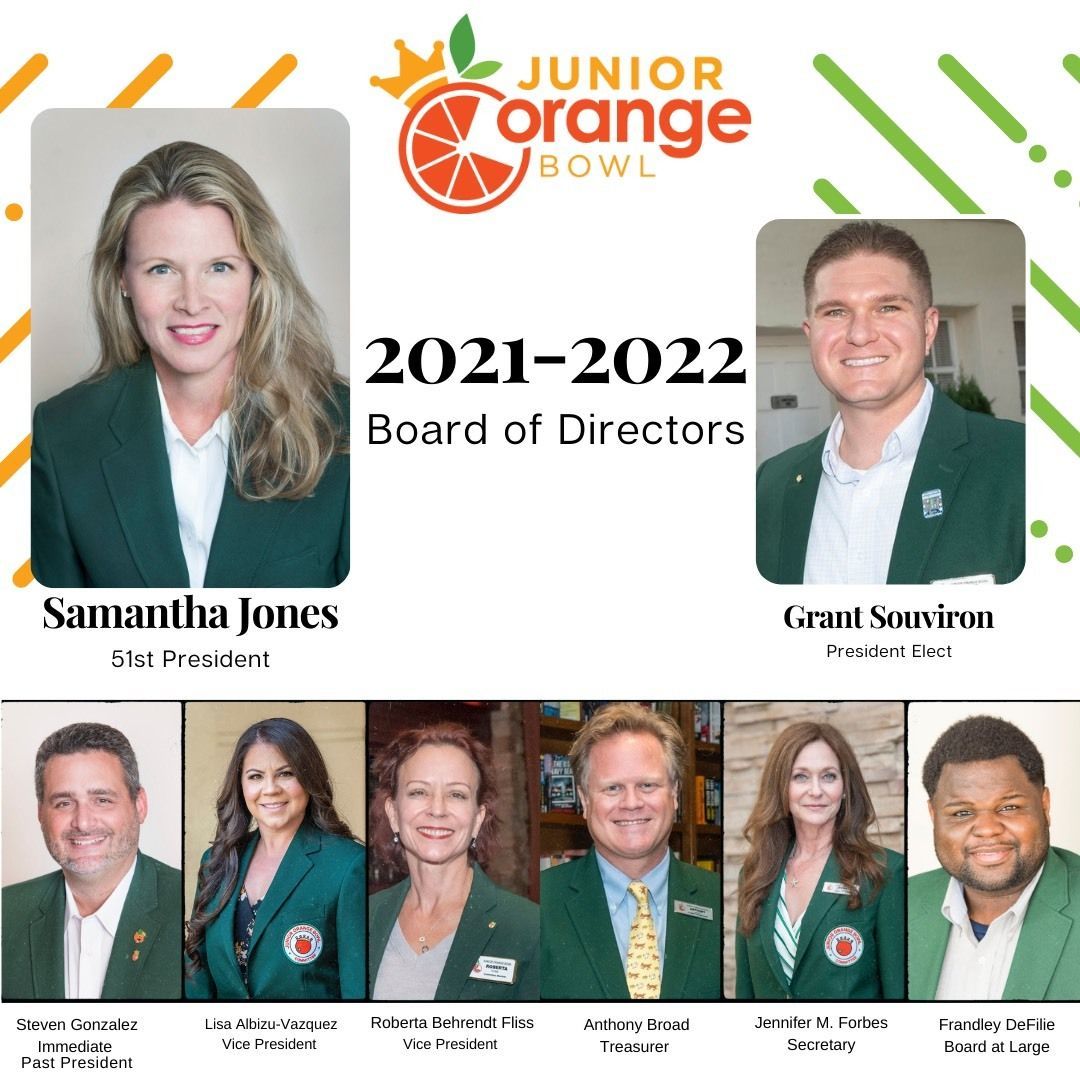 On March 24th, Junior Orange Bowl members and Past Presidents gathered in a Zoom Meeting to install the new board members and the 51st President Samantha Jones.
The 73rd annual Junior Orange Bowl Festival, a collection of ten athletic and cultural events for youth. The Annual Meeting kicked off with Steven Gonzalez summarizing the success and challenges of his festival year under Covid-19 restrictions. Re-imaged Events, like the Toy Drive procession to Nicklaus Children's Hospital to Chuck Little's Classic Basketball Tournaments, were able to be hosted during the 2020-2021 Festival season. 
For the installation, JR Steinbauer, the Junior Orange Bowl's 30th President, led the ceremony and installed the New Board of Directors for 2021-2022 season: Immediate Past President Steven Gonzalez, President-Elect Grant Souviron, Vice President Lisa Albizu-Vazquez, Vice President Roberta Behrendt Fliss, Treasurer Anthony Broad, Secretary Jennifer Forbes, and Board at Large Frandley DeFilie.
Samantha has been involved with the Junior Orange Bowl since 1997 as an active member and 1993 as a volunteer.  After 28 years of volunteering for the Junior Orange Bowl in various roles from Treasurer to Chairing for both Parade and Creative Writing Committees, she brings her expertise and leadership in the development of the organization.
Founded in 1948 with the inaugural Junior Orange Bowl Parade through downtown Coral Gables, the organization envisions a world in which every student and athlete is provided the opportunity for success. Annually, the premier international youth festival includes athletic programs; Basketball, Golf, Tennis, Cross Country, and our Sports Ability Games, which has events specifically designed for student-athletes with physical disabilities. The Junior Orange Bowl also includes programs aimed to increase access to and further interest in the community, cultural arts and STEM education including; Creative Writing, Photography, Robotics, and Youth Ambassadors. Our mission is Empowering Our Youth.
The Junior Orange Bowl Youth Festival is made possible through the support of our host city and premier sponsor the City of Coral Gables, Nicklaus Children's Hospital, Orange Bowl, and Miami Dade County, with the support of the Miami-Dade County Department of Cultural Affairs and the Cultural Affairs Council, the Miami-Dade County Mayor and Board of County Commissioners.