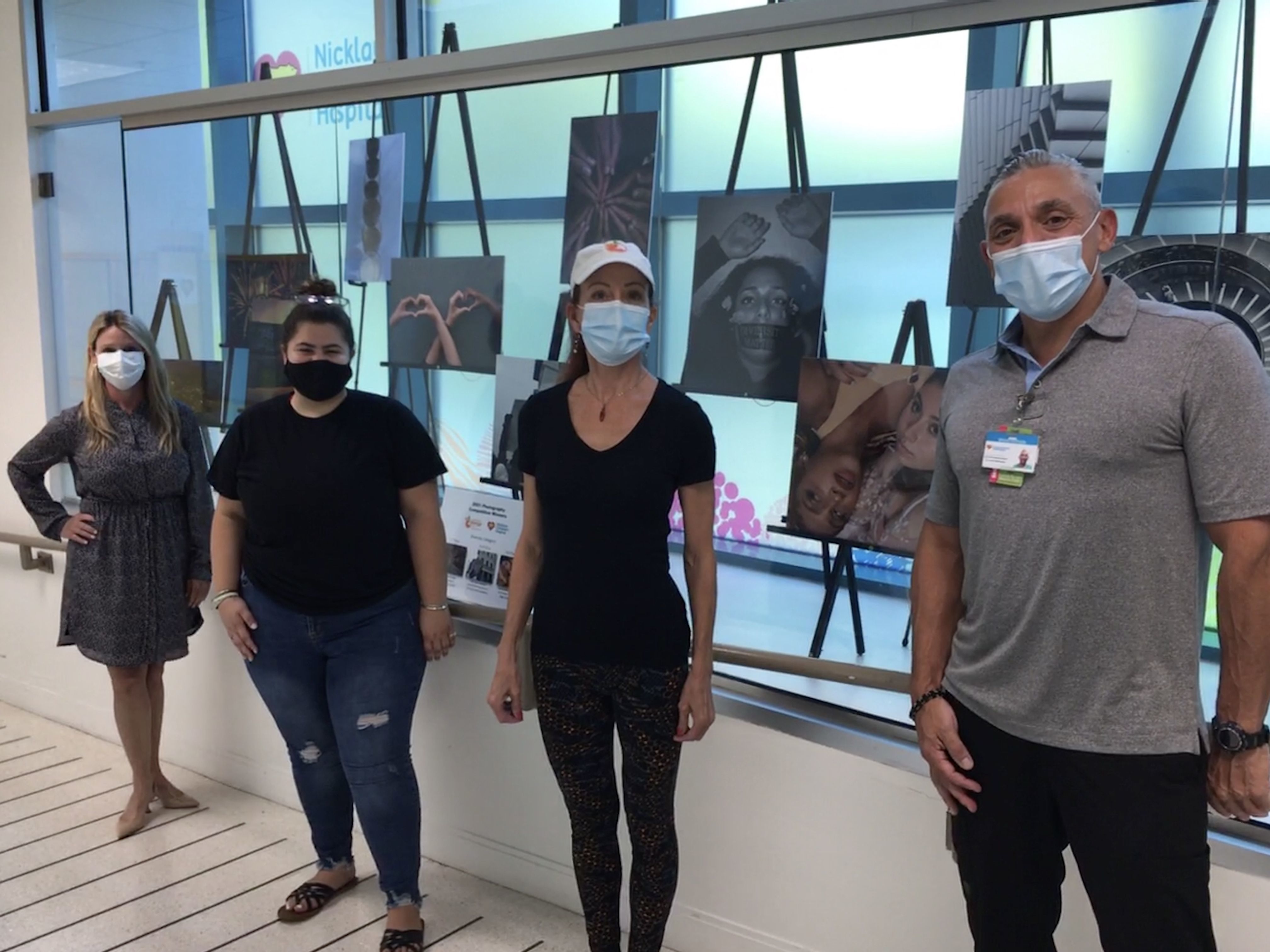 Miami, FL (July 8, 2021) – Longtime Junior Orange Bowl festival sponsor Nicklaus Children's Hospital is showcasing winning student artwork through September. Photographs are on display near the Central/Devonshire main lobby of the hospital campus located at 3100 SW 62nd Avenue, near Coral Gables. The exhibit is aimed at inspiring hope and creating visual interest for patients, doctors, nurses, staff and visitors.
The annual competition awards a 1st, 2nd and 3rd place and Judge's Choice to middle and high school students in six photography categories: Black & White, Diversity, Night, Patterns In Our World, Portraits and Zoo Miami. The Zoo Miami category celebrates Ron Magill and his long-time support. Judges selected the 37 winners out of a total of 285 submissions. Students received cash and prizes from the Junior Orange Bowl and Pitman Photo Supply and plaques from BalMar Trophies at a socially distanced, live-streamed April awards ceremony held at Miami-Dade County Fair & Exposition.
"As the region's pediatric care leader, we are proud to partner with the Junior Orange Bowl to recognize the achievements of South Florida's children," said Matthew A. Love, president and CEO of Nicklaus Children's Health System. "The photo exhibit is a source of delight and inspiration to everyone on our campus."
New this year, the team designed an award and waived entry fees to encourage participation in the Diversity category. Genevieve Artamendi, Southwood Middle School Photography Magnet Teacher won $500 for submitting the most entries in that category.
You can see the full list of winners here. And you can watch the live streamed awards ceremony (Middle School here) and (High School here).
About Us
Founded in 1948 with the inaugural Junior Orange Bowl Parade, the organization carries a strong 73-year-old tradition impacting more than 7,500 youth annually. A Florida 501(c)3, the Junior Orange Bowl hosts athletic and cultural arts events in a diverse and safe environment. Since its inception, the Junior Orange Bowl serves the South Florida community and the youth of the world by hosting an international festival, which includes competitive events for basketball, golf, tennis, cross country, creative writing, photography, robotics, youth ambassador and our Sports Ability Games, track and field, sailing and swimming events specifically designed for young adaptive athletes. The Junior Orange Bowl envisions a world in which every student and athlete is provided the opportunity for success. For further information or sponsorship opportunities, please contact jobc@jrorangebowl.org or 305-662-1210.
About Nicklaus Children's Hospital 
Founded in 1950 by Variety Clubs International, Nicklaus Children's Hospital is South Florida's only licensed specialty hospital exclusively for children, with nearly 800 attending physicians and more than 475 pediatric subspecialists. The 309-bed hospital, known as Miami Children's Hospital from 1983 through 2014, is renowned for excellence in all aspects of pediatric medicine with many specialty programs routinely ranked among the best in the nation by U.S. News & World Report since 2008. The hospital is also home to the largest pediatric teaching program in the southeastern United States and has been designated an American Nurses Credentialing Center (ANCC) Magnet facility, the nursing profession's most prestigious institutional honor. For more information, please visit www.nicklauschildrens.org