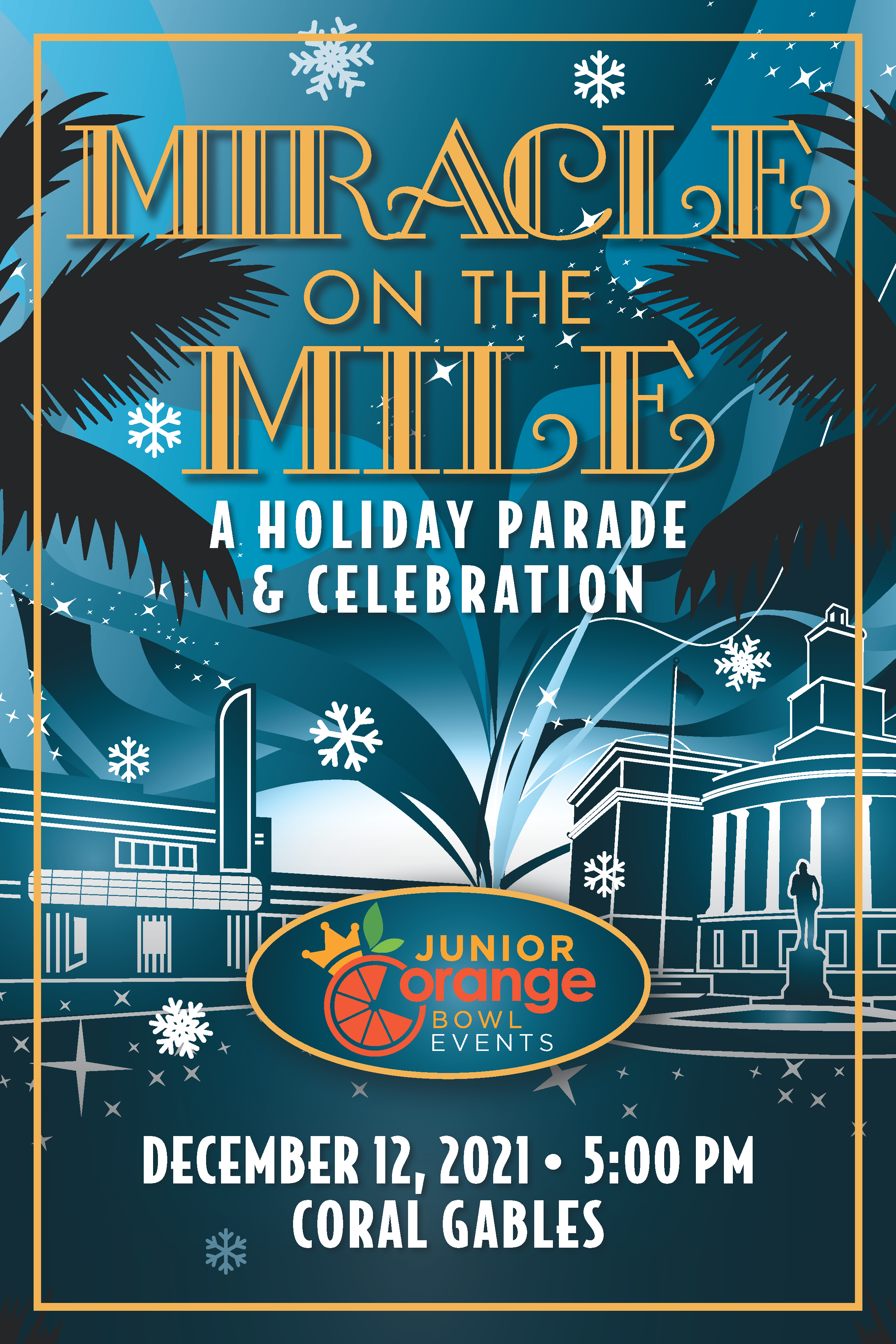 The 73rd annual Junior Orange Bowl Parade returns to the streets of Coral Gables on Sunday, December 12th at 5 pm 
"Miracle on the Mile: A Holiday Parade and Celebration" will feature floats, bands, performers, and more than 2,000 youth community group participants. 
>>> UNIT APPLICATION CLICK HERE                         
>>> PARADE GUIDELINES CLICK HERE
August 31, 2021 - Coral Gables, FL - The Junior Orange Bowl invites community youth groups to apply to march in the 73rd annual Miracle on the Mile, a Holiday Parade, and Celebration. On Sunday, December 12, the parade route begins at 5 pm at the intersection of North Alhambra Circle and Ponce de Leon Blvd, heads south on Ponce, turns west onto Miracle Mile, and finishes just past the Grandstand seating area in front of Coral Gables City Hall.  
Created especially for kids and perfect for families, the parade is free to attend and open to the public. VIP Hospitality Zone Grandstand tickets will be available to purchase on Eventbrite beginning November 1. Fostering the cultural arts, the parade features a vivid arrangement of marching bands, colorful floats, community groups, and creative performing arts units.  
Applications for entry will be evaluated on artistic value and performance appeal. Units selected for entry will be notified by October 1. To increase your chances for selection, units are encouraged to include photographs of their float designs, costumes, performance details and/or music with their application. Please review the parade guidelines for additional details. 
All community units marching in the parade will be judged on the five categories below, with the winner in each category receiving $500.  
- Best Overall  
- Best use of Holiday Theme 
- Best Community Spirit 
- Best Marching Band  
- Best (live) Musical performance 
Grant Souviron, President Elect and Parade Chair of the Junior Orange Bowl proclaimed, "We are excited to be celebrating again this year with an outdoor event. A great way to kick-off the holiday season; the parade will showcase our youth as it travels through Miracle Mile in the heart of Coral Gables." 
The Junior Orange Bowl Festival is made possible through the support of our Premier Sponsor the City of Coral Gables, Nicklaus Children's Hospital, exclusive healthcare provider, the Orange Bowl, and Miami Dade County, with the support of the Miami-Dade County Department of Cultural Affairs and the Cultural Affairs Council, the Miami-Dade County Mayor and Board of County Commissioners.
Please contact parade@jrorangebowl.org for questions or sponsorship information.
To watch Coral Gables TV's video from the 2019 parade, click below.
To view photos from the 2019 parade, click below. 
https://juniororangebowl.org/news-events/photo-gallery.html 
 
---