2020-2021 Creative Writing Contest Theme
"How Has Nature Helped Me in This Time of Pandemic?" 
Important Information & Contest Rules
1. Open to 8th grade students in South Florida. One entry per student. Entries limited to a maximum of 500 words, 12-point font, typed and/or Word or PDF file format.  Essays must be written in English. Essay Format ONLY.
2. The top 10 finalists will be invited to the Awards Ceremony on May 2, 2021. Of the finalists, three winning essays will be selected by a team of judges based on the following criteria: attention to theme, originality and depth of meaning. Live / Virtual Award Ceremony.
3. Essays must be received via online entry form (below) by April 16, 2021.
---
Creative Writing Judging Criteria
1. Splendid prose
2. Attention to theme
3. Depth of meaning
4. Depth of expression
5. Originality
6. Genuineness of voice
7. Grammatical correctness
---
Prizes to be Awarded
1st Place Winning Student Essay receives $750 in cash and prizes
2nd Place wins $500
3rd Place wins $250
Winning Teachers receive:
1st Place wins $350
2nd Place wins $250
3rd Place wins $150
**When your class submits 5 essays, your school will be entered into a raffle to win a cash prize of $500
Submit Your Essay
---
Special Thanks to our Sponsors
2020 Winners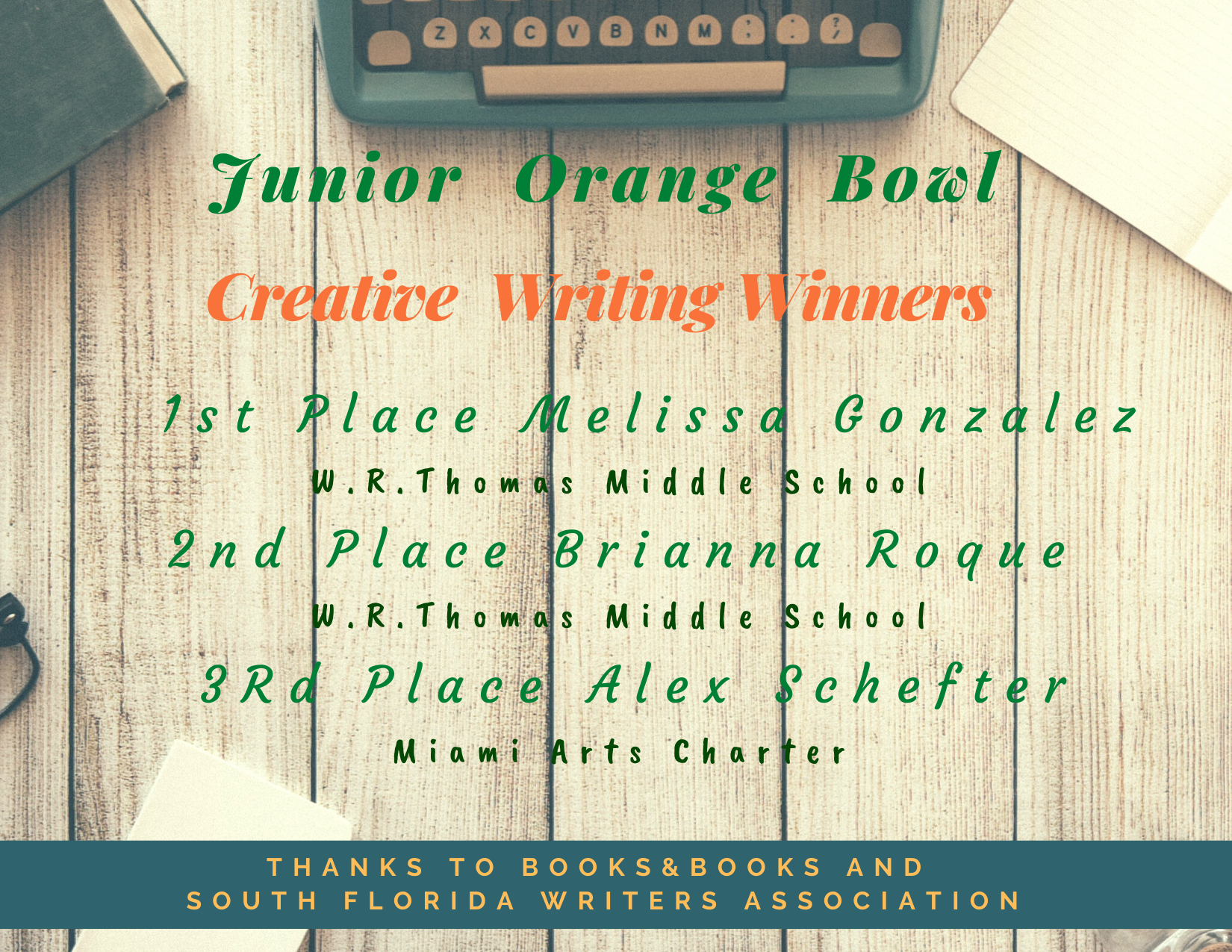 Creative Writing Winners Essay
---
Congratulations to our Top 10 Finalists
WR Thomas Middle School ∙ Ms. Michelle Osorio:
- Rachel Chavez, Jason Gonzalez, Jessica Ratana and Brianna Roque
WR Thomas Middle School ∙ Ms. Gabriela Del Rio:
- Melissa Gonzalez, Kyley Lazarus and Ximena Quintana
Miami Arts Charter School ∙ Ms. Victoria Castells:
- Juliette Osorno, Dylan Reiss and Alex Schefter 
---
Last year's guest speaker:
Chance Ammirata, Founder, Lung Love Foundation 
Chance is a passionate advocate who turned a near death experience into an opportunity. He now spreads awareness of the dangers of vaping through education and gives teens who have fallen into the trap of nicotine addiction the resources to quit.
Creative Writing Chairman: Anthony Broad
Director: Connie Goodman-Milone
Email: jobc@jrorangebowl.org
---