On this page, you'll find any current information concerning the parade as we get closer to parade day. Check back often as the parade day gets closer.
Parade Date
Sunday, December 12, 2021
Schedule
3:00 - 4:30 PM     Unit Staging
4:15 - 4:45 PM     Unit Judging
5:00 PM                   Parade Step Off
5:00 - 6:30 PM     Parade Procession
Parade Route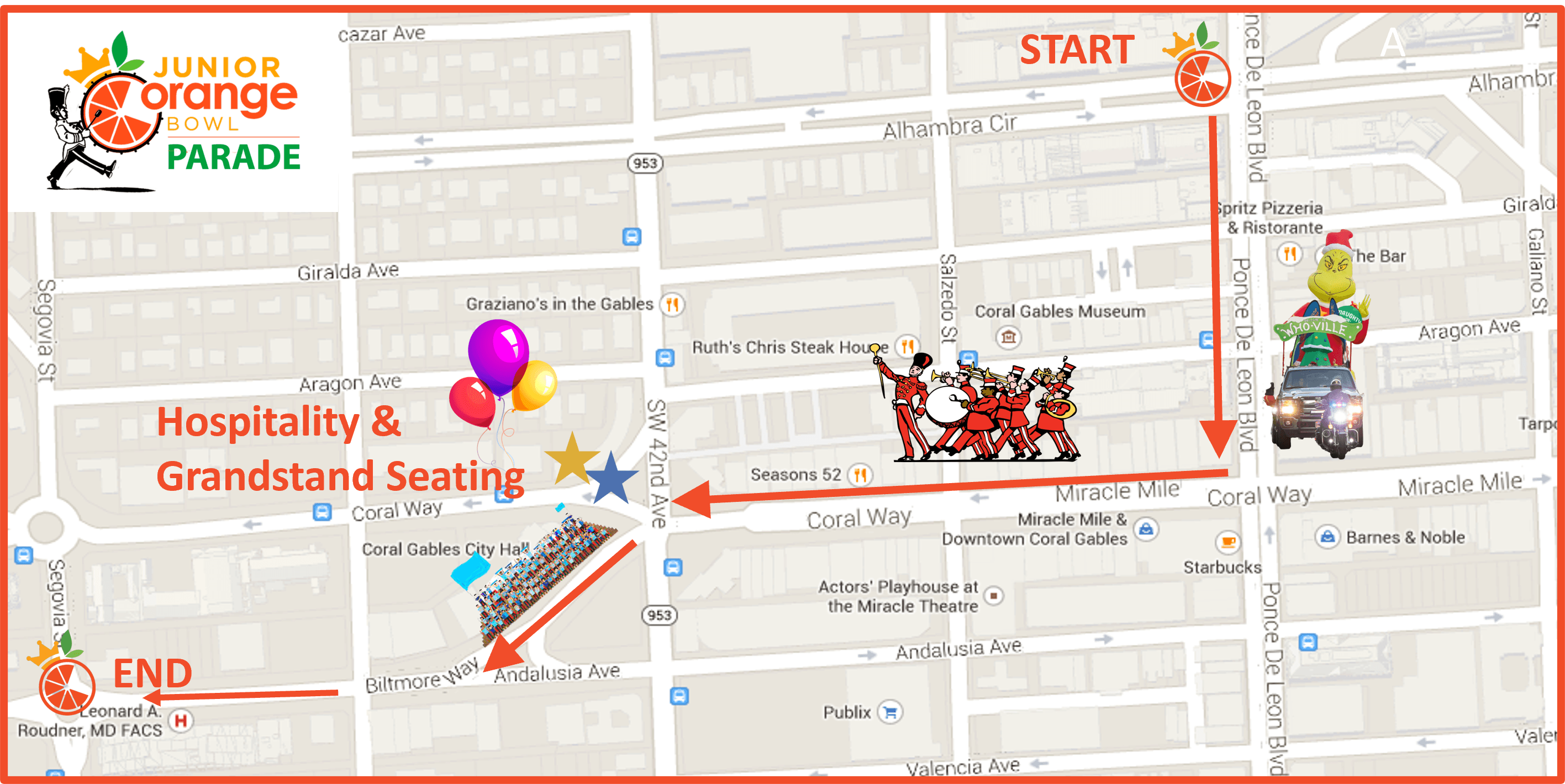 The Parade begins by heading south from Alhambra Circle and Ponce de Leon Boulevard, turns right on Miracle Mile, and finishes just past Coral Gables City Hall (approximately 0.6 mi).
Parade Staging Areas
Staging is located on Alhambra Circle, between Douglas Road and Le Jeune Road.  More details coming soon
Parking
Find Parking (City of Coral Gables site)
Pay by Phone is the preferred provider for the City of Coral Gables parking meters and street parking. 
Coral Gables Municipal Parking Lots & Garages
Alternate Transportation Options:
Important Reminders
Please refrain from throwing beads, candy, or other items from the parade floats for everyone's safety.
If you have any questions, concerns or safety issues please contact one of our Parade Marshals, they have radio communication with medical and police assistance. Our Parade Marshals wear green jackets with our logo and many will be driving golf carts or on Segways.
Volunteer staff in orange shirts will also be available to assist for non-emergency needs.
HAVE FUN!  Remember to wave, smile and enjoy the day!
Required Materials
Restrooms
The parade area is in the heart of downtown Coral Gables near shopping and restaurants. There are no public restroom facilities in the immediate parade route area, and most merchants reserve their facilities for customers only.  The Junior Orange Bowl provides a limited number of port-o-potties in designated locations near staging areas.  A restroom location map will be posted on this page closer to the parade date.
Food & Beverage Options
There is a wide variety of dining options in downtown Coral Gables.  We have compiled a short list of lower-cost options for groups, including links to order online where applicable. This list is by no means comprehensive,and the Junior Orange Bowl does not officially endorse any of these merchants.