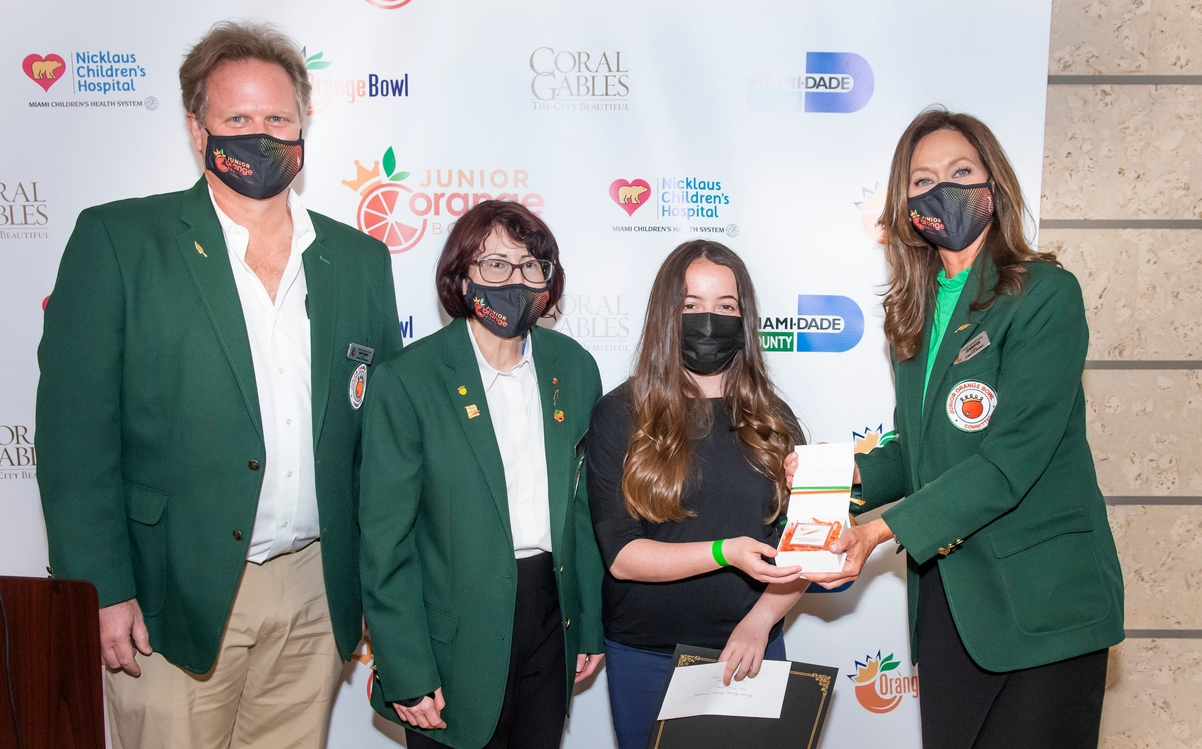 JUNIOR ORANGE BOWL AWARDS CREATIVE WRITING CONTEST WINNERS  
May 6, 2021 - The Junior Orange Bowl in partnership with South Florida Writers Association recognized 10 eighth grade finalists and their teachers, then announced three winners on Sunday, May 2nd at the 33rd annual Junior Orange Bowl Creative Writing Awards Ceremony. The theme for this year's competition asked: "How Has Nature Helped Me in This Time of Pandemic?" The awards ceremony, held at the Coral Gables Museum, was also live streamed.  
Devorah Benveniste from Hebrew Academy is the First Place winner. Amberlito Campbell from Miami Arts Charter School won Second Place. Victoria Navarro from Miami Arts Charter School won the Third Place prize. The winning teachers are Mrs. Jennifer Ohana from Hebrew Academy, Mr. Luis Rosales from Miami Arts Charter School, and Ms.Victoria Castells from Miami Arts Charter School.  
Devorah read her inspiring essay to the audience. Student winners won $750, $500, and $350 in cash and prizes. Winning teachers were awarded $350, $250, and $150 in cash and prizes. Winning students and their teachers received the Golden Quill pin to honor their outstanding achievement in writing. Winning essays will be published in the South Florida Writers Association newsletter, Author's Voice.  
South Miami Middle School won the $500 raffle, which randomly selected a teacher who submitted five or more student essays. In total, 271 essays were submitted from 31 schools in South Florida. 
Trey Knight, Assistant Director of Outdoor Adventures, Wellness & Recreation Department at the University of Miami, was the guest speaker. He shared his love of the outdoors with an important message for our young audience. 
The ceremony included a special recognition of John Allen, Executive Director of the Coral Gables Museum, for his dedication and service to the Junior Orange Bowl.  
We gratefully acknowledge Books & Books, Coral Gables Community Foundation, City of Coral Gables, Miami-Dade County Department of Cultural Affairs, and the Orange Bowl for their support of Junior Orange Bowl and the Creative Writing Contest. 
The Junior Orange Bowl Creative Writing Contest is led by Co-Chairs Anthony Broad and Jennifer Forbes with Director Connie Goodman-Milone. Judging criteria include attention to theme, originality, and depth of meaning. The essays can be found on the Creative Writing page under Our Events at www.juniororangebowl.org. 
In its 73rd year, the Junior Orange Bowl Festival hosts 10 local, national, and international competitive events. Junior Orange Bowl is volunteer led, non-profit organization. For more information, visit us at www.juniororangebowl.org. Contact us at creativewriting@jroarangebowl.org or call 305-662-1210. #