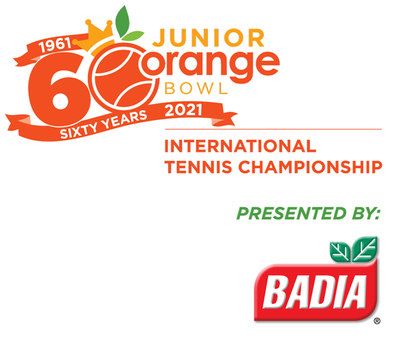 December 12-21, 2021
The Junior Orange Bowl International Tennis Championship is one of the most important and prestigious junior tennis tournaments in the world! This globally recognized event brings together over 1,100 of the top ranked male and female 12-and-under and 14-and-under junior players representing 70 countries!
The tournament boasts an impressive alumni list of pros including:  Andy Murray, 2013 Honorary Chair, Martina Navratilova, 2014 Honorary Chair, Kim Clijsters, 2015 Honorary Chair, John Isner, 2016 Honorary Chair, Karolina Pliskova, 2017 Honorary Chair, Ashleigh Barty 2018 Honorary Chair and 2021 Miami Open Champion, Sofia Kenin, 2019 Honorary Chair and Sloane Stephens, Coco Gauf, Simona Halep, Alexander Zverev, Roger Federer, and Kei Nishikori                   
Over the past 60 years, tennis legends who have also participated in the Junior Orange Bowl are: Andre Agassi, Jimmy Connors, Chris Evert, Mary Joe Fernandez, Steffi Graf, Justine Henin, Juan Martin del Potro, Andy Roddick, Monica Seles, Maria Sharapova, Caroline Wozniacki 
We look forward to welcoming this years talented junior players and congratulating the new champions!
IMPORTANT INFORMATION
2021 Registration Is Now Closed!
STATUS UPDATE
Entries have closed, please check back November 6th for your status, ( main draw, qualifying draw, or alternate for the qualifying draw.) To see your status, go directly to the Tournament Page Click Here
REFUNDS
No refunds will be made once selections are made, which will be closely after the October 15th deadline to enter.  If not selected, you will not be charged.
INTERNATIONAL PLAYERS - TRAVEL RESTRICTION
International players please e-mail us at tennis@jrorangebowl.org  if you need assistance with travel due to COVID.  We can supply you with a NIE travel waiver application form and send you a letter of invitation to help with the VISA process.
DATES
Qualifying Draw is December 12th -14th, 2021 
Check-in will be December 11
Main Draw is December 15th - 21st, 2021 
Check-in will be December 14th
Please bring your passport or copy of your birth certificate to confirm your date of birth to check in.  (USTA cards will NOT be accepted as it does not show birthdate)
If you any questions, the committee can be reached at tennis@jrorangebowl.org or call 305-662-6072
---
FOLLOW US ON SOCIAL MEDIA
Make sure to follow the Junior Orange Bowl Tennis pages on Facebook, Instagram & Twitter for up to date information leading up to and during the event!
---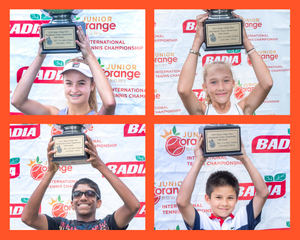 CONGRATULATIONS TO OUR 2019 WINNERS!
Girls' U14- Stephanie Yakoff, USA
Girls' U12- Mirra Andreeva, RUS
Boys' U14- Nisesh Basavareddy, USA
Boys' U12- Benjamin Gusic-Wan, GBR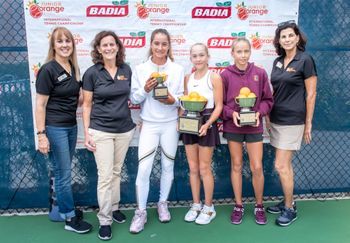 ---
THANK YOU TO OUR 2021 SPONSORS
Presenting Sponsor:
---
---
IMPORTANT TENNIS LINKS
---
TESTIMONIALS

Mary Joe Fernandez     
"I must say, some of my best memories come from competing against players from all over the world at Flamingo Park. As I look back, winning the 18's Junior Orange Bowl was integral in my decision to become a professional tennis player. If you look at the roster of Orange Bowl Champions, it's very indicative of future success and I am proud to be associated with such a prestigious event."
---
TOURNAMENT CHAIRPERSONS: Abby Dresnick, Barbara Waters
TOURNAMENT DIRECTOR: Jodi Steinbauer
TOURNAMENT COORDINATOR: Cathy Nordlund
The committee can be reached at tennis@jrorangebowl.org or call 305-662-6072