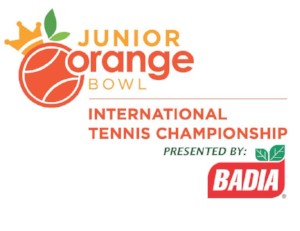 December 14-23, 2019
The Junior Orange Bowl International Tennis Championship is one of the most important and prestigious junior tennis tournaments in the world! This globally recognized event brings together over 1,300 of the top ranked male and female 12-and-under and 14-and-under junior players representing 76 countries! The tournament boasts an impressive alumni list of current pros including; Caroline Wozniacki, Genie Bouchard, Maria Sharapova, Alexander Zverev, Roger Federer, Juan Martin del Potro, Kei Nishikori, and Andy Murray, John Isner, 2018 Miami Open Champion and 2016 Honorary Chair of the Junior Orange Bowl Tennis Championship, and Sloane Stephens, 2018 Miami Open Champion. Over the past 57 years, tennis legends such as Chris Evert, Jimmy Connors, Mary Joe Fernandez, Monica Seles, Andre Agassi and Steffi Graf have participated. 
Make sure to follow the Junior Orange Bowl Tennis pages on Instagram & Twitter for up to date information leading up to and during the event!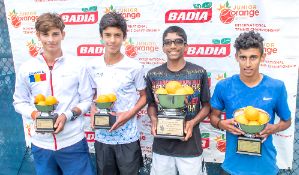 CONGRATULATIONS TO OUR 2019 WINNERS!
Girls' U14- Stephanie Yakoff, USA
Girls' U12- Mirra Andreeva, RUS
Boys' U14- Nisesh Basavareddy, USA
Boys' U12- Benjamin Gusic-Wan, GBR
---
JUNIOR ORANGE BOWL 58th TENNIS CHAMPIONSHIP FINALS
CORAL GABLES – The 58th annual Junior Orange Bowl International Tennis Championship is complete. The final round of each draw took place on Sunday, highlighting a memorable morning of championship tennis.
Nishesh Basavareddy is the boys 14 & under champion, defeating Rashed Naif 6-4, 6-2. The final match was a thriller, as Naif of Qatar was very well matched with Basavareddy, an Indiana product. After a tight first set, 6-4 to Basavareddy, the Qatari had a strong start to the second set. But with the door open for a comeback, Basavareddy slammed it shut, ending the tournament by winning three straight games. 
"He's a really fast mover and he gets to a lot of balls, so I was coming to the net, being aggressive." Basavareddy explained after the match. The number two overall seed says he was fueled by a runner-up finish in the 2017 Junior Orange Bowl.
"This tournament means a lot because two years ago I lost in the finals," says Basavareddy. "It's good to finally get over that hump."
Stephanie Yakoff won the girls 14 & under division. Hailing from Fort Lee, New Jersey, Yakoff defeated number one overall seed Kayla Cross in straight sets; 6-2, 6-3. Cross had looked unstoppable up until the final round, but the Canadian could not overcome Yakoff's strong forehand and clever game at the net.
"I've been training for this tournament for a few months, so I was pretty confident throughout," Yakoff reflected after being presented her championship trophy. "It's one of the biggest wins of my career. Feels great."
The girls 12 & under champion is Mirra Andreeva of Russia. She defeated Ukrainain Yelyzaveta Kotliar in straight sets, 6-1, 6-3. Andreeva did not lose a set the entire tournament.
"This tournament went well, and I will be here one more time," Andreeva said after the match, as next year she will participate in the girls 14 & under division. "I hope to win it again."
Finally, Great Britain's Benjamin Gusic-Wan is the boys 12 & under champion. The six seed defeated top overall seed Alejandro Arcila 6-3, 6-3, and afterwards, Gusic-Wan credited his opponent for an entertaining match.
"[Arcila] was quite solid today, didn't miss much, so I had to find tactics to beat him," said the newly-crowned 12 & under champion. "My forehand was my greatest weapon today."
Asked what's coming up on his slate for 2020, Gusic-Wan pondered for a second, before saying, "I'm not too sure. Just train hard and prepare for the next tournament."
After all four matches concluded, the four champions were each presented with an official Junior Orange Bowl trophy. The runners-up, along with the third and fourth place finishers, were awarded a smaller trophy. Coming in third place across the draws –– Rodrigo Pacheco of Mexico and Manas Dhamne of India on the boys' side, along with Japanese Sara Saito and the second seed in girls 12 & under, Russian Alina Korneeva. 
The Junior Orange Bowl International Tennis Championship has a rich history of attracting the world's most promising young tennis players to Coral Gables. Past participants of the Junior Orange Bowl Tennis Championship have included 2016 U12 winner Coco Gauff, 2002 U14 winner and 2009 US Open winner Juan Martin Del Porto, Roger Federer, Andy Roddick, John Isner, Kei Nishikori, Andy Murray, Caroline Wozniacki, Justine Henin, Karolina Pliskova, Andre Agassi, Monica Seles, Chris Evert, Jim Courier and Mary Joe Fernandez. Former participant Sofia Kenin, a Florida resident and currently the world number 12, is serving as the 2019 Honorary Chair.
The International Tennis Championship is one of 20 athletic, artistic and cultural events that make up the 2019-2020 Junior Orange Bowl International Youth Festival. This primary sponsors for this year's event are Wilson and Badia.
The Junior Orange Bowl Festival is possible with the support of the City of Coral Gables, Nicklaus Children's Hospital, the Miami-Dade County Tourist Development Council, the Miami-Dade County Department of Cultural Affairs, the cultural affairs council, the Miami-Dade County Mayor and Board of County Commissioners.
For more information on the Junior Orange Bowl Committee (JOBC) call (305) 662-1210 or visit www.jrorangebowl.org/tennis.
---
TOURNAMENT CHAIRPERSONS: Abby Dresnick, Barbara Waters
TOURNAMENT DIRECTOR: Jodi Steinbauer
TOURNAMENT COORDINATOR: Cathy Nordlund
The committee can be reached at tennis@jrorangebowl.org or call 305-662-6072
---
---
2019 Tournament Experience Partner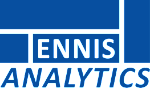 ---
Tennis Analytics will be filming all matches at this year's event. Tagged match video is posted to your own personal online collection, which you can share with your coach, family, or friends. To register online CLICK HERE.
---
IMPORTANT TENNIS LINKS
---
TESTIMONIALS

Mary Joe Fernandez     
"I must say, some of my best memories come from competing against players from all over the world at Flamingo Park. As I look back, winning the 18's Junior Orange Bowl was integral in my decision to become a professional tennis player. If you look at the roster of Orange Bowl Champions, it's very indicative of future success and I am proud to be associated with such a prestigious event."
---
THANK YOU TO OUR 2019 SPONSORS
Presenting Sponsor:
Festival Sponsors:
GOLD LEVEL:
SILVER LEVEL:
BRONZE LEVEL: