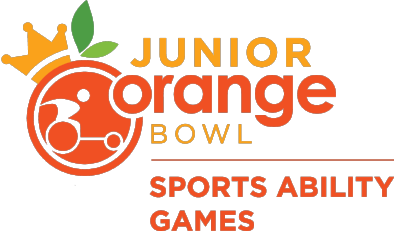 Register for our Swimming Competition May 16, 2021
The Junior Orange Bowl is excited to partner with Girl Scout Gold Award candidate Caroline Kinkade. Caroline has a passion for swimming and philanthropy and wants to highlight the swimming portion of our Sports Ability Games. A limited number of swimming caps and goggles are available to help our participants practice and compete in the pool.
The Track and Field and Sailing events have been postponed to May 2022. Instead, we are working diligently to provide all adaptive swimmers with a safe environment implementing COVID-19 safety protocols for a fun Swim Competition in May 16, 2021.
We look forward to welcoming your School / Club / Athletes to the event.  You'll have a great time, enjoy the opportunity to compete and make new friends.
The Sports Ability Games welcomes any adaptive athlete regardless of his or her experience. We would love to hear if you can join us this year.   
Thank you, 
Caroline Kindade
Swimming Competition
May 16, 2021
Location: Gulliver Preparatory School
9:00 am – Athletes arrive
9:30 - 10:00 am – Swimming events begin
1:00 pm Athletes depart
About the Games
The inspirational 3-day Sports Ability Games is a series of athletic events for young adaptive athletes. This event welcomes any young adaptive athlete that wants to compete, regardless of his or her experience. The Sports Ability Games always gives our participants the chance to make new friends, try new activities, and to challenge themselves.
Photo Gallery
---
Contact Information
jobc@jrorangebowl.org
305.662.1210