The Youth Ambassador program is a dynamic leadership opportunity for students in grades 8 - 12. We're seeking youth who love their community, are motivated to make a positive impact and serve others throughout Miami-Dade County.
Youth will channel their inspiration through opportunities to write articles and plan events, creating an active voice through one or more of the five focus areas:
-Athletics     -Fine Arts     -STEM/Science    -Humanitarian    -Creative Writing
---
2021 Youth Ambassador Committee:
Mrs. Lisa Albizu-Vazquez , Chairperson

Mrs. Lisa, Youth Ambassador Chair

---

Lisa was first introduced to the Jr Orange Bowl in December 2017 by her daughter, LeAnn Vazquez as she took the role of Chair for the Photography Committee.  Quickly, the entire family became dedicated to the mission of the Jr Orange Bowl.

Lisa is a full time High School teacher by day.  She leads many workshops, mentors the Youth and Young Adults of the community, a local philanthropist emphasizing  Community Service initiatives in our community, and is actively the Vice Chair for Photography Committee,  Youth Ambassador Chair , and the Chair for Jobie.

Dr. Claudia Orrett, Co-Chairperson

Dr. Claudia Co-Chair

---

Dr Claudia Orrett, a Clinical Psychologist, author, business owner, and the most important role, mother of teenage twins, who is involved in many worthwhile organizations.  Proud Member of the Youth Ambassador since 2019.  Passionate about special Needs causes and youth mentorship.  

Mrs. Ceci

Mrs. Ceci, Committee Member 

---

CECILIA ZAMORA STEVENSON

A Professional Property and Casualty Insurance Agent with a passion to serve the youth in our community. She joined the Junior Orange Bowl as a volunteer since 2002. Cecilia, was awarded the

JAMES CHARLTON OUTSTANDING SERVICE AWARD 2017-2018 Junior Orange Bowl Festival Season.

LEAVING A LEGACY:

The richest Legacy a Parent and Grandparent can leave a child is a godly example. -Cecilia Zamora Stevenson

Dr. Elba

Elba Iglesias, MD, Youth Ambassador Committee Member 

---

Dr. Elba has been a member of Junior Orange Bowl since 2015 and from the beginning was a Youth Ambassador committee member. The growth and development of young women is something she feels very passionate about.  Dr.  Elba is the Medical  Director of Adolescent  Medicine at Joe DiMaggio Children's Hospital at Memorial. She has made the care of young adults her life's professional mission and being able to participate with the Youth Ambassadors gives her the added opportunity to do this. She is the mother of a 13 year old boy and after being a New Yorker for most of her life now enjoys Miami, Florida with her family as her home. 
 

Frandley DeFilie

Miss Alyssa

Alyssa  Vazquez, Committee Member 

---

Miss. Alysa was first introduced to Jr. Orange Bowl through her sister and mother. She has  volunteered for many years with several organizations within Miami-Dade County and now has taken her love of community to Orlando, FL. She is currently completing her degree in Business Management with a focus in Social Media Marketing in Orlando, FL.  Alysa comes with a verse background in Social Media management and marketing.  She is very excited to be working with Jr Orange Bowl and to be a part of the wonderful Youth Ambassador team.
---
---
2021 Youth Ambassadors
---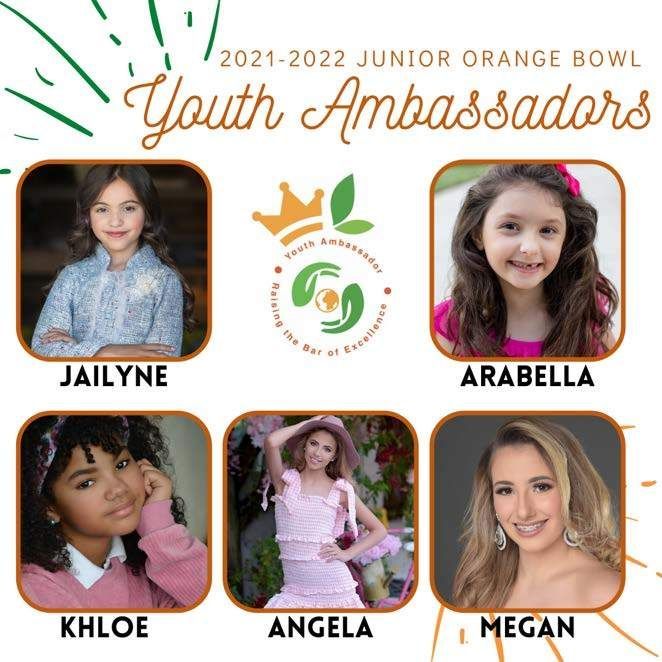 Benefits of being an Ambassador:
Be awarded community service hours which can be used to fulfill high school graduation requirements.

Receive a certificate of recognition at the end of the year, recognizing the ir participation in the program.

Gain valuable skills and experience by helping to plan and attend events with The Junior Orange Bowl.

Have the opportunity to be a part of their community and gain a stronger sense of accomplishment and achievement.