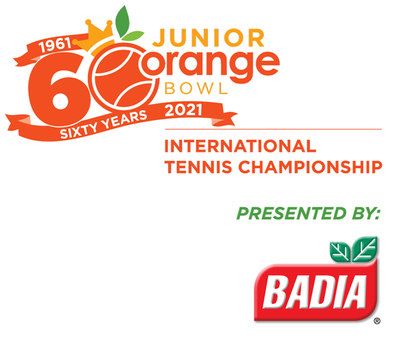 CORAL GABLES --- More than 500 of the best young junior tennis players in the world checked in at the University of Miami Watsco Center Field House to register for this week's 60th rendition of the USTA Level 2 Junior Orange Bowl International Tennis Championship.
As the late, great tennis historian Bud Collins has said: "The path to professional tennis runs through the Orange Bowl."
While he was mostly referring to the older divisions that just concluded in Plantation, it's just as true for the winners of these year-ending 12-and-under and 14-and-under tournaments. So many champions have gone to become legends of the sport. It's where dreams turn into reality.
"I've been part of those years and the history that has evolved,'' said tennis great Monica Seles. "In 1985 I won the girls' 12s against Kim Kassaris and the following year I was runner-up to Laxmi Poruri. I was so proud of those achievements growing up."
Beginning Wednesday at 8 a.m., the boys'14s and girls' 12s will be held at Crandon Park Tennis Center on Key Biscayne, the former home of the Miami Open, while the boys' 12s will be staged at Salvadore Park in Coral Gables, about a mile from the renovated Biltmore Tennis Center where the girls' 14s division is competing.
The public is welcome to watch future stars such as top-seeded Teodor Davidov of Bradenton, who won the Eddie Herr International Tennis Championship 12s a few weeks ago with a style rarely seen in the history of the sport. Davidov, 11, hits only one-handed lefty and righty forehands. He also serves lefthanded and righthanded.
"I mix up my serves,'' said Davidov, who also reached the finals of the USTA National Clay Courts 12s in July. "It comes naturally."
Also, on the Crandon hard courts bright and early will be 30th-seeded Robert McAdoo IV of Lawrenceville, Ga., grandson of NBA Hall of Famer and longtime Miami Heat assistant coach and scout, Bob McAdoo, whose daughter Rasheeda is on the WTA Tour.
"My grandfather sends me messages every single day about words of wisdom and I put them in one of my notebooks, said McAdoo, 12, who's No 1 in the Georgia 12s and 14th nationally. "I beat [my 6-foot-11 grandfather] 6-0, 6-0 last time."
In the girls' 12s at Crandon, second-seeded Kristina Penickova of Campbell, Calif., won the Level 2 Eddie Herr International Championship a few weeks ago, will begin her attempt for an impressive sweep. Her identical twin sister Annika, the 29th seed, hopes to stand in her way, although the two have never faced each other in the finals.
It helps that both parents, Tomas and Olga, had brief careers in the pros.
"They're better than we ever were,'' said Tomas Penicka, once ranked 884th.
On court bright and early at Crandon Park top-seeded Max Exsted, who has relocated from Minnesota to Miramar to focus on his game, plays Tim Vaisman at Crandon at 8 a.m. in a 14s' match.
A few courts away unseeded Aussie Cruz Hewitt, son of tennis Hall of Famer Lleyton, who was No. 1 in the world in 2001 at 20 years old, will be screaming his father's trademark, "Come on!" against Minato Koido. Cruz recently won the prestigious Australian National Clay Courts.
"I wanted to come here to see how it is,'' said Hewitt, who has his dad's fiery nature on the court and even listens to 'Eye of the Tiger,' like his father did for motivation. "I like [Rocky] movies, too."
At 9:30 a.m., 19th-seeded Jagger Leach, son of former No.  1 Lindsay Davenport and nephew of former doubles No. 1 Rick Leach, will play Bercel Sandor Takacs of Budapest.
"I try not to put too much pressure on myself, which is hard,'' said Leach, 14, whose recent growth spurt has him at a lanky 6-foot-2 since moving from California to Sarasota. "I try to focus on the long run and see where it takes me."
In the girls' 14s, second-seeded Rositsa Dencheva, 14, fresh off the Level 2 title at the Eddie Herr tournament in Bradenton in kind of a Bulgarian sweep as Davidov was also born in the same country, is on the clay at the Biltmore Tennis Center at 5:30 p.m.
"This is one of the best under-14s tournament so it's really nice to play here,'' Dencheva said. "I want to win all the Grand Slams and be No. 1 in the world."
Dencheva is part of the nine-player ITF Grand Slam Development Fund team with traveling coach Petra Russegger, as is Eddie Herr boys' 14s champion, Russian Timofey Derepasko, who beat Exsted in the final. He's seeded second here.
"We are an amazing team and I say thank you to the ITF,'' said Derepasko of Moscow. "It's a very good chance for me. I win the first tournament and will try my best to win the second."
From 1982 to '85, Miami native Mary Joe Fernandez was the only player ever to win all four age divisions (12s, 14s, 16s, 18s) and in consecutive years. After winning the 18s at 14-year-old she like many of her peers turned pro. The following spring Fernandez reached the quarterfinals of the French Open.
"Growing up in South Florida it was a great place to compete with players from around the world,'' said Fernandez while watching her son Nicholas Godsick reach the semifinals of the Boys' 16s in the Orange Bowl last week.
"I remember losing to Steffi Graf in the semis of the 12s and the next year I beat Gaby Sabatini in the finals when I was 11. …It was a big deal, and it was nice because it was home for me and I remember finishing on Christmas Eve and every day was like Christmas.
Tennis Hall of Famers such as Jimmy Connors won the 12s in 1964; Steffi Graf won the 12s in 1981; Monica Seles in 1985 followed by Jennifer Capriati in '86 and Justine Henin won the 14s in 1996.
Coco Gauff won the 12s in 2016 and five years later the Delray Beach resident is a teenage sensation ranked 22nd in the world.
As living proof to dreams beginning born on these South Florida courts, just five years ago, Great Britain's breakout star Emma Raducanu finished third in the Junior Orange Bowl 14s' division. Today, the 19-year-old Raducanu is the reigning U.S. Open champion and ranked 19th in the world.
Practically the entire Fort Lauderdale-based Evert family won the 12s or 14s titles, starting with Chris in 1967 (14s), late sister Jeanne (1968-12s, 1970-14s), brother John (1972-12s) and Clare in 1979 (12s). Of course, Chrissie went on to become one of the all-time greats after also winning the OB 18s in 1969 and '70.
For schedule and draws please visit tennis@jrorangebowl.org.