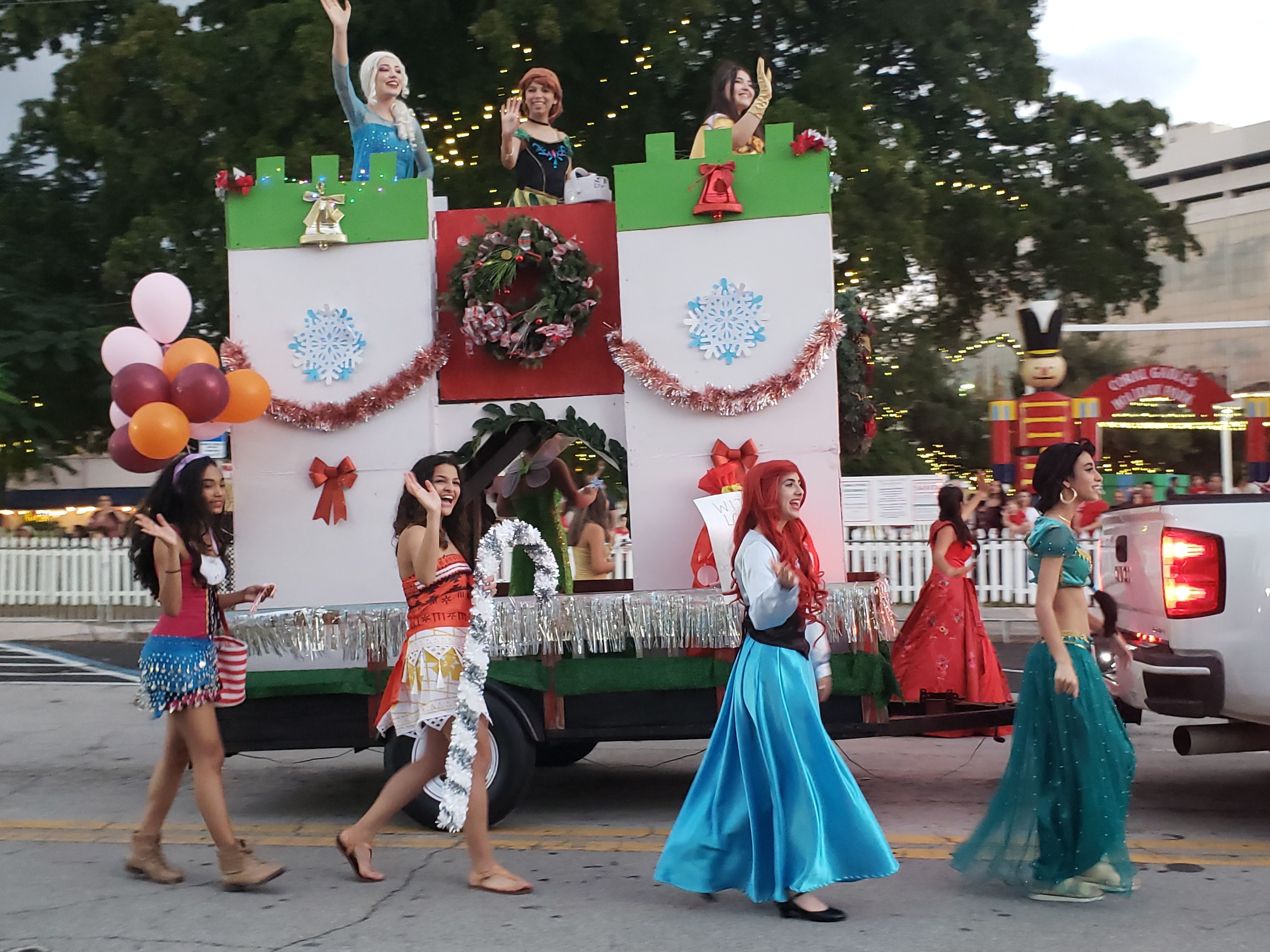 The 73rd annual Junior Orange Bowl event: Miracle on the Mile, A Holiday Parade and Celebration travelled through the streets of downtown Coral Gables last night performing to thousands of fans street side as well as a sold-out VIP Hospitality crowd in the grandstands. The Jay Valor Band delighted guests with musical sounds while they enjoyed complimentary food and drinks.
The Florida Memorial University PEP band opened the pre-parade show and singer Jessi Ryan graced the parade goers with the National Anthem. Grand Marshal Jonathan Fisher received a key to the City of Coral Gables from Mayor Vince Lago. MC Gigi Diaz drew the grandstand patrons into the fun announcing each parade unit as they travelled the TV area. NBC6 Meteorologist Steve MacLaughlin ordered fantastic weather for the event and commentated the parade for NBC6's rebroadcast planned for December 29th at 12:30 PM on NBC6.
The unit procession culminated with Santa's arrival on the Coral Gables Fire Truck, delivering the a toy donation to Perry Ann Reed, senior vice president and chief operating officer of Nicklaus Children's Health System, and president of Nicklaus Children's Hospital.
Winners Selected
Four float judges, Richard Beckford, Scott Hughes, Coral Gables Vice Mayor Michael Mena and Dr. Brian Wuttke, selected the winning community float, marching bands and performing groups in the following categories. Winners receive $500 each in prize money:
Best Community Float - Happiest Stage on Earth from Coral Reef Senior High School
Best Costumes - St. Andrews Pipe Band
Best Community Spirit - Miami Northwestern Senior High Marching
Best Community Spirit - 50th Anniversary Jubilee Band from South Miami Senior High Alumni       
Association and South Miami Students
Best Use of Holiday Theme - South Dade Senior High Marching Band
Best Live Musical Performance - Olympic Heights Senior High School
The Fan Vote is still Live
You can vote for your favorite Marching Band and Parade Unit on the Y100 promotions page, presented by iHeart Media. Voting began yesterday and closes on December 29th at end of the Parade Broadcast on NBC "6 in the Mix".
Link here to vote: https://y100.iheart.com/promotions/junior-orange-bowl-parade-fan-favorite-1141070/
The Junior Orange Bowl thanks premier sponsor City of Coral Gables, exclusive healthcare provider Nicklaus Children's Hospital, the Orange Bowl Committee and the Miami Dade County Department of Cultural Affairs, the Cultural Affairs Counsel, the Mayor and the Miami Dade Board of County Commissioners, media partners NBC6 and iHeart Media and grand float sponsor, Gunster.