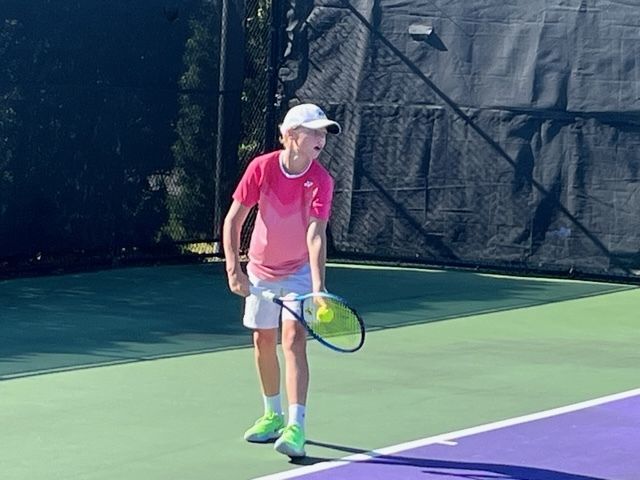 KEY BISCAYNE, FL - Just six years ago, Lleyton Hewitt was winding down his Hall of Fame career with a first-round loss at the Miami Open. Fast-forward to Wednesday morning and Hewitt returned to Crandon Park Tennis Center as just another tennis dad watching his 13-year-old son Cruz win his first-round match in the Junior Orange International Tennis Championships.
Lleyton Hewitt, who never played in any of the Orange Bowl age divisions because it usually conflicted with the Australian championships, tried to remain conspicuous among the spectators.
With folded arms, the usually fiery Hewitt would let out an occasional clap for a good shot or a pat on his thigh to indicate his appreciation of a well-played point during Cruz' rain-delayed 6-3, 6-4 victory over Minato Koido of Bradenton via Hong Kong. Cruz' mother, actress/singer Bec Cartwright Hewitt, was more animated, jumping and clapping for her son. She even showed her speed running after an errant shot went over the fence on Court 11.
"It's not about me, mate,'' said Hewitt when asked for comments about his son's growing game.
Cruz, who recently won singles and doubles in the prestigious 12-and-under Australian Clay Court Championships, displayed the same sideways service style and pinpoint groundstrokes. He also inherited his father's enthusiastic on-court demeanor, sprinkling in several of Hewitt's trademark, 'Come on!' with some fist pumps. He even likes 'Rocky' movies and uses the movie's soundtrack, especially, 'Eye of the Tiger,' for motivation, just like his father did.
A combination of Koido's nerves and Hewitt's flat, hard groundstrokes sparked a 4-0 lead for the 5-foot-5 Aussie. Koido calmed down and Hewitt began to throw in some unforced errors, particularly on his forehand side. At 2-4, Koido had a break point but apparently played an out serve that would've got it back on serve. Instead, Hewitt held and served out the set on his third set point.
"I was not playing well, and he was, plus yeah, his last name had something to do with it,'' Koido admitted. "In the second set I was up 3-2 when he started playing really well, especially with his forehand."
Cruz, perhaps not comfortable with the media yet, offers mostly two-word replies, but he smiled when he said his father did mention that although he won the Delray Beach Open, the second title of his career in 1999, he was never able to win in Miami, reaching three consecutive semifinals from 2000-02.  He lost to tennis greats Pete Sampras in 2000 and a young Roger Federer in 2002, but still winces when reminding of his loss to a 19th-ranked Jan-Michael Gambill in 2001.
Hewitt agreed, "Long time ago, but I should've [beaten Gambill]."
"It's pretty cool. I'll try [to win one here for him],'' Cruz said.
One of Cruz' long-term goals is to play Davis Cup while his father is still coaching. The pandemic has really hit Australia hard, making it difficult for anyone to travel abroad with two-week mandatory quarantines when you return. It also slowed Cruz' development as his mother said all the tennis nets were taken down by government orders.
One of the main reasons for Hewitt putting his son in the Junior Orange Bowl was because the family was already overseas in Europe with the Australian Davis Cup team, so the trip to Miami wasn't as arduous as from their home in Victoria.
As for trying to follow in the footsteps of a father who has won two Grand Slams (2001 US Open and 2002 Wimbledon), 30 ATP titles and more than $20 million in prize money as well as being the youngest player to reach No. 1 at 20, Cruz shrugs it off.
"I'd love to play Davis Cup and win the US Open,'' Cruz said. "I'll try [to pass my father]."
"He's just doing his own thing and doing tennis because he enjoys it,'' Bec Hewitt said.
In another boys' 14s match, another former No. 1 in the world Hall of Famer, Lindsay Davenport, didn't have to spectate for too long as her son Jagger Leach, the 17th seed, only had to play one set after his opponent, Bercel Sandor Takacs tripped and sprained his ankle in the second game of the match.
"I felt OK, but he wiped out right away,'' said Leach, who lost to this tournament's top seed Max Exsted in the round of 16 at the recent Level 2 Eddie Herr International Tennis Championships in Bradenton. "I warmed up well."
Takacs, who was ranked No. 1 in the boys' 12s in Hungary, gutted out the first set before retiring after losing the first set 6-0.
"He has a big serve and also a big forehand,'' Takacs said of the 6-foot-2, 14-year-old Leach.
Leach, who has had two leg surgeries and went through a 7-inch growth spurt during the pandemic, also has some serious sneakers to fill in his mother, and Uncle Rick Leach.
Davenport, who's 6-2, was a four-time year-ending No. 1 with three Grand Slam singles titles and 55 WTA singles titles, as well as 38 doubles titles.
Rick Leach was ranked No. 1 in doubles in 1990, and while Davenport could only get to the finals here at Crandon Park in the Miami Open before losing to Martina Hingis in the final, Uncle Rick won one of his 46 titles in Miami in 1990 to go with five Grand Slam doubles titles.
"We both had really good junior careers,'' said Davenport of her and Jon's huge collection of gold balls for winning several USTA National tournaments. "It's been a lot for him, but he loves it, plays a lot, he's a great kid. He tries super hard. Whatever he wants to do we will transport him because he's a good kid. We'll see where it will take him."
Leach's 6-4 father Jon, was a tennis pro with a high ranking of 229 in doubles and 834 in singles. He and other tennis gurus have always said that Davenport was one of the purest ball-strikers in the sport. Jon said his son has inherited that skill.
"He's got my genes, too, so I'm diluting Lindsay's gene pool,'' joked Jon Leach. "He's really tall now so he's got to get thick, get strong, so you can play with your legs underneath you. He has that ability, the eye-hand coordination. But the men's game is another degree of coverage. His movement needs to improve. Lindsay was maybe the purest ball-striker, but didn't have the athleticism of some of the other peers like Steffi Graff, who was just ridiculous in coverage.
"Obviously, Justine Henin and the Williams' sisters too, started to gravitate toward that level on the women's side."
Davenport said she only played the Orange Bowl once (the 18s) when she was 14 because her father didn't want to make the long trip to Florida from California during school and Christmas.
"I wish he let me play more,'' said Davenport, who also has three younger daughters to drive around to various sports at the IMG Academy, including Lauren, 12 (volleyball) and Kaya, 9, (basketball).
"I love it and feel like I'm lucky to have a passion for it because if you have a passion for something it's easier to do it every day, get up in the morning and it helps keep me motivated,'' said Leach, who has won a USTA gold, silver and bronze ball, but still seeks a gold in singles. "Mom gives me a lot of great advice on and off the court, and helps me with the struggles, too, because she's been there before. We have very similar personalities, and she helps me navigate through a lot of problems she has faced as a player.
"Dad helps me more on the court. … because he played all those years and could tell me what he did wrong. … I was on crutches during the pandemic after my surgery [femur] and when I picked up a racket again, I was 5 inches taller so I'm still trying to work myself back with this new body.
"I try not to put too much pressure on myself and focus on the long run, improving my game and seeing where it takes me,'' Jagger said. "I'm working as hard as I can on and off the court, not as much to follow in their footsteps I guess, but to try to create my own path."
Exsted, who has a Rafa Nadal type of competitive zeal on the court. For example, in his first-round match, the top seed was peeved after not closing out a 5-0 set, only to win 6-1, 6-0 over Tim Vaisman of Israel.
"I hate to lose any point,'' said Exsted, who spends time at home in Savage, Minn., but moved to Miramar two years ago where he trains privately with coach Courtney Scott and also with his USTA Development coach Jon Glover. "I'm very fast, can make a lot of balls and feel like I can hit any shot."
Scott used to be the hitting partner for Delray Beach's teen phenom Coco Gauff, who won the Junior Orange Bowl 12s in 2016 and Orange Bowl 18s in 2018, and is now ranked 22nd in the world.
Exsted showed off an all-court attack, mixing in a sweet, step-away forehand, with a sophisticated net game, which comes in handy when he teams up with another Max, Maximus Dussault, the 8th seed, who he has won several USTA National doubles titles together, including the recent Eddie Herr crown.
"We're the M&M [boys],'' Exsted said.
Like tennis icon Roger Federer, Exsted has the ability to shake off losses quickly. The following week after losing a tough Eddie Herr final to Russian Timofey Derepasko (the second seed here), he went to Orlando and helped lead the American coed team to a victory in the America's Cup over South America, Central America and Canada.
Exsted said the recent US Open women's final that pitted a pair of 18-year-olds in the winner Emma Raducanu over Leylah Fernandez -- who was filming a photo shoot in the Stadium Court at Crandon Park -- inspired him to achieve his dream earlier than expected. Just five years ago Raducanu finished third in the Junior Orange Bowl 14s.
"I want to go straight to the pros, be No. 1 and win Grand Slams, especially, the US Open,'' said Exsted, a solid, 5-7, who already has collected 12 National balls, including six golds, five silvers and a bronze. "Those young kids definitely inspired me 100 percent to keep on going, just to get bigger and stronger."

His father Chris, who takes notes on his phone after every point in his son's matches, said he has two older children, who both played college tennis (Alex, 22, at Northern Colorado, and Isabelle, 19, at North Carolina Central), but: "Max is my star."
Chris Exsted also added that winning at this level isn't everything.
"This is important; the next one is important; they're all important, but they're all not important."
South Florida participants' Rafael Ferreira of Boca Raton coasted past Gianluca Mondini, 6-1, 6-0; while Noah Miremberg of Sunny Isles got past Finn Sulugiuc with the same score line. Fourth-seeded Nicolas Patrick blitzed Markus Valtson of Estonia, 6-2, 6-0.
In the Girls' 14s, top-seeded Iva Jovic of Torrance, Calif., downed Carrington Brown, 6-1, 6-3 and Marcella Roversi of Doral, pulled out a three-setter over Katherine Zhang. Delray Beach's Monika Ekstrand dispatched Reese Calvo of Hallandale, 6-3, 6-0.
Rain delayed all matches at all three sites by at least three hours and another afternoon shower curtailed play on the hard courts at Crandon Park and Biltmore at about 4 p.m., but play continued on the clay at Salvadore Park.
For more information, draws, results and schedule, please visit tennis@jrorangebowl.org