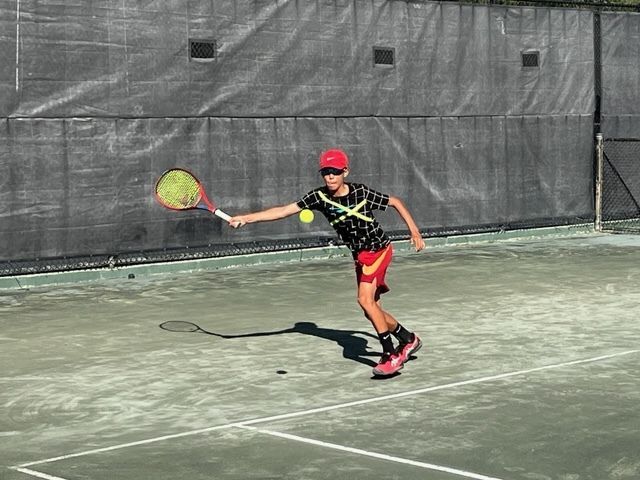 CORAL GABLES, FL - The ball is smaller. The net is lower. But Robert McAdoo IV possesses the same sweet strokes on the tennis court that his grandfather Bob McAdoo displayed during his Hall of Fame NBA career.
Because Tuesday's rain washed out more than 140 matches in the four divisions (14- and 12-and-unders) of the Junior Orange Bowl International Tennis Championships, the 17th-seeded Robert had to play two matches in the 12s' draw on Wednesday to catch up.
Although Bob McAdoo aka Babu or grandfather in Georgian -- the native country of Robert's mother Ika -- the Miami Heat scout slept in for his early-morning 6-1, 4-6, 6-2 victory over Carter Jauffert.
However, Big Mac arrived from his Boca Raton home for the afternoon match on the clay courts of Salvadore Park, and nervously watched his 12-year-old grandson (Little Mac) pull out an exciting, tight 6-3, 5-7 (10-6) victory over Dylan Jones, the No. 3 player (Tennis Recruiting) in Pennsylvania.
"All I did was try to run the ball down and try to stay consistent even though I missed [some] shots,'' said Robert, who's No. 1 in the Georgia 12s and 14th nationally.
"Before every point I tell myself, I want to win this on my serve or at the net or win this under five shots. It's a big deal getting to the third round in the [Junior] Orange Bowl."
Although McAdoo went through this treacherous journey through junior tennis with his 26-year-old daughter, Rasheeda (now ranked 227 in doubles and 850 in singles after four years mostly in the minor leagues of pro tennis), the normally stoic NBA legend, said it's more stressful on him to watch Robert play than setting up for a buzzer-beating jump shot in the NBA Finals.
"That match was like a triple-overtime. This is more nerve-wracking than the Miami Heat games,'' said McAdoo, who has five NBA championship rings, including two with the Lakers as a player with Pat Riley as his coach, and three more with the Heat as an assistant coach from 1995-2014. "I got control if I'm shooting. If it's LeBron [James] shooting, I don't have control. If someone else is doing it, then I get nervous."
Similar to his calm Babu, Robert shows very little emotion on the court, although he did raise a fist after a huge service winner. When McAdoo would score any of his 18,787 points, including a dunk, he refused to celebrate in his opponent's face.
McAdoo said unnecessary taunting and chest-beating in the modern-day NBA, "just takes away energy.''
"When my opponents do that or I try, it just gets me distracted. After every point I'm in my own bubble in my head and just thinking about the next point," said Robert, who grew up in Mahwah, N.J. before moving to Lawrenceville, Ga., where his father, Robert III, is an assistant tennis coach at Georgia Gwinnett College.
That relaxed confidence came in handy in the third-set decisive 10-point tiebreak, as Robert was able to counter Jones' crafty mixture of drop shots and sophisticated volleying skills with some huge forehands on the lines.
The gene pool is much deeper than Babu as his late grandfather on his mother's side, Teimuraz Kakoulia, was ranked a career-high 91 in 1975. As a qualifier he once reached the fourth round of the 1976 US Open.
Kakoulia was also the coach of the national Soviet/Georgian team. Ika McAdoo or Irina Kakoulia when she was a top junior in Georgia, had a brief foray into the pros before playing No. 1 for four years at Idaho State on a full scholarship. She also served an assistant coach for two years before the children started to come.
Next up is fifth-seeded Jordan Lee, who defeated McAdoo in the Round of 16 at the recent Level 2 Eddie Herr International Tennis Championships. "Little Mac,'' as his mother calls him held two set points in the second set but wasn't able to close the deal.
Lee eventually lost to Herr champion Teodor Davidov, the top seed here, who has become a social media star due to his rare ambidextrous style of playing with two one-handed forehands, and no backhands.
Davidov, a native of Bulgaria, coasted into the third round Wednesday as did No. 2 Navneet Raghuram.
Robert's mother Ika and father Robert III, who also went to two colleges on a tennis scholarship as did his Aunt Rasheed (Georgia Tech) – stresses education, so while the youngster would love to win Grand Slams, college is more of slam dunk in the McAdoo household.
"I know this is a really big tournament and this is my time to make a name for myself,'' Robert IV said. "If I can do well, the future is only going to become better."
One of the first things Robert does every morning is check his phone for a daily motivational quote from his Babu.
"It's something I started doing with the Heat for every game," McAdoo said. "I'd send all 15 players a quote on the game report, something positive with the attitude. Then I started doing it with Rasheeda and now I sent daily quotes to all my kids and grandkids that could read. They get Sunday off."
Thursday's message was: "Take care of what you have while the world lets you have it."
"It definitely helped,'' Robert said with a smile. "I can't lose in front of him."