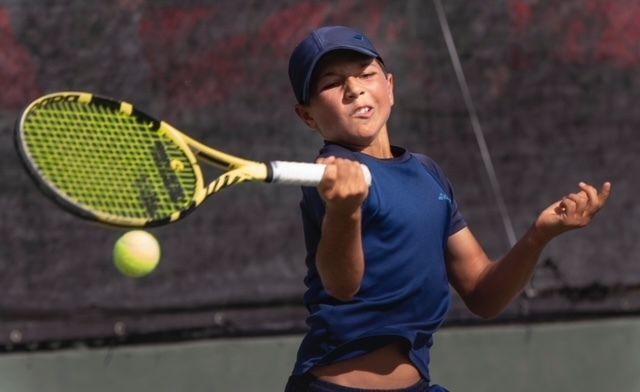 CORAL GABLES, FL - Every tennis player has strengths and weaknesses for their opponent to probe. What do you do when your adversary seamlessly switches hands in mid-rally and has two excellent one-handed forehands without a backhand to attack? 
That's the case for pint-sized, 11-year-old Teodor Davidov, the No. 1 seed in the Boys' 12s in this week's USTA Junior Orange Bowl International Championships on the clay courts of Salvadore Park.
Davidov's unorthodox style has created head-scratching problems for his opponents as evident from his recent victory in the prestigious Level 2 Eddie Herr International Tennis Championships in Bradenton, about a lob away from where the Bulgarian native trains at Inspiration Academy.
"Both of his shots are the same, mostly cross-court and he has a very good shot down the line,'' said dangerous floater Mark Mrcela, 12, who lost to Davidov in the quarterfinals of Eddie Herr, and is marching through the draw again for a potential rematch "It's hard to know which side is worse."
Mrcela, whose parents are Croatian and trains at Saddlebrook Academy in Tampa, will next play the second-seeded Navneet Raghuram of Port St. Lucie, who has dropped just five games in three matches.
Davidov, who has become a social media sensation since video of his style went viral during his quarterfinal run in the Easter Bowl, struggled in the first round, going down 0-3 in the third set before a rain delay and pep talk from his father/coach Kalin spurred him to victory over Ireland's Charles Riley.
"I just told Teo to make believe he was practicing at our academy with [Marie Bouzkova, a top 50 player from Czech Republic] who he hits with all the time to calm him down,'' Kalin recounted.
Davidov, a natural righthander when eating his vegetarian, no-sugar, gluten-free diet, takes his quirky attack even further by serving right-handed to the deuce court and left-handed in the ad court, sending his opponents out wide to set up an easy cross-court groundstroke.
"I love it and will always do it,'' Davidov said of his righty-lefty forehands which got him to the finals of the National Clay Courts 12s in July. "I serve that way, so they see the different spin."
Davidov allowed just four games in Round 2 to Chase Pierce and on Friday, gutted out another battle in a Mutt and Jeff scenario, as he toppled a much taller 17th-seeded Aminu Oluwajomiloju – the hard-serving British youngster who won the Junior International Bath under-12s last month – 6-3, 7-6 (1).
After grueling matches, Davidov often receives massages from one of his parents, both licensed masseuses and yoga practitioners, who left Bulgaria when Teo was 18 months old. Davidov does yoga exercises before his matches to relax his muscles and on occasion gets acupuncture treatment from his father.
Kalin, the mastermind of the two-forehand approach, played volleyball and tennis as a junior in Bulgaria. They moved from Denver recently because he felt the high altitude was not good for Davidov's stroking progress.
He has a Master's degree in high sports performance (and teaches that at Inspiration Academy), a Bachelor's degree in physical education and tennis coaching. His wife Elena was a competitive diver and studied physical therapy. They had a clinic in Denver where they did neuromuscular therapy, acupuncture and several other holistic practices.
It's all about a philosophy of Ying and Yang, creating balance in all areas of his life.
"I never planned this to give any strategic or tactical advantages in tennis,'' Kalin said. "I thought it might be better to balance his personality and become a better version of himself, so I started experimenting with him hitting lefthanded when he was eight years old.
"I wanted him to stimulate more the right hemisphere of his brain because he's very left-handed hemisphere dominant. He's a fiery, extroverted person and very much action-oriented so I wanted to stimulate the right hemisphere of his brain, using the left part of his body, to balance his personality.

"Yoga is a driving force in our family life so I'm trying to use tennis as a method of self-development. I'm not just training a great tennis player, for me this is secondary. It could be an outcome of a much more balanced life. Our goal is related to spirituality."
Wilson tennis endorsement coach Jaushwa Russell, whose son Josiah (No. 1 in Kentucky) lost in the first round of the 12s, marvels at Davidov's fearlessness.
"He doesn't have anything that resembles a backhand,'' Russell said. "He has no fear and that's what separates him from some of the other players who have good strokes and good balance but they're only using about a 75 percent swing speed versus their max. The majority of his swings are full-fledged swings and it doesn't matter how big the point."
Tennis great Monica Seles made the two-handed attack from both sides popular during her Hall of Fame career in the 1990s, and currently 31-year-old Korean Cheong-Eui Kim is struggling with Davidov's no-backhand style in the minor league pro circuit where he languishes at No.  996 (career-high 296 in 2015).
Russia's Evgenia Kulikovskaya was ranked in the top 100 in the early 2000s while playing tennis with two forehands. Luke Jensen or 'Dual Hand Luke,' served with either hand but was predominately a doubles specialist, reaching a career-high of 298 in singles but 6th in doubles in 1993, including the French Open title with brother Murphy that year.
Between fitness and tennis Davidov trains for nearly eight hours a day, but it's paying off on the court and on the Internet. To achieve sports-related balance, Davidov plays basketball and ping-pong, where he alternates hands in rallies but not during the same points. He also tinkles on the piano.
When asked of his future aspirations, unlike most of his peers who want to be No. 1 in the world and win Grand Slams, the youngster with a high IQ on and off the court, replied:
"I don't have any expectations of myself just as long as I give it my best,'' he said. "I want to turn pro when I'm older. I just want to be different."
So far this month, his best has been more than enough, and he certainly is different.
In other 12s matches, Robert McAdoo IV, the grandson of NBA Hall of Famer, Bob McAdoo, went down to fifth-seeded Jordan Lee of Orlando.
Lee, the Eddie Herr finalist who lost to Davidov, has his own set of special genes, as his mother Martina Lee (Nedelkova] was once ranked No. 1 in the world in juniors. She reached the round of 16 in the Orange Bowl, losing to Flavia Pennetta, who won the US Open in 2015 over fellow Italian Roberta Vinci.
Lee, a Slovakian, went on to win six doubles titles on the ITF circuit. She played tennis for Virginia Commonwealth University and reached a career-high WTA ranking of 441. Lee now works for the USTA in the high performance program at the National Campus in Orlando where her son trains.
"I just want him to have fun,'' Lee said of Jordan. "He wants to do it every day."
Also, No. 3 Svit Suljic, No. 7 Vihaan Reddy and No. 4 Colin McPeek all advanced.
In the Girls' 12s at Crandon Park Tennis Center, top-seeded Christina Lyutova needed a 10-point tiebreaker to sew up her third-round victory over 17th-seed Aoi Watanabe.
However, a huge upset occurred as Yui Komada, one of many 17 seeds, dispatched No. 2 Kristina Penickova, the reigning 12s champion of the recent Eddie Herr tournament, 6-0, 6-2. It was a rough week for the twins as sister Annika Penickova retired at 3-3 with an injury in her second-round match on Thursday to Yua Morishita
No. 7 Stone Harper of Greenwood, S.C., who features two-hands from both sides a-la Seles, continued her dominant ways with a 6-2, 6-3 win over Morishita. Harper, 12, who won doubles at the National Indoors in Alpharetta, Ga., last summer, didn't allow a game in her first two matches.
"My dad has been my coach forever and he played baseball,'' Harper said. "I didn't take it serious then so I just started hitting it like a baseball. I kept doing it and started getting serious and it just stuck."
No. 3 Lia Belibova and No. 4 Anita Tu of Melbourne advanced.
In the Girls' 14s on the Biltmore Tennis Center hard courts, top-seeded Iva Jovic rolled as did No. 3 Eva Oxford.
In the Boys' 14s at Crandon, 17th-seeded Jagger Leach, son of Hall of Fame tennis champion Lindsay Davenport was defeated by ninth-seeded Roben Gavani, a smooth-stroking, left-hander from Bulgaria, in a dramatic, 4-6, 6-2 (16-14) marathon.
Top-seeded Max Exsted of Minnesota and Miramar locally, looks virtually unbeatable in a 6-1,6-3 victory over Nicholas Rizzo.
Although Nathaniel Suh, one of many 17 seeds, lost to sixth-seeded Calvin Baierl in a 10-6 tiebreaker, his sister, ninth-seeded Sophie Suh moved to the final 16 with a 6-0, 6-1 rout of Carrie-Anne Hoo in the Girls' 12s.