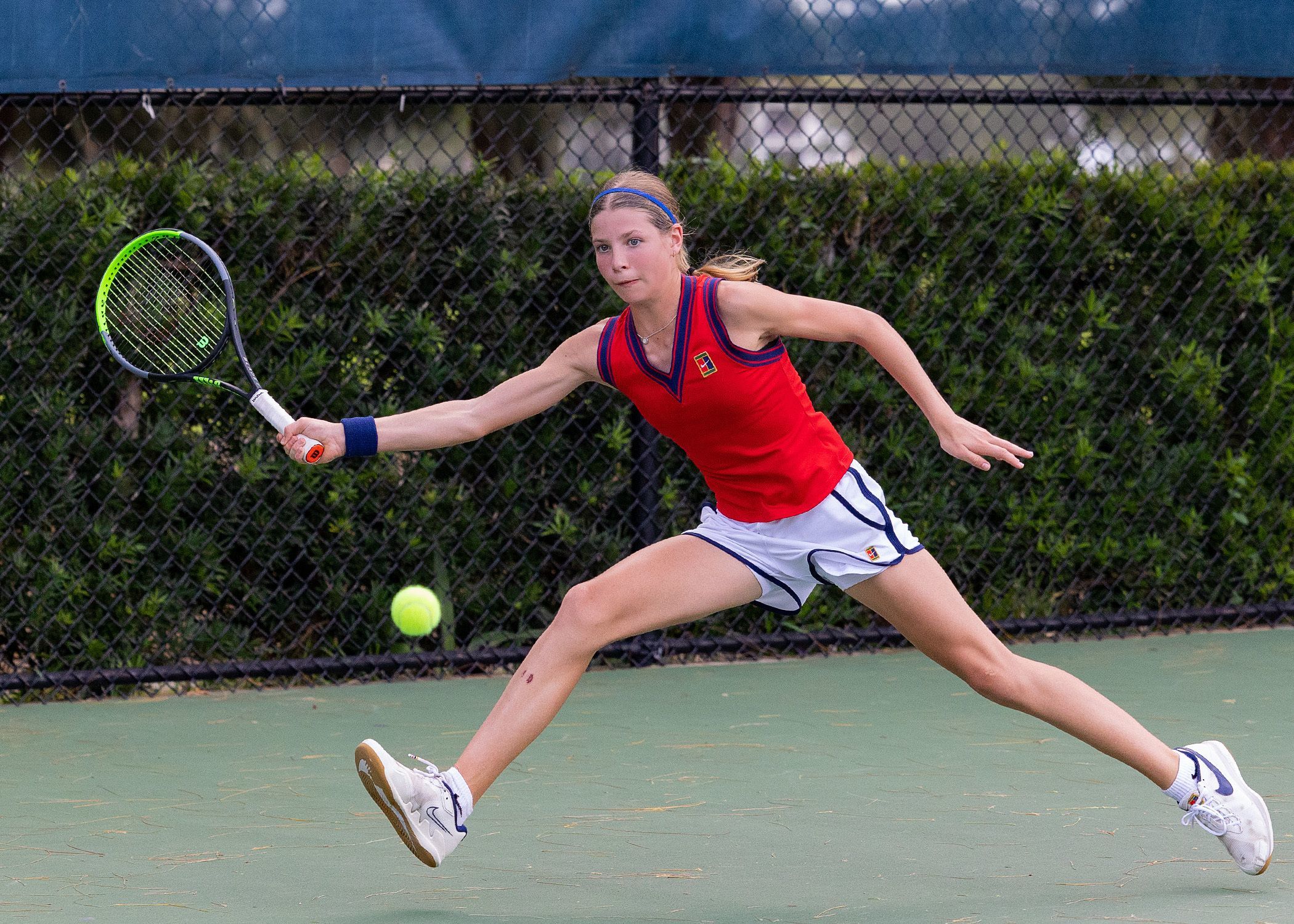 CORAL GABLES, FL – When you were born and live your whole life in Wimbledon about a lob away from the All England Lawn Championships outside of London, it's hard not to fall in love with tennis.
Hannah Klugman even attends Wimbledon High School and if grades were given out for her first trip to Florida, the 12-year-old blonde baseline basher would receive straight A's, after reaching the Girls' 14s quarterfinals of the Junior Orange Bowl International Championships Saturday morning on the hard courts at the Biltmore Tennis Center.
"I love everything about tennis, about being on the court, I just can't explain it,'' said Klugman, the sixth-seed, after her 6-2, 6-4 victory over hard-hitting southpaw Elizabeth Fauchet, the 17th seed, from Nashville. "Everything outside the court just doesn't matter.''
Klugman, who has attended the Wimbledon Championships since she was about 7, even queuing up with her older sister for hours, has been ranked No. 1 in the 12s and 14s in England's Lawn Tennis Association after winning those age divisions in the National Championships two years running.
She hopes to follow in the footsteps of British prodigy Emma Raducanu, who finished third in this tournament five years ago and at 19, won the US Open last summer.
"I had dinner with Emma after she won at the First Official Dinner fundraiser in a Wimbledon restaurant and took a photo with her,'' Klugman said. "We're both represented by them. It was really exciting to see her as she's the first British woman to win it for ages [since Virginia Wade in 1977]. I told her, 'well done' and what an inspiration she is for me.
"It encourages us to keep going."
She occasionally bumps into tennis great Andy Murray, who not only won the Junior Orange Bowl 12s and 14s, but was the first Brit to win Wimbledon (2013) since Fred Perry in 1936.
"It was incredible the first time when he won,'' she said. "I met him walking around the [National Tennis Center] and he said hi to me.
"I don't want to just win Wimbledon, I want to win as many Grand Slams as I can,'' Klugman added. "And be No. 1 in the world."
Her coach Ben Haran, based at the Reeds Tennis School in Surrey where Hannah attends 7th grade, said her competitiveness is her No. 1 attribute. Hannah's private coach Alison Taylor was also on site cheering for her as were her parents from across the pond.
"She's not afraid to play anyone,'' said Haran, who has worked with pros Jack Draper (ranked 264th) and Dan Evans (ranked 25th). "She's a very good athlete, has great variety and works things out well on the court. She serves well for someone her size, which is huge in the women's game, and has a good all-around game."
Next up for Klugman is second-seeded Rositsa Dencheva of Bulgaria, who notched her fourth straight-setter in a row, this one 6-4, 6-2 over unseeded Sara Conde. Dencheva, 14, is attempting the difficult Sunshine Sweep after winning the Eddie Herr International Tennis Championships in Bradenton a few weeks ago.
Seventh seed Katie Rolls of Plymouth, Mich., and 4th-seeded Shannon Lam of East Brunswick, N.J., advanced for a quarterfinal meeting. Lam, who won the Easter Bowl 12s and Les Petits playoffs in Boca Raton, blew a 5-2 lead only to prevail 7-6 (4), 6-4. She's mostly playing up in the 16s and 18s, in a desire to, "speed up the process,'' to the pros.
"I was out of my environment because I usually play indoors,'' said Lam, who answered questions with a friendly bird in her hand. "I was out of my head for a while."
Lam gave up competitive swimming (breaststroke) and piano for tennis when she was about 9.
"Piano helped me because I have a rhythm on the court during a rally so it helps me think about the tempo, and swimming helped me [build] my shoulders,'' Lam said.
Lam has actually played piano at Carnegie Hall, but she's looking to make some string music in tennis stadiums for years to come.
Dencheva, a tall, powerful server, is part of a 9-player contingent from around the world sponsored fully by the ITF Grand Slam Development Fund Team, that includes Boys' 14s No. 2 seed Timofey Derepasko, the Russian teen who won Eddie Herr, and Alvaro Jimenez, who lost his round of 16 match Saturday.
Fifth-seeded Claire An, a second generation Korean and native of Chicago who grew up in New York but has trained at Evert Tennis Academy in Boca Raton for years, endured an antagonistic match with fiery Israeli Eden Maayan Mayorkes 6-4, 7-6 (3).
Mayorkes, 13, was given a key point penalty in the tiebreaker for racket abuse. An also had to deal with Mayorkes' constant moonballs, a stroke made famous in the 1970s by Tracy Austin and Andrea Jaeger, but in the end won the last two points of the match on moonball rallies, eliciting a guttural, "Come on!" from An, who raised her arms up in triumph to her mother Hannah.
An also had to overcome a painful cramp serving at 40-15, 5-5 in the second set, calling for a medical timeout.
"She was overruled four times,'' An said. "It feels very good considering all my matches have been extremely hard so I'm very satisfied with my performances so far. This is my last 14s so I just want to do the best I can.''
An will next play top-seeded Iva Jovic, who routed Marcella Roversi, 6-1, 6-0 in one quarterfinal on Sunday. She's hoping that her mentor Chris Evert will show up for a postmatch, "pat on the back."
In the Boys' 14s at a rainy Crandon Park in Key Biscayne, top-seed Max Exsted, a Minnesotan living in Miramar, cruised into the quarters.  Of the nine top seeds in the Boys' 14s the only loser on Saturday was seventh-seeded Boxiong Zhang.
Teodor Davidov, the No. 1 seed in the Boys' 12s with the two forehands, advanced to the quarterfinals Saturday with a 6-4, 6-4 win over No. 9 Tam Sin Hang of Hong Kong. Davidov, who like Dencheva, is hoping to pull off the all-Bulgarian sweep of Herr and the Junior OB.
He's on track to possibly see Navneet Raghuram in the final on Tuesday, as the second seed took out dangerous 17th seed Mark Mrcela 6-4 in the third. Mrcela often practices with Hall of Famer Goran Ivanisevic and receivers regular advice from former French Open champions Iva Majoli, because of their Croation connections to his Mrcela's parents.