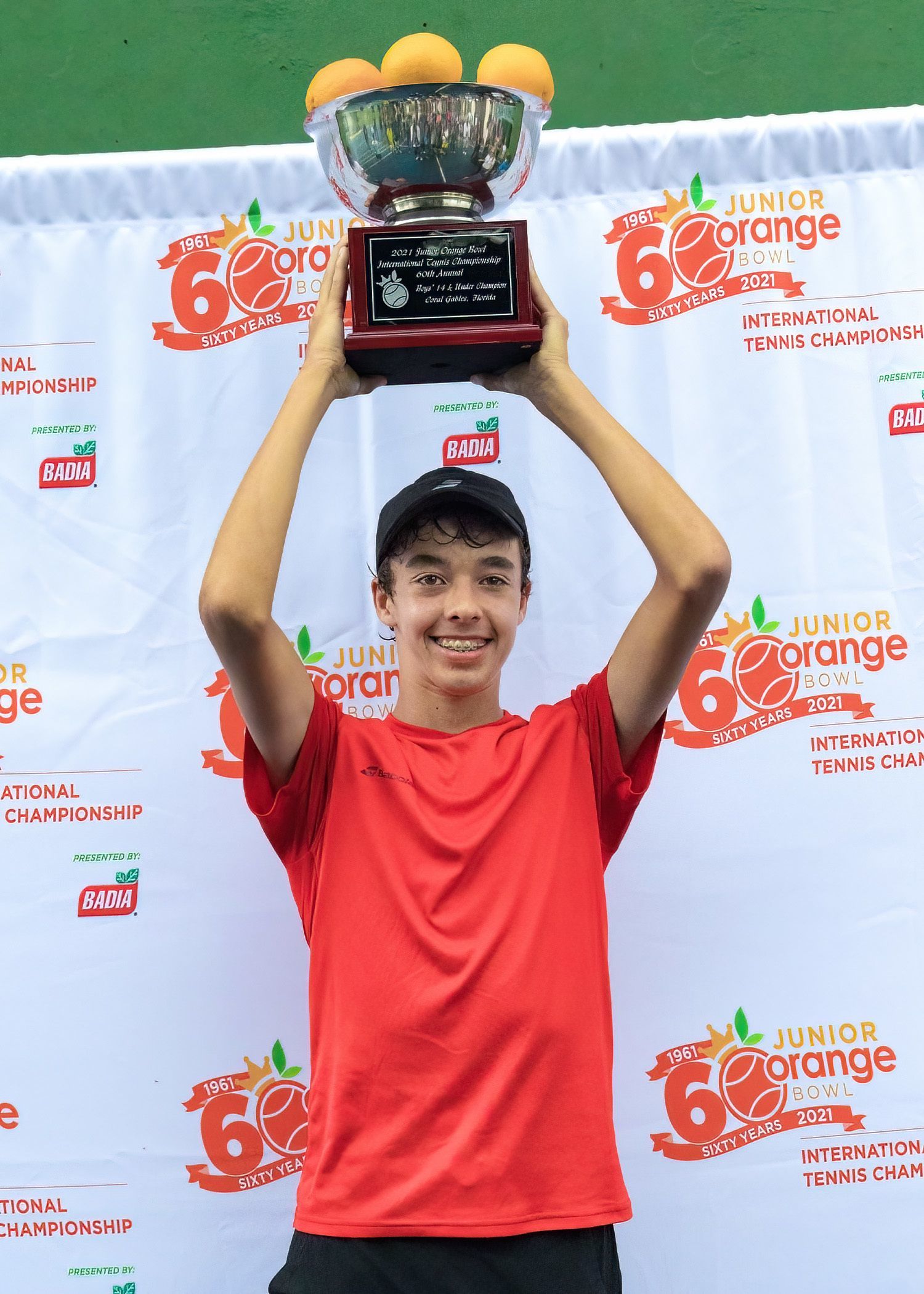 CORAL GABLES, FL - Two years ago Alejandro Arcila lost in the Junior Orange Bowl 12s final to a much smaller opponent Benjamin Gusic-Wan.
On an overcast, breezy Tuesday morning, Arcila was not going to lose another Junior Orange Bowl final, albeit the 14s age division and to a much taller, 6-foot Darwin Blanch, a native of Deerfield Beach, now based in Orlando.
So instead of repeating history, Arcila made history, becoming the first Colombian boy or girl to win this 60-year tournament with a 2-6, 7-6 (5), 3-0 victory when the third-seeded Blanch couldn't continue after first experiencing a sharp pain in his right knee following the first point of the second-set tiebreaker.
It was a sudden ending to a high-quality match on the hard courts at the Biltmore Tennis Center.
"I just wanted to win very badly because two years ago I felt I had a chance, but I played horribly in the final,'' said the fifth-seeded Arcila, 14, who lives in Medellin and trains a few months of the year in the Club Med Tennis Academy in Port St. Lucie. "I'm extremely proud [to be the first Colombian to win] and look forward to come here again in the under-16s next year."
Blanch, who has practiced with Arcila when both were living in Argentina, was overpowering in the first set with huge, left-handed serves and a forehand weapon down the line for a relatively routine 6-2 win. However, at 1-2 of the second set, Blanch called for a medical timeout because he felt sick and listless.
Errors began to creep in for Blanch, winner of the National Clay Courts 14s last summer, and his frustrations poured out, screaming, "I'm so bad!" Still, he staved off several break points and two set points at 5-6 to force the tiebreaker. He began limping after the first TB point, but managed to go up 5-3, before four unforced errors handed the set to Arcila.
"I was thinking if I can get this point I have two serves and let's see what happens,'' Arcila said. "I just put the ball in as much times as I could, the result was winning the set.
"I noticed him but I tried to stay focused because I knew if I win the tiebreaker and we go to the third set I was likely to win."
The 10-minute break before the third set, did nothing to slow Arcila's momentum, or heal Blanch's lethargy and sore knee. He quit after quickly losing the first three games.
"This morning I felt a little sick, my whole body was weak, and I had no energy,'' Blanch said. "In the first set I played through it but in the second set it caught up. … The knee was killing me. He was finding his heavy forehand and defended well. Congrats to him."
In addition to the champion's silver tray filled with oranges, Arcila received a celebratory cupcake in his face from his friends.
"I will go out and eat something big with my family and enjoy Christmas in Colombia,'' Arcila said.