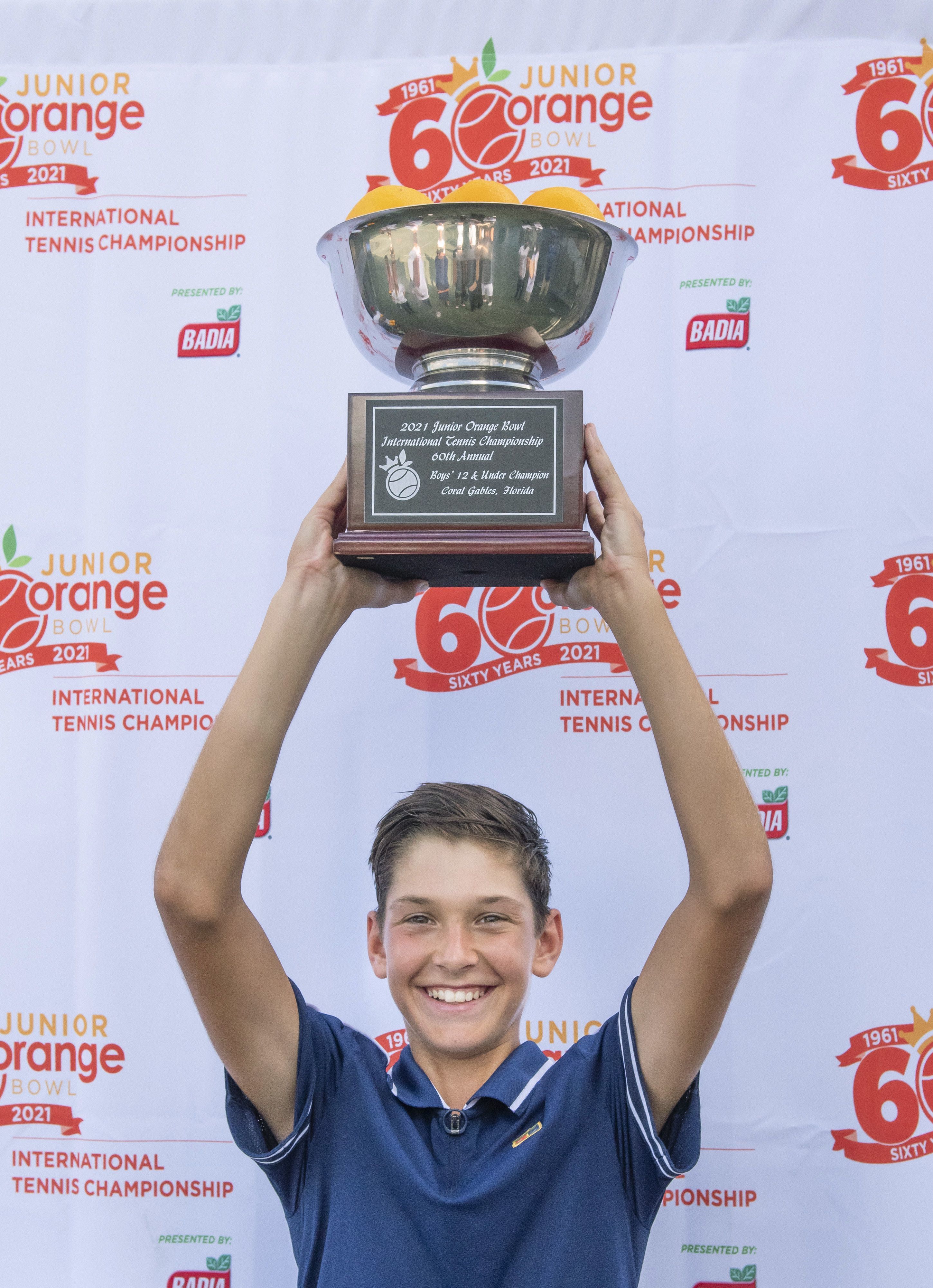 CORAL GABLES, FL – When you train at the same academy with some of the greatest players in tennis, osmosis alone should improve your game.
Well, Svit Suljic, already had a solid foundation from his years on courts across Slovenia, so on Monday the sturdy 12 year old displayed a sophisticated all-court attack to overwhelm Colombian baseliner Juan Miguel Bolivar in a 6-3, 6-0 victory to win the Boys' 12 division of the Junior Orange Bowl International Tennis Championships on the clay courts of Salvadore Park.
"It's amazing,'' said the third-seeded Suljic of joining a past 12s' champions list of greats such as Jimmy Connors and Andy Murray. "It's really nice to be one of them. It's perfect, it's a great feeling. Like my coach said, it's just one step but a long way to go."
Six months ago, Suljic relocated to Nice, France to train full-time at Patrick Mouratoglou Tennis Academy, the renowned coach of Serena Williams, Coco Gauff and Stefanos Tsitsipas.
Suljic is the first boy from Slovenia to win the 60-year-old Junior Orange Bowl in the 12s or 14s. Katerina Srebotnik of Slovenia won the Girls' 14s in 1995.  Her career-high ranking was seven in singles and No. 1 in doubles in 2011.
The tournament organizers decided to play the Boys' 12s semifinals and finals on Monday in lieu of a forecast of rain for Tuesday.
In his early semifinal, Suljic struggled to a grueling, 4-6, 6-2, 6-2 win over fifth-seeded Jordan Lee of Orlando. Lee's mother Martina Lee, a high-performance coach at the USTA National Campus and briefly a WTA pro, was not happy with her son's intensity, particularly his footwork.
Suljic took advantage of several unforced errors from Lee, who was a finalist in the Eddie Herr International championships earlier this month.
Bolivar reached the final after downing No. 8 Jerrid Gaines Jr. of nearby Margate, 6-2, 6-4. Gaines, whose father Jerrid Gaines Sr., played in the secondary at Miami of Ohio before a stint on the Cincinnati Bengals practice squad, is Jerrid's fitness coach.
"I love [watching him],'' said Gaines Sr. "I tell him just like a safety, you have to have speed, agility, power and endurance."
Jerrid Jr. then rolled past Lee, his regular doubles partner, 6-4, 6-0 for third place and a smaller tray of oranges than Suljic. Jerrid avenged his recent loss to Lee In the quarterfinals of Eddie Herr.
"This tells me to keep working,'' added Jerrid Jr. "I'll probably play this tournament six more times. so I have a lot more tries for a bigger bowl of 10 oranges."
Suljic has a blistering, two-hand backhand, and showed off his speed at 4-3, 30-15 of the first set, when Bolivar hit what looked like a perfect drop shot, only to see Suljic fully stretch out and hit a deft-cross court drop shot of his own for a winner. That seemed to take the steam out of the fiery Colombian, and Suljic reeled off the next six games for the title.
He raised his arm and flashed a big smile to his father and one of Mouratoglou's coaches Pierre Debrosse.
"He's really talented, a hard worker,'' Debrosse said. "We're try to develop a nice game with his personality. We look forward to move to the next after he showed this. It's a long, long way. It's important step in the career of a junior players, the first big step in a long, long way."
About seven blocks away on the hard courts of the Biltmore Tennis Center, third-seeded Darwin Blanch, a native of Deerfield Beach now living in Orlando to train part-time at the National Campus, cruised past unseeded Valentin Garay of Argentina, 6-2, 6-4 to advance to the Boys' 14s final Tuesday at 8 a.m.
Blanch, 14, who won the USTA National Clay Courts in July, will play Colombian Alejandro Arcila, the fifth seed, who outlasted No. 6 Calvin Baieri of Naples 6-1, 4-6, 6-2.
"I've had some really bad streaks in the [Junior and Senior] Orange Bowl,'' Blanch said of four early exits in the 12s and OB 16s, including a few weeks ago in Plantation. "No way was I going to lose in the first round again and it feels really good to make the final."
The Blanch clan is determined to surpass the three Bulgarian Maleeva sisters, who all were ranked in the Top 10 at one point, by having all four siblings at least match that.
Blanch's 18-year-old brother Dali was on hand to support 'little' bro (all three boys are 6-foot-2) whose best result in the Orange Bowl 16s was the final in 2018, is ranked 904 on the ATP, and recently made the semis of an ITF $15,000 in Cancun. He also made the quarterfinals of the USTA National Hard Courts 18s last summer.
"We travel around the world for tennis,'' Dali said. "The tour is tougher than juniors. It takes time."
Their older brother Ulises, 23, is ranked 249th on the pro tour and at one point was ranked No. 2 in the ITF world junior rankings with wins over a young Stefano Tsitsipas (4th in the world), Felix Auger-Aliassime (11th) and Denis Shapovalov (14th). Ulises has made it into the main draw of a major, losing a tough five-setter to then-ranked Cristian Garin in the 2020 US Open.
Even 17-year-old sister Krystal, who recently played the OB 18s, has an ITF ranking of 86.
"The goal is for the four of us to be successful [in tennis],'' said Darwin, who also lived in Argentina, where he often practiced with Arcila, 14, so they know each other's game.
Arcila, who is from Medellin but trains part-time in the Club Med Tennis Academy in Port St. Lucie with renowned coach Gabe Jaramillo, reached the finals of the Junior OB 12s.
"I played more organized in the third set, and he started complaining about me making shots and not missing, and I took advantage of that,'' he said. "I got into his mind and used all the resources to win the match."
Top-seeded Iva Jovic breezed through a 6-3, 6-3 victory over ninth-seeded Emma Dong of Vancouver in the first Girls' 14s semifinal at Biltmore. Jovic, of Torrance, Calif., hasn't given up more than three games in any set of her six wins this week.
The fourth-seeded Shannon Lam made it an all-American final by ending Rositsa Dencheva's Florida run of 13 consecutive match victories with a three-hour 6-2, 4-6, 6-4 triumph to set up an 8 a.m. final between two Level 1 Easter Bowl champions this year, albeit in two different age divisions.
Lam, 13, winner of the Easter Bowl 12s in April, utilized a variety of forehand slices, lobs, moonballs and drop shots to eventual wear down the second-seeded, 14-year-old Bulgarian, who after winning the Eddie Herr title, then won a two-day Casely International 16s' title in Pembroke Pines before dominating for first five rounds here.
"I usually play like that, but I mostly hit my shots to her forehand because I noticed her grip was a bit weird on it, but her backhand was amazing,'' said Lam, who trains in East Brunswick, N.J., at the IA academy. "She played Eddie Herr, then another tournament in between before the Orange Bowl, so she must be tired, so I hit drop shots."
Lam was serving for the match at 5-3, 30-0, before nerves and a competitive opponent got the break.
"My mind was everywhere,'' said Lam, who managed to serve out the match. "I need to win this game, or she'll regain her momentum."
Earlier this summer, Jovic, 14, routed Lam 6-1, 6-1 in the final of a Level 2 16s' in Rome, Ga., but Lam joked that she's confident she can get more than two games in Tuesday's 8 a.m. final.
"I'm really excited because there are a lot of rounds and a lot of tough opponents so I'm really happy I pulled out my matches,'' said Jovic, winner of the Easter Bowl 14s. "My depth was pretty good and controlling my shots well to her backhand, because her forehand, she's really aggressive. I did a good job keeping it away from her better side."
When asked if her favorite player, Novak Djokovic, had texted her because of her Serbian roots, Jovic smiled and said: "I'm still waiting."
Both Americans in the Girls' 12s semis were sent home, as third-seeded Lei Belibova of Moldova dispatched ninth-seeded Nancy Lee of Belmont, Mass.; while Russian top seed Christina Lyutova outlasted eighth-seeded Zaire Clarke of Greenacres, 7-5, 7-5 in a three-hour, grueling war of attrition.
"I won the match because I was concentrated and I just came to win the match and I will get [the title],'' said 11-year-old Lyutova through her interpreter/mother. "Every opponent is different, so I have to find my game during the match."
Lyutova was ranked No. 1 in the 10s and No. 5 in the 13s in Russia before moving first to Newport Beach, Calif., and now just outside of Seattle, Wash., where she trains at Gorin Tennis Academy.