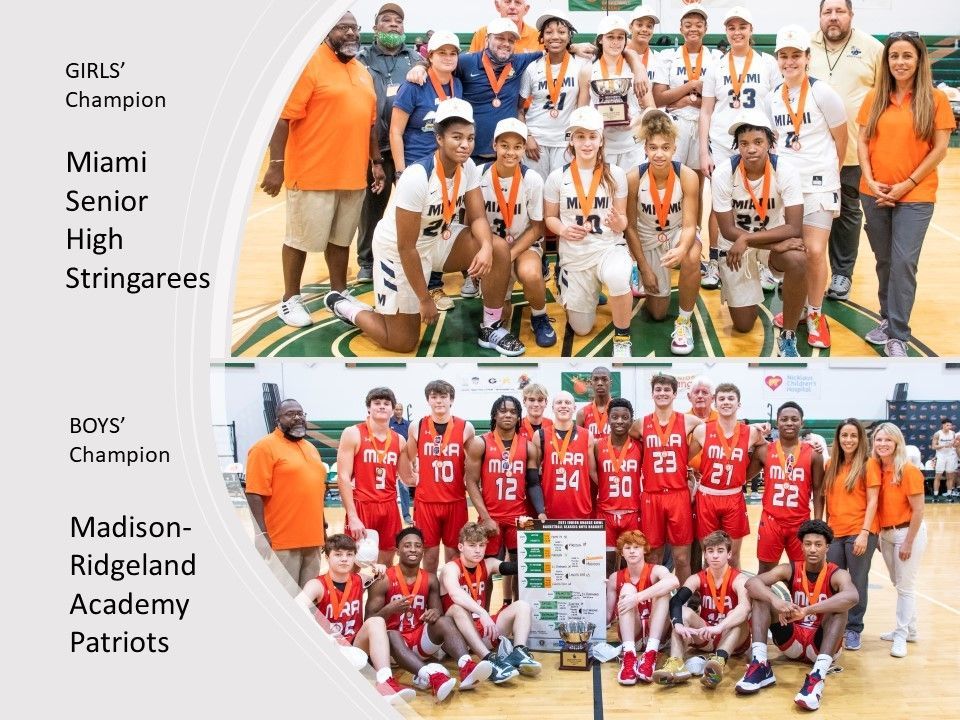 MIAMI, Fla. - (December 30, 2021) - Two teams fought their way to the winners circle for the Junior Orange Bowl National Basketball Classic held Thursday at Westminster Christian School in Miami, Florida. In the Girls' division, the Miami Senior High Stingarees beat the Florida State University Seminoles in the final game 63 to 41 to win the Championship.
Selected to the Girls' All Tournament Team were Miami Senior's Cameron Araujo, Janay Quinn and Joelle Wilson, Florida State University's Tonie Morgan and Audia Young and Lake Norman's Kirsten Lewis-Williams and Aly Wadkovsky. The Tournament's Most Valuable Player was awarded to Miami Senior High's Danajah Peterson.
In the Boys' division, the Madison-Ridgeland Academy (MRA) Patriots from Madison, Mississippi beat the Lakota East Thunderhawks from Liberty Township, Ohio with a score of 84 to 65 to win the Championship.
Selected to the Boys' All Tournament Team were MRA's Harrison Alexander and Tylor Latham,  Lakota East's Nate Adkins and Kobe Peck, St Raymond's Brandon Stores, Jr and Tai Turnage and Miami Palmetto's Jimel Lane. The Tournament's Most Valuable Player is Josh Hubbard from MRA.
Rounding out the GIRLS' tournament rankings included the Lake Norman Wildcats from Mooresville, NC in 3rd place, Miami's Doral Academy Firebirds in 4th place and Bartram Trail Bears from St Johns, FL in 5th place. For the BOYS': St Raymond Ravens from New York in 3rd place, Miami Palmetto Panthers in 4th place, Miami Southridge Spartans in 5th place, Jupiter Warriors in 6th place, Miami's Gulliver Prep Raiders in 7th place and Westminster Christian's Warriors in 8th place.
Junior Orange Bowl Basketball action continues with the upcoming tournaments, all held at Miami Spring Gymnasium: Girls' Junior Varsity January 28 and 29, Boys' Junior Varsity February 4 and 5. Middle School Girls' March 25 and 26 and Middle School Boys' April 1 and 2.