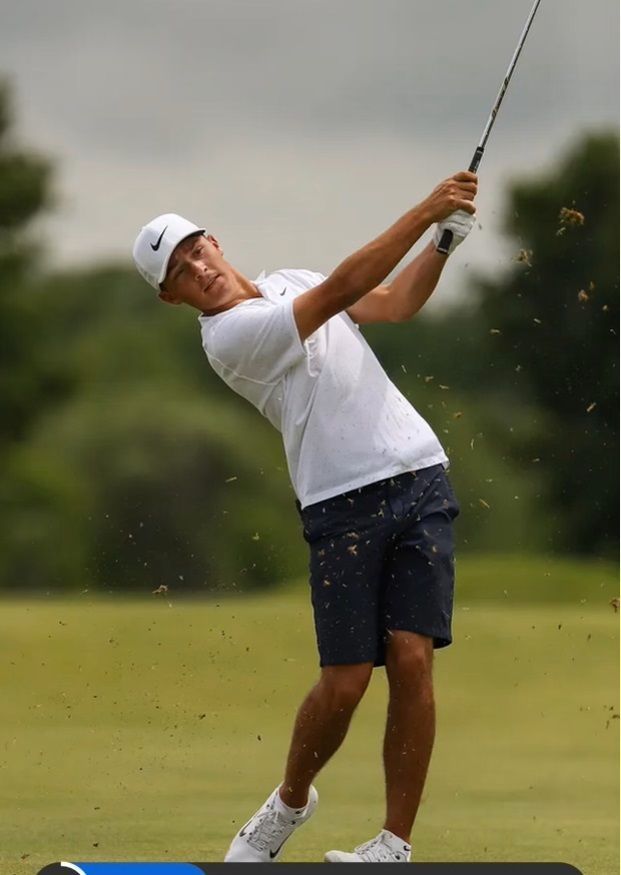 Full scoring: golfstat.com
CORAL GABLES, Fla. (Jan. 3, 2022) – Jay Brooks needed little time Monday to shift his game into high gear at the Junior Orange Bowl International.
A birdie at the par-5 first hole quickly put the Florida teen into red numbers. Then he chipped in for birdie at No. 2. And he nearly holed out for eagle at No. 3, seeing his approach shot kiss off the flagstick.
Three holes, three birdies.
"I'm just thinking it's time to take over and see what I can do," said Brooks.
Though the pace inevitably slowed down, the Florida teen still finished his day with a 6-under-par 65 and a three-shot advantage over his nearest pursuers at historic Biltmore Golf Club.
Not bad for a guy who eight weeks ago was laid up after an automobile accident.
"I'm just happy to be swinging a golf club again rather than lying in bed," said Brooks.
France's Vairana Heck also used a sizzling stretch to lead the girls' division, notching two eagles to offset a rough start on the way to a 67 and a two-shot lead over Junior PGA Championship titleholder Anna Davis (Spring Valley, Calif.).
"I started out kind of bad," said Heck, who found herself 3-over par after just three holes after starting on the back nine. A 30-foot eagle at the par-5 15th turned the momentum, and she eagled again just before the turn.
"With those eagles, it gave me confidence," added Heck, who followed Monday's second eagle with three birdies in her next four holes.
A day that started out sunny and warm turned more challenging as the rounds went on. A cold front began to creep over South Florida around midday, dropping temperatures slightly as the wind shifted to out of the north.
"You just had to adapt and move on," said Tommy Morrison (Frisco, Texas), second behind Brooks after a 68.
Despite the midday change of conditions, Monday produced five rounds in the 60s.
"The wind definitely made the course more challenging, but it wasn't that much more difficult," said Canada's Lauren Kim, third on the girls' leaderboard after a 70.
Though Brooks' 65 was no threat to last year's record 62 by eventual winner Sebastian Moss, it left him squarely in the driver's seat. He finished Monday as the only player to go bogey-free on Day 1.
"I just got a lot of confidence rolling from the beginning," he said.
What makes his start more remarkable is that he's been back in action just three weeks since recovering from the Nov. 5 accident.
Brooks, a junior at Spanish River High in Boca Raton, was driving to classes when a school bus pulled out and forced him to slam on the brakes. He was struck on the front driver's side, suffering five bulging discs in the impact.
"I didn't to go school for a couple of weeks," Brooks said. "I couldn't even sit down; I was just on bedrest for a while. It was just a matter of getting 1 percent better each day – stretching, going to physical therapy, doing all of that."
Brooks didn't touch a golf club until mid-December, when he got an alternate's spot into the South Beach International Amateur. He also began that one birdie/birdie/birdie on the way to an opening 66, though he couldn't sustain the momentum over the next three days.
"I'm just living with the results and keep moving forward," said Brooks.
On Monday, the results were pretty impressive. At the par-3 second hole, Brooks chipped in from pin-high left of the green. Then facing just a 60-yard approach at No. 3, he watched his ball take a bounce and hit the flagstick for a kick-in birdie.
"When he gets hot, he can take it low," said Morrison, who was observing Brooks from one group behind. "I knew I was going to have to make some birdies to keep up with him."
Cayden Pope (Lexington, Ky.) was four shots off the pace after an opening 69. Miami native Anthony Garcia was among four golfers another stroke back.
Heck began Monday with a double bogey and added a bogey two holes later, but didn't give a shot back to par the rest of the day.
A 3-iron approach at No. 15 left her 30 feet from the pin, but her putt was true to change the tide. It began an eight-hole stretch in 7-under par.
Davis, meanwhile, played a steady round that featured one birdie, one bogey and an eagle at the par-5 18th.
"I didn't know it was a par-5," said the California teen. "I just hit a 5-wood up there to something like 4 feet and made it. There's a few holes out there that can get you, but this course is fun."
The Junior Orange Bowl International has a history that features such champions as Tiger Woods (1991), Hall of Famer Inbee Park (2002) and LPGA major winners Cristie Kerr (1994), Lexi Thompson (2009), Ariya Jutanugarn (2010) and Brooke Henderson (2013).
This year's field brings together entrants from such diverse locales as Ukraine, Jamaica, Serbia, Slovenia, Thailand, Guatemala, Bulgaria, India, Zimbabwe, Peru, Turkey, Iceland and Barbados.
Live scoring can be found all week at golfstat.com. Other tournament information is at JuniorOrangeBowl.org/what-we-do/sports/golf.
The Golf Championship is one of 10 athletic, artistic and cultural events that make up the Junior Orange Bowl International Youth Festival, which celebrates its 73rd anniversary in 2021-22. The festival draws more than 7,500 youth participants to South Florida's community each year.
For more information on the Golf Championship or other Junior Orange Bowl activities, visit JuniorOrangeBowl.org.
BOYS TOP 5
1.   Jay Brooks, Boca Raton, Fla.                   31-34=65 (-6)
2.   Tommy Morrison, Frisco, Texas               35-33=68 (-3)
3.   Cayden Pope, Lexington, Ky.                   33-36=69 (-2)
t4.  Alejandro Ramos, Peru                           35-35=70 (-1)
t4.  Harley Smith, England                            34-36=70 (-1)
t4.  Anthony Garcia, Miami                            36-34=70 (-1)
t4.  Erik Plenge, Peru                                     34-36=70 (-1)
GIRLS TOP 5
1.  Vairana Heck, France                              32-35=67 (-4)
2.  Anna Davis, Spring Valley, Calif.              34-35=69 (-2)
3.  Lauren Kim, Canada                                 34-36=70 (-1)
t4. Maria Cabanillas, Argentina                     37-35=72 (+1)
t4. Savannah De Bock, Belgium                    35-37=72 (+1)
t4. Maria Jose Marin, Colombia                     37-35=72 (+1)
t4. Jasmine Youn Shin, Guatemala               35-37=72 (+1)