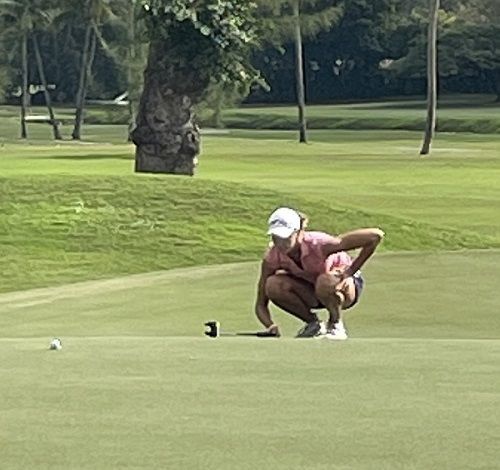 Full scoring: golfstat.com
CORAL GABLES, Fla. (Jan. 4, 2022) — Day 2 of the Junior Orange Bowl International Golf Championships was one of those in which it didn't take much to make a strong move up the leaderboard – if only you could.
A shift in wind direction, combined with a few tougher pin placements, left scoring chances in short supply for the 93 golfers teeing it up at historic Biltmore Golf Club. But for those who could keep the bogey count down, Tuesday brought opportunity.
"It was a good test of golf," said England's Harley Smith, who vaulted into second place in the boys' division on the strength of a 3-under-par 68 that matched the day's best round. "You have to hit really good shots to get to the pins, which is good."
Jay Brooks (Boca Raton, Fla.) remained in front at the tournament's midway point, though his lead shrank to two shots after an even-par 71 left him at 6-under for the tournament. Tommy Morrison (Frisco, Texas) was another shot back in third after his own 71.
"It was a little bit frustrating," said Brooks. "I felt like I left a lot of strokes out there from potential scoring opportunities. I actually managed to make a lot of good pars out there, so I'm pretty happy with the way I played."
France's Vairana Heck continued to lead the girls' division, finishing off a 71 with a birdie at the short par-4 18th that allowed her to extend her advantage to three shots over Anna Davis (Spring Valley, Calif.).
"Today was more complicated with my irons," said Heck, whose 71 matched the best by any female entrant on Tuesday. "But I chipped very well, and also putted very well."
None of the top six girls changed position from the opening round to the second.
"Overall there were just fewer birdie opportunities today," said Davis, the reigning girls' Junior PGA Championship winner after last summer's triumph at Valhalla Golf Club.
With the wind not only shifting but strengthening as the last of a mild cold front moved through, only four golfers – all boys – broke 70 on Tuesday. Though that was just one fewer than Monday's opening round, nobody was able to take things really low.
"I think that kind of messed with everyone," said Canada's Lauren Kim, four shots behind Heck on the girls' leaderboard. "And the flags were tucked in some really difficult positions. There were a few sucker pins out there, so it made it quite challenging."
Not that there weren't a few who rose and fell back. Dutch entrant Loran Appel took it as deep as 5-under with six birdies in his first 10 holes, but a double bogey at the long par-3 second hole stopped his momentum. Two more bogeys left him with a 70.
Peru's Alejandro Ramos climbed as high as second when he stood 4-under after 13 holes, but followed with a bogey/bogey/double trio.
Canada's Jean-Philippe Parr also got to 4-under through 10 holes before cooling off, finishing with seven pars and a bogey. His 68 still matched Smith for the day's best round.
"The first nine holes were OK," Smith said, "but then after that (the wind) definitely got up."
That's not an uncomfortable position for the English golfer, who has a fair amount of experience on his homeland's links courses.
"Coming from England, you have to be (good in the wind)," said Smith. "I kind of used that to my advantage this afternoon. There were a couple of holes toward the end that played into the wind, and you definitely had to control the flight of your ball."
He cited the long par-4 17th, which plays 490 yards in calm conditions and left him trying to bore a 4-iron approach shot Tuesday. "I had to literally hit a stinger just to get it all the way there," he said.
Heck's lead has been forged largely on her prowess on the Biltmore's par-5 18th. She eagled the hole in Round 1, helping turn around a shaky start, and birdied it Tuesday after rifling her approach shot to the back of the green.
"It's a really short hole, and I can attack in two," Heck said. "So that makes it more easy for me. It also was downwind today."
A frustrating day on the greens left Davis unable to close the gap on Heck. Her only two birdies Tuesday came on putts from inside 6 feet.
"If I have a good putting day, I'm sure I can go low," said the California teen. "I just need to keep a good mindset."
Tuesday also brought the first hole-in-one of the week, as Iceland's Bodvar Palsson found the range with a 5-iron from 230 yards out at the Biltmore's 12th.
"The wind was off the right, so I tried to hook it against the wind," said Palsson, denied a chance to see the end result by the sun's glare.
"I knew it was a good shot," he added, "then the guys in front started yelling and I realized that I'd holed it."
It was Palsson's third hole-in-one, and his first in competition.
The Junior Orange Bowl International has a history that features such champions as Tiger Woods (1991), Hall of Famer Inbee Park (2002) and LPGA major winners Cristie Kerr (1994), Lexi Thompson (2009), Ariya Jutanugarn (2010) and Brooke Henderson (2013).
This year's field brings together entrants from such diverse locales as Ukraine, Jamaica, Serbia, Slovenia, Thailand, Guatemala, Bulgaria, India, Zimbabwe, Peru, Turkey, Iceland and Barbados.
Live scoring can be found all week at golfstat.com. Other tournament information is at JuniorOrangeBowl.org/what-we-do/sports/golf.
The Golf Championship is one of 10 athletic, artistic and cultural events that make up the Junior Orange Bowl International Youth Festival, which celebrates its 73rd anniversary in 2021-22. The festival draws more than 7,500 youth participants to South Florida's community each year.
BOYS TOP 5
1.   Jay Brooks, Boca Raton, Fla.                   65-71=136 (-6)
2.   Harley Smith, England                             70-68=138 (-4)
3.   Tommy Morrison, Frisco, Texas               68-71=139 (-3)
t4.  Jean-Philippe Parr, Canada                    72-68=140 (-2)
t4.  Alejandro Ramos, Peru                           70-70=140 (-2)
GIRLS TOP 5
1.  Vairana Heck, France                              67-71=138 (-4)
2.  Anna Davis, Spring Valley, Calif.              69-72=141 (-1)
3.  Lauren Kim, Canada                                 70-72=142 (E)
t4. Maria Cabanillas, Argentina                     72-71=143 (+1)
t4. Savannah De Bock, Belgium                    72-71=143 (+1)
t4. Maria Jose Marin, Colombia                     72-71=143 (+1)