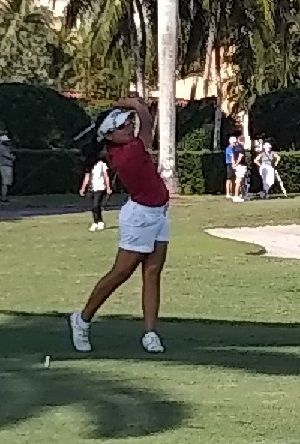 Full scoring: golfstat.com
CORAL GABLES, Fla. (Jan. 5, 2022) — Maria Jose Marin spent her first seven holes waiting for something good to happen on the greens during the third round of the 58th Junior Orange Bowl International Golf Championships.
Good fortune finally came when Marin drained a long birdie attempt at the Biltmore Golf Club's tough 17th hole. Then she chipped within a foot for a tap-in birdie before making the turn.
And then the floodgates opened. "I started to make birdies," the Colombian golfer said, "and just didn't stop."
Marin's sizzling run eventually grew to six consecutive birdies, finishing with an 8-under-par 63 Wednesday that broke a 20-year-old Junior Orange Bowl scoring record and pushed her name all the way to the top of the girls' leaderboard.
"It was a great round and I feel very happy," said Marin, who completed three rounds at 7-under 206 and takes a one-stroke advantage over France's Vairana Heck into Thursday's finale at historic Biltmore Golf Club.
Jay Brooks (Boca Raton, Fla.) will attempt to go wire-to-wire in the boys' division, posting a steady 69 that staved off an early challenge from England's Harley Smith. At 8-under 205, he'll take a three-shot lead into Round 4.
"You can't really get invested in what somebody else is doing," said Brooks, who seeks to become the tournament's first Florida winner since 2009. "You just have to go out and do it on your own."
They seek to join a roster of Junior Orange Bowl International champions that features such names as Tiger Woods (1991), Hall of Famer Inbee Park (2002) and LPGA major winners Cristie Kerr (1994), Lexi Thompson (2009), Ariya Jutanugarn (2010) and Brooke Henderson (2013).
"There's still 18 holes to play, and anything can happen," said Marin, who hopes to add to a burgeoning trophy collection that includes last year's Optimist International championship and a pair of AJGA titles in 2021.
"I just need to face (the final round) with good vibes and keep the same strategy that I've had the last three days."
Marin, currently 12th in Golfweek's rankings, rewrote the Junior Orange Bowl scoring record set by Paula Creamer, who opened with a 65 in 2002. Creamer, alas, was felled by food poisoning the next day and had to withdraw.
How good was Wednesday's round? Consider that Marin's 63 was a full six shots better than anybody else in the girls' field. And it was two shots clear of the boys' low round this week – an opening 65 by Brooks on Monday and matched Wednesday by Dutch golfer Marijn Hoogeveen.
"It was one of those days when I connected with all of my shots, especially with my putter," said Marin, who began the day five shots off the pace after rounds of 72-71.
The biggest difference, she said, was finding an adjustment that started more of her putts on line. Even so, it took a while for the adjustment to pay dividends.
Marin birdied her opening hole at the par-4 10th, then plodded along with six consecutive pars before finally striking from long distance at No. 17. And when she birdied the 18th, "that got me into the game and I gained some confidence."
A birdie at the par-5 first hole made it three in a row, and the streak kept rolling along.
"I felt very happy," she said, "but I had to stay concentrated. I had five difficult holes and had to stay focused."
Wednesday's 63 matched the lowest score of her career, also shooting a 9-under 63 on the way to Optimist International victory at Trump International Doral.
On Thursday, she'll have a chance to become the Junior Orange Bowl's first girl to finish double digits under par. England's Lily May Humphries captured the 2017 title with a total of 9-under 275.
Though Heck posted a respectable 69 that matched Wednesday's second-best in the girls' field, she couldn't keep pace with what Marin was doing in the group ahead.
"I didn't putt well," said the French teen. "I think that's what kept my score from going lower."
It figures to be a two-girl showdown for the title. Anna Davis (Spring Valley, Calif.) and Argentina's Maria Cabinillas were another five shots back at 1-under.
After starting Wednesday with a two-shot lead, Brooks suddenly found himself trailing when Smith birdied three of his opening five holes. They maintained a back-and-forth through the rest of the front nine, before Brooks birdied No. 9 while Smith bogeyed.
"Obviously you can see he's making birdies, and there's nothing you can do about that," Brooks said. "It's just a matter of staying focused on what I want to do."
The decisive point came when Smith struggled at the par-4 13th. From the middle of the fairway, Smith left his approach short of the green and needed three chips to get his ball on the putting surface, walking off with a double bogey.
"It was a bit of an up-and-down day," said Smith. "I was 3-under through five and playing really well. You're going to make bogeys out there, and I made too many bogeys today."
Hoogeveen's 65 vaulted him into third place, though at 3-under for the week he still enters the final round five shots off the pace. Miami native Nicholas Prieto and Jay Mendell (Lafayette, La.) were another stroke back.
This year's field brings together entrants from such diverse locales as Ukraine, Jamaica, Serbia, Slovenia, Thailand, Guatemala, Bulgaria, India, Zimbabwe, Peru, Turkey, Iceland and Barbados.
Live scoring can be found all week at golfstat.com. Other tournament information is at JuniorOrangeBowl.org/what-we-do/sports/golf.
The Golf Championship is one of 10 athletic, artistic and cultural events that make up the Junior Orange Bowl International Youth Festival, which celebrates its 73rd anniversary in 2021-22. The festival draws more than 7,500 youth participants to South Florida's community each year.
BOYS TOP 5
1.   Jay Brooks, Boca Raton, Fla.                   65-71-69=205 (-8)
2.   Harley Smith, England                             70-68-70=208 (-5)
3.   Marijn Hoogeveen, Netherlands               71-74-65=210 (-3)
t4.  Jay Mendell, Lafayette, La.                     74-69-68=211 (-2)
t4.  Nicholas Prieto, Miami                             73-69-69=211 (-2)
 
GIRLS TOP 5
1.  Maria Jose Marin, Colombia                     72-71-63=206 (-7)
2.  Vairana Heck, France                              67-71-69=207 (-6)
t3. Anna Davis, Spring Valley, Calif.              69-72-71=212 (-1)
t3. Maria Cabanillas, Argentina                     72-71-69=212 (-1)
5.  Ana Sofia Murcia, Colombia                      74-72-69=215 (+2)