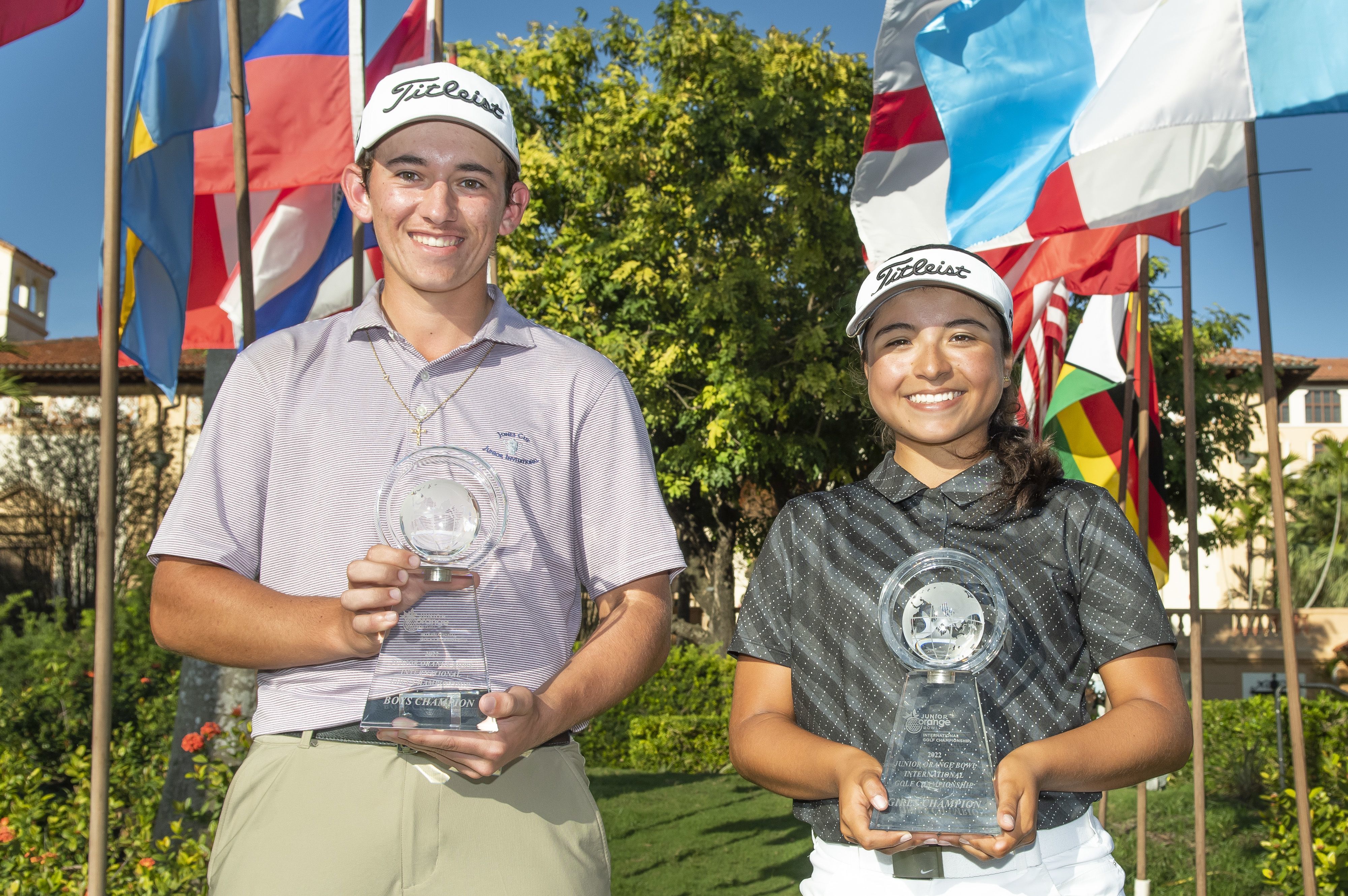 Full scoring: golfstat.com
CORAL GABLES, Fla. (Jan. 6, 2022) — Nicholas Prieto knew he'd been making enough birdies to deliver a strong challenge at the Junior Orange Bowl International Golf Championships. He just needed to come up with a way to avoid the other end of the ledger.
"Just a few too many mistakes," the Miami teen noted. "The second, third and fourth days were all fairly similar. The only difference is the fourth day I didn't make any bogeys."
And that was more than enough for Prieto to become the Junior Orange Bowl's first homegrown winner in more than two decades. A 6-under-par 65 on Thursday at the historic Biltmore Golf Club was enough to overtake fellow South Floridian Jay Brooks by two.
"I didn't look at the leaderboard," said Prieto, "but I knew I was getting close. I was just trying to make as many (birdies) as possible."
Colombia's Maria Jose Marin captured the girls' division, continuing to ride the momentum from Wednesday's record round for a comfortable three-shot romp over Anna Davis (Spring Valley, Calif.) and France's Vairana Heck.
A three-shot swing with Heck on the opening hole gave Marin a cushion that never got any closer than three the rest of the day. Even a plugged bunker lie on the 18th hole proved little more than a hiccup, taking a penalty for an unplayable lie and getting up-and-down for a par that capped off a 70.
"I had a lot of confidence because of my round yesterday," said Marin, whose third-round 63 broke Paula Creamer's 20-year girls' scoring record. "I felt really good with my putter, and I was driving the ball in the fairway."
Marin's total of 8-under 276 also was one stroke shy of the Junior Orange Bowl girls' standard, established by England's Lily May Humphries in 2017.
She and Prieto join a roster of Junior Orange Bowl International champions that sports such names as Tiger Woods (1991), Hall of Famer Inbee Park (2002) and LPGA major winners Cristie Kerr (1994), Lexi Thompson (2009), Ariya Jutanugarn (2010) and Brooke Henderson (2013).
"It is an honor that my name will be alongside all those great players," said Marin, who has been stacking up trophies over the past year with wins also coming at the Optimist International and two AJGA events. "I feel very proud of what I've done."
Prieto became the first Miami golfer to put his name on the Junior Orange Bowl trophy since James Vargas blitzed the Biltmore field in 2001. No Florida entrant, in fact, had won since Thompson's 2009 triumph.
"That's pretty cool," said Prieto, a homeschool student who lives 20 minutes from The Biltmore. "It's definitely good to know I'm on that list."
Prieto's 65 was the best final round by a winner since Norway's Mathias Schjoelberg shot 64 to claim the 2008 title. Spain's Pablo Martin also posted a 64 in 2002 as he overcame a 10-shot deficit on the final day.
Prieto didn't have quite that much ground to make up. He arrived Thursday figuring six shots and leapfrogging four rivals on the leaderboard wasn't too tall a task.
"Yeah, I knew there was a chance," said Prieto, also the reigning Florida Boys Junior champion. "My goal the whole time was a 64. That's what I thought would take to win, but I guess I needed a little less than that."
Though Prieto also had recorded six birdies in Round 3 and five more the day before, those had been offset by five bogeys and a double bogey. This time, he never put himself in serious trouble – hitting 17 of 18 greens in regulation with the lone exception settling on the fringe at No. 17.
Four birdies in his first 10 holes moved Prieto within a stroke of Brooks, who played his front nine in 1-over 36.
At the par-4 13th, Prieto rifled a 3-hybrid from 215 yards that stopped five feet from the flagstick for his fifth birdie, drawing even with Brooks at 7-under. A Brooks bogey at No. 15 dropped him out of the lead, and Prieto's birdie at No. 16 pushed the margin to two.
"I saw a lot of people and a few cameras head over," Prieto said, "so I had a sense I was either in the lead or tied for it."
Brooks (Boca Raton, Fla.), who was seeking to go wire-to-wire, finished with a 73 and didn't record a birdie until the par-5 18th.
"I missed probably 13 or 14 putts inside 10 feet," he said. "I was hitting the ball great, but just couldn't get the ball in the hole."
Marin never felt uncomfortable after Thursday's first hole, when she birdied and Heck took a double bogey to increase a one-shot margin to four.
"I just kept calm and said to myself to keep hitting it good," said the diminutive Colombian. "I had to keep playing my game and stay focused."
Davis wound up providing the stiffest challenge, overcoming an opening bogey to shoot 5-under the rest of the way for a 67. A stretch of three birdies in four holes from Nos. 9-12 pulled her within three, but Marin's birdie at No. 13 restored the margin to four.
"Both me and Maria had many birdie opportunities," said Davis, who won the Junior PGA Championship girls' title last August. "There are a few putts that I could have made to get closer, but I just left them out there."
Heck, who led after each of the first two rounds, closed with a 72 to share runner-up honors.
This year's field brings together entrants from such diverse locales as Ukraine, Jamaica, Serbia, Slovenia, Thailand, Guatemala, Bulgaria, India, Zimbabwe, Peru, Turkey, Iceland and Barbados.
A full list of scores can be found at golfstat.com. Other tournament information is at JuniorOrangeBowl.org/what-we-do/sports/golf.
The Golf Championship is one of 10 athletic, artistic and cultural events that make up the Junior Orange Bowl International Youth Festival, which celebrates its 73rd anniversary in 2021-22. The festival draws more than 7,500 youth participants to South Florida's community each year.
BOYS TOP 5
1.   Nicholas Prieto, Miami                             73-69-69-65=276 (-8)
2.   Jay Brooks, Boca Raton, Fla.                   65-71-69-73=278 (-6)
3.   Harley Smith, England                             70-68-70-71=279 (-5)
t4.  Marijn Hoogeveen, Netherlands              71-74-65-71=281 (-3)
t4.  Tommy Morrison, Frisco, Texas              68-71-73-69=281 (-3)
GIRLS TOP 5
1.  Maria Jose Marin, Colombia                     72-71-63-70=276 (-8)
t2. Anna Davis, Spring Valley, Calif.              69-72-71-67=279 (-5)
t2. Vairana Heck, France                               67-71-69-72=279 (-5)
4.  Ana Sofia Murcia, Colombia                      74-72-69-71=286 (+2)
t5. Jasmine Youn Shin, Guatemala               72-74-71-72=289 (+5)
t5. Lauren Kim, Canada                                 70-72-75-72=289 (+5)
t5. Savannah De Bock, Belgium                    72-71-73-73=289 (+5)