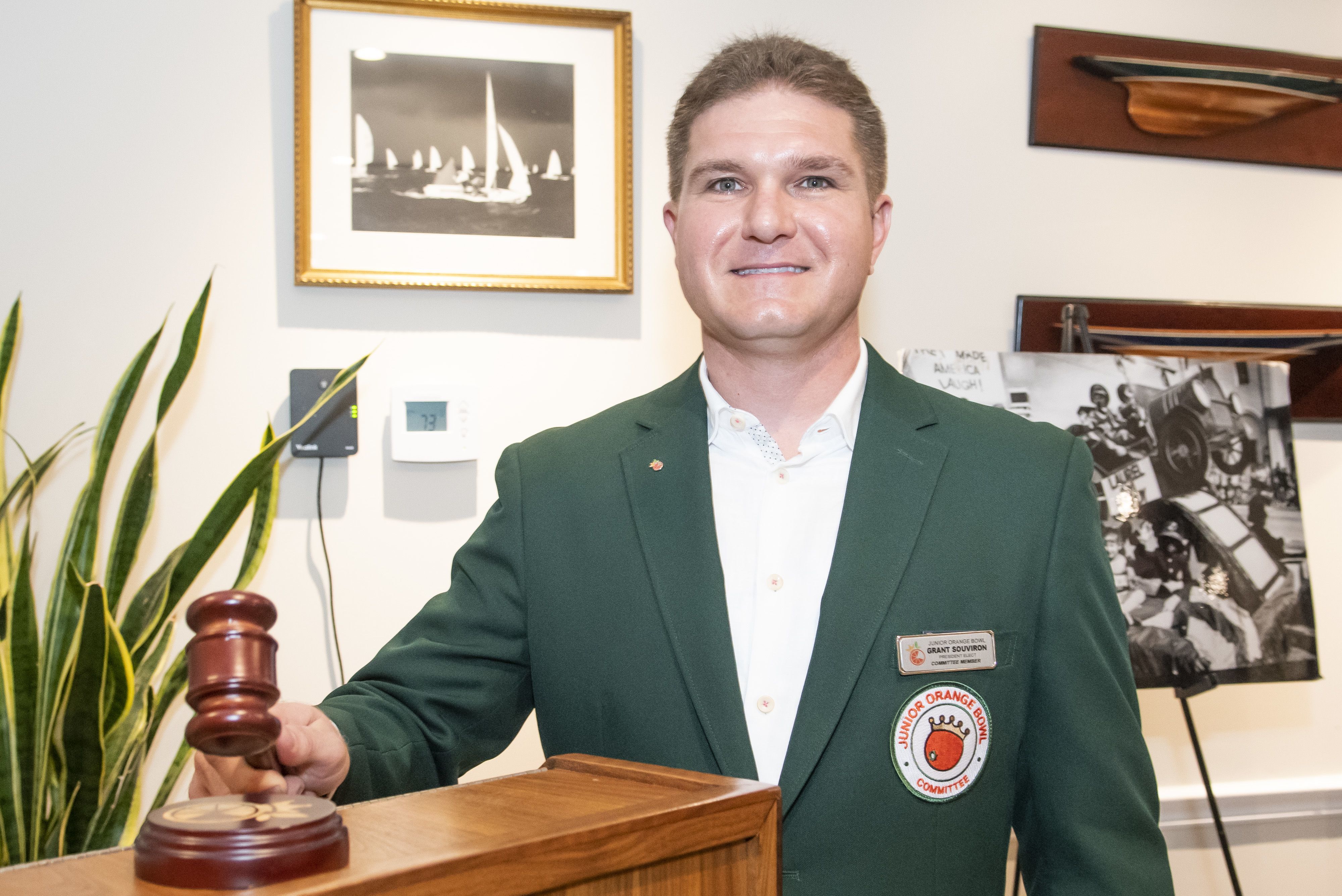 Last night at Coral Reef Yacht Club the Junior Orange Board installed Grant Souviron as the organization's 52nd President.  He leads the team for the 74th annual Junior Orange Bowl Festival, a collection of athletic, artistic and multi cultural events for youth. Grant and the Board of Directors were sworn in by his father, Dr. Richard Souviron, the Junior Orange Bowl's 9th President. Board of Directors for 2022-2023 season include President-elect Lisa Albizu-Vazquez, Vice President Lucy Foerster, Vice President Steve Gonzalez, Secretary Norma Gavarrete, Treasurer Marco Zuniga, Board Member Jennifer Forbes and Immediate Past President Samantha Jones.  Grant became a member of the Junior Orange Bowl in 2018 after years of volunteering. As last year's Parade Chairman, he brings his expertise to lead the organization towards a memorable season.
The organization also welcomed our newest members: Kevin Arnoux, Lucas Azar, PJ Brown, Brian Davis, Eric Fliss, Karen Gottlieb, Michael Green, Mark Kellstrom, Henry Miller, Cathy Nordlund, Fernanda Rivera, Austin Tellam and Claire Traeger. We also recognized two members who joined last year Susan Ward and Marco Zuniga.
Submissions are still open for both the Creative Writing and Photography contests. Our Sports Ability Games are scheduled for May 13-15. Athlete registration is open March 15th. Your can learn more on our website www.juniororangebowl.org.
Please contact jobc@jrorangebowl.org to volunteer, participate or sponsor. 
Founded in 1948 with the inaugural Junior Orange Bowl Parade, the organization carries a strong 74-year-old tradition impacting more than 7,500 youth annually. The Junior Orange Bowl, a FL 501(c)3, hosts competitive athletic, artistic, and multi cultural arts events in a diverse and safe environment. Since its inception, the Junior Orange Bowl has been serving the South Florida community and the youth of the world by hosting an international youth festival, which includes competitions for Basketball, Cross Country, Creative Writing, Golf, Photography, Robotics, Tennis and events specifically designed for young adaptive athletes, the Sports Ability Games. The Junior Orange Bowl envisions a world in which every student and athlete is provided the opportunity for success.