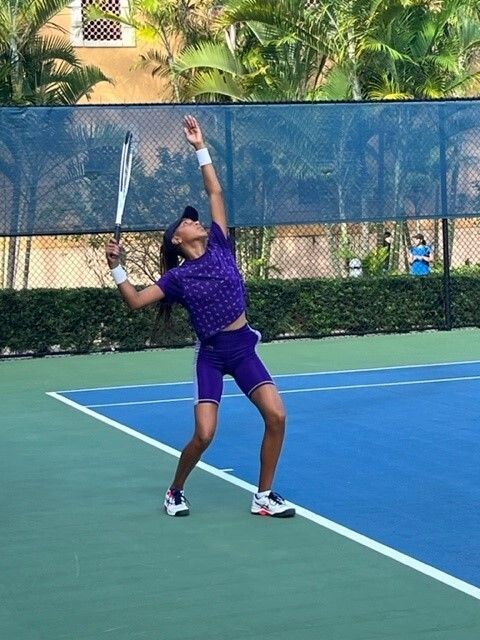 Frodin stars on court and in Hollywood
By Harvey Fialkov
Junior Orange Bowl correspondent
CORAL GABLES – Thea Frodin portrayed a young Serena Williams in the hit movie, "King Richard," and on a breezy Thursday afternoon, she played like the 23-time Grand Slam champion.
Frodin, seeded ninth and aptly from Woodland Hills, a suburb of Los Angeles where the stars shine, outslugged Brooke Wallman of Long Island, 7-5, 7-5 in a marathon match to advance into the third round of the Girls' 14s division of the Junior Orange Bowl International Tennis Championships held at the Biltmore Tennis Center.
Built more like the lanky Venus than muscular Serena, Frodin displays
the raw power of both sisters to go with an aggressive attacking style off both wings. She landed the role when a talent scout spotted her dominating in singles, doubles and mixed doubles of a California Sectional 10s' tournament in 2019.
"I won the triple crown and they thought I played like Serena,'' Frodin, 13, said while flashing a bright smile through her braces.
Frodin, who had previously been in two Nike commercials, also for her tennis skills in a non-speaking role. The filming was interrupted by the COVID pandemic and dragged on for nearly six months. Since her original audition, the long-legged Frodin has spurted five inches to 5-11. It doesn't hurt that her father, Mathias, is 6-8 and mother Dorine is 5-11.
Last year Frodin finished runner-up in the Easter Bowl 12s, and just before the Junior Orange Bowl she teamed with Nancy Lee to win the 14s' doubles title in the prestigious Level 2 Eddie Herr International championships in Bradenton.
Every summer Frodin and her family visit Sweden, her father's homeland (Champagne), and trains at the Magnus Norman Tennis Academy.
"She started at 6 and rose at every level I put her in,'' Mathias Frodin said. "She loved it and I realized that at 10 or 11, she needed more than I could teach her."
Frodin often hits at the USTA Training Center in Carson, but her main coaches for the past two years are Cecil Mamiit (once ranked 72nd) and Orlando Silvoza at the Tennis Mechanix Academy in Burbank. She is hoping to celebrate her 14th birthday on Saturday with a deep run in the draw.
"The game is there,'' Silvoza said. "We're trying to focus on physical fitness and the mental part, and to make sure she keeps enjoying playing and not put too much pressure on her."
Frodin wants to pursue acting as well as tennis and hopes to attend Stanford. While she didn't meet Serena or Venus on the movie set, she did have a friendly chat with Will Smith, who won Oscar for the leading male actor for his portrayal of Richard Williams.
"She was my ultimate favorite, the way she played with aggression and her competitiveness on court,'' Frodin said of Serena. "Will Smith was such a nice guy. He talks to someone he never met like he's been friends with you for a while."
Fortunately, Frodin saves her slaps for her on-court groundstrokes. …
Once again, the ITF Grand Slam Development team has brought several youngsters from Europe to the Junior Bowl tournament, including No. 4 seed Adelina Lachinova of Latvia, and Maria Badache (17) of Algiers, both into the third round of the girls' 14s. Lachinova reached the Herr semifinals. Nigina Alimova of Uzbekistan, fell to Karlin Schock of Green Bay, Wisc., and Marianne Angel Gonzalez of Mexico lost to ninth seed Julieta Pareja of Carlsbad, Calif., 6-1, 6-1. …
Suddenly, Long Island's Jack Kennedy, the sixth seed in the boys' 14s, became the highest seed in the bottom half of the draw when inexplicably the No. 2 seed Matei Todoran of Romania and No. 4 seed Carel Ngounoue of Washington, D.C., withdrew on Wednesday without notifying the tournament organizers.
Kennedy will play Aussie Cruz Hewitt (17) on Friday at Crandon Park Tennis Center on Key Biscayne. The top half of the draw is loaded with No. 1 Sehyuk Cho of Korea (winner of Eddie Herr 12s and 14s Wimbledon); No. 3 Ivan Ivanov of Athens and Rafael Nadal Tennis Academy in Mallorca, No. 5 Vito Antonio Darderi of Italy who's playing dangerous floater No. 17 Michael Antonius of Buffalo, who ended his 12s' career with a victory at Eddie Herr's.