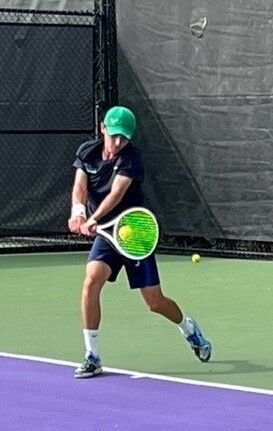 Kennedy shakes off nerves and advances in the Junior Orange Bowl
By Harvey Fialkov
KEY BISCAYNE – It's very rare for a child of a great tennis player to put together a successful career in the same sport as the parent. In the case of Jack Kennedy, it's just as nerve-wracking to be watched by a Hall of Fame tennis dad when you're playing his son.
Despite frittering away three match points, Kennedy, the sixth seed in the boys' 14s at Crandon Park Tennis Center, held onto his nerves before defeating Cruz Hewitt 6-1, 6-4 Friday afternoon in front of Aussie great Lleyton Hewitt to move into the round of 16.
"Yes, definitely, that was a pretty big match and one of my more stressful matches, knowing who's watching me and who the kid is, and his family background,'' said Kennedy, 14, from Huntington, Long Island. "I'm very happy I got through this match. At 5-3 serving with two match points my nerves started kicking in but then at 5-4, I worked on my breathing, stayed calm and took care of business."
Hewitt, 14, and Kennedy possessed similar ground strokes but the New Yorker had more variety with his slice backhand and drop shots which seemed to tire the Aussie.
"I noticed him leaning over and maybe cramping, so my drop shots started to work,'' Kennedy said.
Kennedy's father, Bryan, a former standup comic who still hosts an online show, "No Filtr,", was not joking on the sidelines during a tight second set. His son said he will stick to using his stick instead of slapstick.
"Tennis is going pretty good but maybe I'll do both someday,'' he smiled.
Kennedy is used to playing in front of world No. 1s as he trains at John McEnroe's satellite academy on Long Island. McEnroe won seven Grand Slams, while Hewitt won two, and both are in the International Hall of Fame in Newport, R.I.
"John and his brother Patrick both give me the same advice, and that's to keep it simple,'' Kennedy said.
The strategy must be working because earlier this summer Kennedy won singles and doubles in the USTA National Clay Courts in Dothan, Ala., and recently won the 14s double title at the Level 2 Eddie Herr International Championships in Bradenton. Kennedy will next play Canadian Xavier Massotte.
It was a tough day for Aussie mates, as ninth-seeded Jake Dembo, with Australian Davis Cup captain Hewitt and coach Matt Reid watching, lost a contentious match 7-5, 1-6, 6-4 to Tito Chavez of Spain.
Andres Gomez, the 1990 French Open champion and winner of 21 singles titles, endured a mixed bag of success Friday as he watched Ecuador protégé Jaime Ortiz go down to ninth seed Yannick Theodor Alexandrescou of Romania, but quietly rooted on countryman Lucas Yunez to victory over Hialeah's Ignacio de Armas.
Eighth-seeded Keaton Hance, Kennedy's gold ball winning doubles partner, was upset by Weiyi Kong of China, 7-6 (5), 6-2. Third seed Ivan Ivanov, a Bulgarian training at Rafael Nadal's Tennis Academy in Spain, coasted as did top seed Seyuk Cho, the recent Herr and 14s Wimbledon champion.
Michael Antonius, a dangerous floater from Buffalo, retired from the 12s division after winning the Herr title, and decided to test himself in the 14s this week, but he was unable to handle the powerful groundstrokes of muscular Italian Vito Antonio Darderi, 6-1, 6-3.
Antonius had to deal with a cocky opponent who didn't trust his calls and an Italian film crew who's been following the 14-year-old (also Argentine on his mom's side) since he was 12. Darderi's brother Luciano is ranked 168th on the ATP Tour, while his father Vito also toiled professionally.
"The family reminds me of Andre Agassi's book, "Open," in that, who is following the dream, the father or his sons,'' said the documentary's producer Nicola Scorza of Dynamo Film and Fandango. "Who's pushing who?"
In the girls' 12s, also at Crandon Park where an early rainstorm delayed the main draw for nearly two hours, top seed Christian Lyutova, a Russian living outside of Seattle, continued her march into the round of 16. Last year, she finished runner-up in the 12s.
Second-seeded Yeri Hong of Korea, No. 3 Haniya Minhas of Pakistan and No. 4 Japan's Yui Komada, Herr finalist, all advanced. Maggie Sohns (7) of Cooperstown, New York will play Carolina Shao of Boca Raton. Also advancing were Ukraine friends, No. 9 Anastasia Nikolaieva and Sofia Bielinska, who recently moved to Boca Raton to train with Rick Macci at South Country Regional Park.
At the rain-delayed girls' 14s on the hard courts at Biltmore, top-seed Hannah Klugman, who lives in Wimbledon, advanced into the round of 16 and next will play Nicole Okhtenberg (9), who trains at the Evert Tennis Academy in Boca Raton. No. 2 seed, Yihan Qu, the 6-foot-2 Chinese teen, won in three sets over Bela Martinez of Puerto Rico.
Two of the four Aussies in the round remained alive for the country's first-ever Junior OB title as Emerson Jones (3) and Kimiko Cooper advanced, but Koharu Nishikawa and No. 5 Renee Alame went down under to Abigail Gordon of Boca Raton and Victoria Barros of Brazil.
Julieta Pareja of Carlsbad, Calif., winner of the USTA National Clay Courts 14s in Plantation, advanced, however "King Richard" star Thea Frodin (9) of Los Angeles, fell in three sets to Aishi Bisht of San Jose.
Feisty Russian Ksenia Efremova (6), living in France at Patrick Mouratoglou's tennis academy, allowed just one game to move on, while Plantation's Yael Saffar was ousted.
On the clay at Salvadore Park, top-seeded Aussie Taiki Takizawa moved into the boys' 12s quarterfinals and has yet to drop a set in four matches. Alabama's Tuck Tabb (2) has dropped just 11 games in four matches.