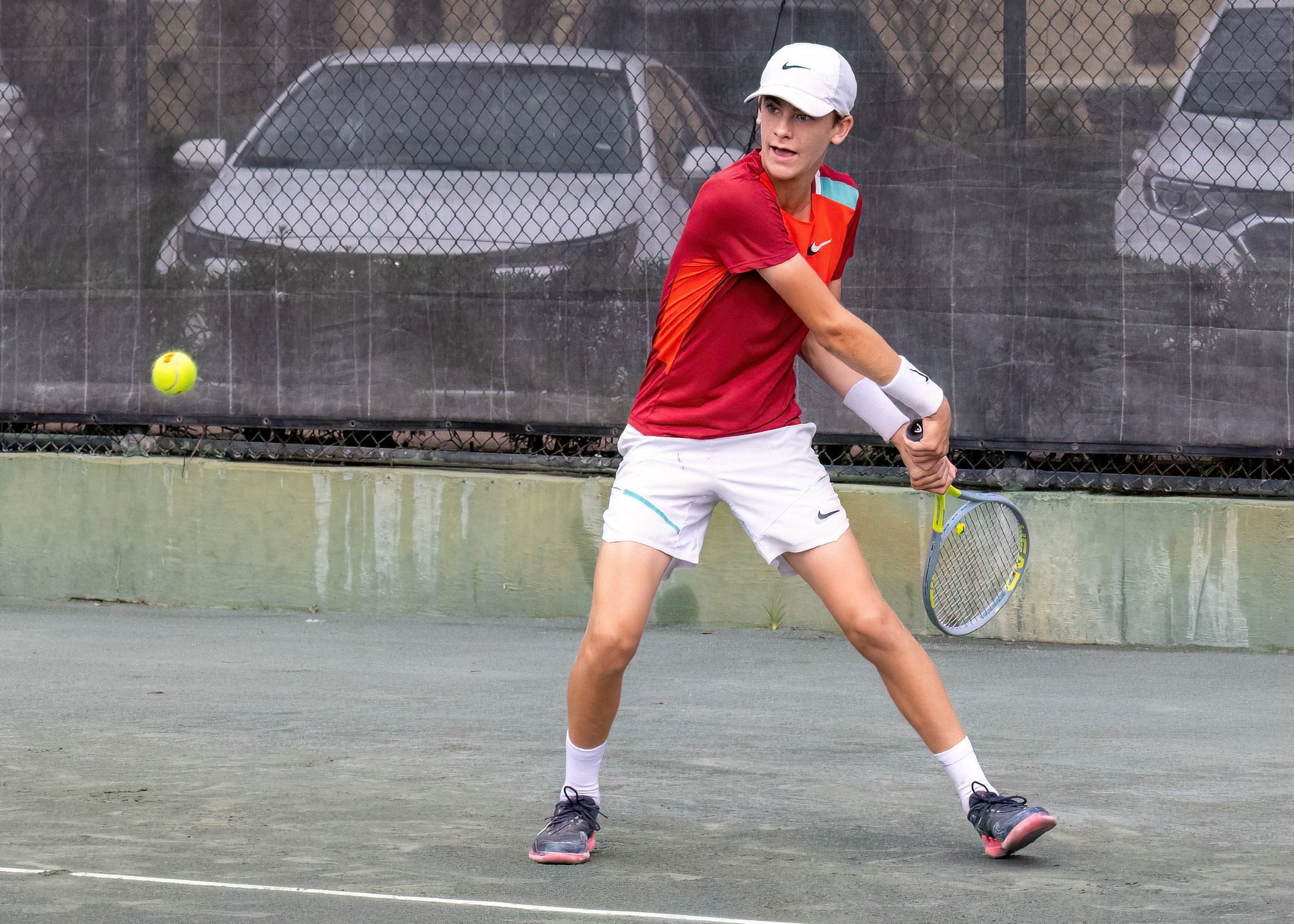 By Harvey Fialkov
Junior Orange Bowl writer
CORAL GABLES -- Tabb Tuck credits his thousands of ping-pong battles with his father back home in Birmingham for helping him formulate his calm on-court demeanor in high-pressure moments during important tournaments.
Those basement battles have also served to stoke his competitive fires. Tuck, the No. 2 seed in the boys' 12s, has displayed both in his run to the finals of this week's USTA Level 2 Junior Orange Bowl International Championships on the clay courts at Salvadore Park.
The self-admitted "super competitive" Tuck dominated Tavish Pahwa, the silky-stroking No. 3 seed from India, in a 6-0, 6-1 victory Sunday under cloudy skies. He will play Dongjae Kim Monday morning (9 a.m.), after the ninth seed from Korea stunned top-seeded southpaw Taiki Takizawa, a Japanese native playing for Australia, 6-3, 6-2 in a hard-hitting baseline affair.
"I'm playing the best tennis in my life right now,'' said Tuck, 12, who reached the finals of the USTA National Hard Courts 12s and recent Level 2 Eddie Herr International Championships in Bradenton. "I'm really determined to win the Orange Bowl. It's been my goal since the beginning of the year.
"I've broken like eight [ping-pong] paddles this year when I play my dad almost every day. I think it gets the anger out, so I don't have it on the tennis courts. We brought a big white board, and we keep track. It's really good for me and really bad for my dad."
The score is about 800 to 600 in favor of Tabb's, and if that board kept track of his dominance this week, it would show that he has allowed a meager total of 14 games in six matches, an average of 2.3 games per match.
"I break them down physically and mentally,'' said Tuck, who beat Kim, 7-5, 6-0 at Herr in the round of 16. "He's a really good player but I just have to stay consistent, stay solid, keep everything deep on the court and try to move him around."
Pahwa, who lost in the Herr quarterfinals to eventual champion Michael Antonius, had no answers for Tuck's ability to track down every shot and then turn it into offense with his favorite inside-out forehand. Despite the lopsided score, Pahwa, a high-IQ player, mixed up his game with drop shots and forays to the net in the second set, but Tuck still won all of the big points.
"In the first set I wasn't able to play my game; I was playing his game and was very defensive,'' said Pahwa, 12, No. 1 in his country. "In the second set I tried to use my variety but lost a lot of break points.
"He has all sorts of games. If I play defensive, he knows how to tackle that even with a good shot and then coming to the net. If I play attacking, then he will defend well. If I push him out of the court, he will hit it high and heavy and neutralize the point."
A relaxed Tuck said his losses in two big finals have helped him prepare for Monday's challenge.
"In the final at Eddie Herr I was a little nervous and missed shots I usually don't miss,'' he said. "But I'm prepared for the big stage now."
Every night after his match Tuck goes to Chipotle for a burrito bowl. He hopes his next bowl will be filled with oranges.
Kim, 12, outlasted the 5-foot-10 Takizawa in long baseline rallies by occasionally tossing in an effective drop shot. Takizawa's lefty forehand repeatedly found the net in a bushel of unforced errors.
"I'm going to hit the forehand with more confidence against [Tuck],'' Kim said via Google translator.
In both the girls' 12s at Crandon Park Tennis Center and girls' 14s at the Biltmore Hotel – both on hard courts – the top four seeds all have reached the semifinals, a rare occurrence particularly in young divisions of international tournaments. (The boys' 14s, girls' 12s and 14s will all conclude at the Biltmore Hotel over the next two days.)
However, the boys' 14s draw at Crandon has undergone an upheaval at the top ever since Nos. 2 and 4 seeds withdrew just before the tournament began. On Sunday, Taiwan's Kuan-Shou Chen (7) shocked the top-seeded Sehyuk Cho of Korea, 6-3, 6-1.
Cho, who has been training at IMG Tennis Academy in Bradenton all month, won the inaugural 14s' Wimbledon tournament in July and then the 14s' title at Herr. In his last 10 matches, Cho, the top-ranked player in the Asian Tennis Federation, had dropped only one set, and he routed Chen at Herr in the semifinals, 6-1, 6-1.
Chen will play Ivan Ivanov, the third seed from Bulgaria, after he edged Jack Secord of Lake Forest, Ill., in a dramatic 6-3, 3-6, 7-6 (13) marathon. Apparently, Secord, whose mother Linda Wild was ranked 23rd in the WTA in 1996 with five singles titles, thought he had the match won on a lob in the tiebreaker. It was called out and Ivanov, who trains at Rafael Nadal's academy in Spain, prevailed.
The lone American hope in the boys' 14s is sixth-seeded Jack Kennedy, who has gained confidence and momentum in every round, as he dispatched New Zealand's Jamie Mackenzie (17), 6-3, 6-1. That set up a semifinal against Weiyi Kong (17) of China, who took out Egypt's Eyad Ezzad, 6-2, 6-1.
No surprises in the girls' 12s as top-seeded Christina Lyutova, a Russian playing for America where she trains at Gorin Tennis Academy in Redmond, Wash., routed Boca Raton's Caroline Shao to advance to the semis.
Lyutova lost in last year's 12s' final. She will play No. 4 Yui Komada of Japan, after the Herr 12s' finalist won 6-4, 6-1 over Andreea Olariu (6) of Romania.
No. 2 Yeri Hong, Herr 12s' champion, allowed three games to No. 8 Hannah Ayrault (whose father Bryan is the agent for Bengals quarterback Joe Burrow as well as NFL defensive stalwart brothers Joey and Nick Bosa) and will play No. 3 Hiniya Minhas of Pakistan, a 6-4, 6-3 victor over Sun Xinran (5) of Bradenton.
In the girls' 14s, top-seeded Hannah Klugman, a Brit born and raised in Wimbledon, continued her mastery over all comers in a 6-0, 6-0 victory over Brazilian Victoria Barros. The slender Klugman, who seemingly has no weakness and elegant technique, hasn't dropped a set while allowing eight games in five matches. Barros had nothing to hurt Klugman.
"I'm feeling really confident, playing solid, really well,'' said Klugman, 13, who's hoping to follow her role model Great Britain's Emma Raducanu, winner of the US Open at 18 in 2021.
"I'm trying to stay as relaxed as I can. If I get too tense out there, I can't finish points."
Klugman will play practice partner and third-seeded Aussie Emerson Jones in one semi, after the Herr finalist shook off a patchy first set to down American Maria Aytoyan (9) 6-4, 6-0. Aytoyan, a Los Angeles native, trains at Evert Tennis Academy in Boca Raton.
The other semi will pit second-seeded Yihan (Sophia) Qu of China against No. 4 Adelina Lachinova of Latvia, who is part of the ITF Grand Slam Player Development Program. Lachinova, 14, achieved the critical break at 5-6 of the first set before running away with a 7-5, 6-1 victory over Russian Ksenia Efremova (6).
Efremova's coach Kevin Boumlin of the Patrick Mouratoglou Tennis Academy in France praised Lachinova: "She doesn't miss and she runs everywhere."
The 6-foot-2 left-handed Qu struggled against the looping topspin strokes of Argentine Maria Luna Cinalli (7) before finally sealing the 7-5, 7-6 (4) victory in an error-filled tiebreaker.
Cinalli, who boasts a rare one-handed backhand, is No. 2 in Argentina where she only plays on clay. She had never playing in a hard-court tournament before this week, so her inability to slide hurt her against Qu's flat warp-speed two-handed backhands.
Cinalli's consolation prize came when she was told by her fitness coach Claudia Castillo that Argentina had won the World Cup during her match.
"I was happy about Argentina's championship, but angry I lost my match,'' she said with a smile.