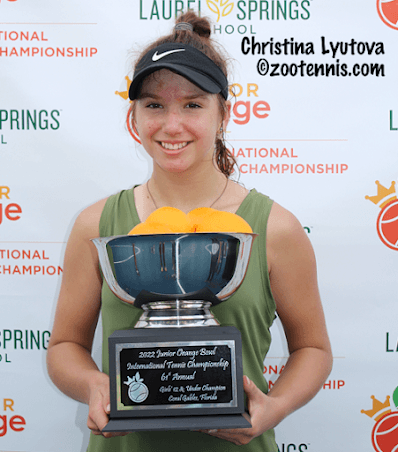 Lyutova is lone US representative to win a Junior Orange Bowl title this year
By Harvey Fialkov
Junior Orange Bowl head writer
CORAL GABLES – For a year, Christina Lyutova had one goal in mind, and that was to atone for her loss in last year's girls' 12s final in the Junior Orange Bowl on the hard courts of the Biltmore Tennis Center.
On a sun-splashed Tuesday morning, the top-seeded Lyutova achieved her dream. But it took approximately three hours to finally outlast her determined opponent, the second-seeded Yeri Hong of Korea, 3-6, 6-2, 6-4. In her first trip outside of her country, Hong lost after 11 consecutive victories, that included her 12s' title at the Level 2 Eddie Herr International Tennis Championships in Bradenton a few weeks ago.
Lyutova, who was born in Moscow but moved to Redmond, Wash., a few years ago to train at the Gorin Tennis Academy, has her green card and is allowed to represent the US at USTA tournaments. Thus, she is the only US player to win any of the four division titles and is the second US representative to win this event since Clervie Ngounoue in 2018.
"When I was down 1-4 in the first set my [new] goal was just to focus and hit every ball in,'' said Lyutova, 12, who intends to gain US citizenship. "On the pressure moments I focused more and put it in more."
Lyutova, who knocked off the fourth-seeded Yui Komada of Japan, 6-3, 7-6 (4) in a grueling semifinal, also trailed in the third set to Hong, a speedy defensive backboard. Lyutova, who bypassed the Herr tournament to win the USTA National Indoors in Toledo, Ohio at the end of November, never thought about losing as she did last year to Lia Belibova of Moldova, 6-3, 6-1, when she was also the top seed.
Hong went up 4-1 in the deciding set before nerves set in, and unforced errors followed, allowing Lyutova to win the final five games. Lyutova aimed her shots at Hong's backhand and started to find the lines on her groundstrokes. Neither player possessed a strong serve, so service breaks were common.
"When she started to miss, I felt more like I can do it, just push it,'' said Lyutova, whose sky-high service toss with a racket pause is unique. "I just wanted to win. I saw my team nervous, but they still supported me.
"I always try to think how to win, not how to lose. Yes, [last year's loss] fired me up and I said I will come back here next year, and I will win."
That she did when on her first match point, Hong gave Lyutova an early Christmas gift with a wild backhand error.
"I was so happy,'' Lyutova said. "It was hard work [to get here]."
Next month Lyutova will move up two age levels to play the USTA Winter Nationals 16s in Orlando. Lyutova said she wanted a cat for Christmas, but she travels too much. She will happily settle for the Orange Bowl trophy bowl filled with oranges.
Last year, Lyutova left the trophy presentation in tears. This year, the tears on court were from happiness.