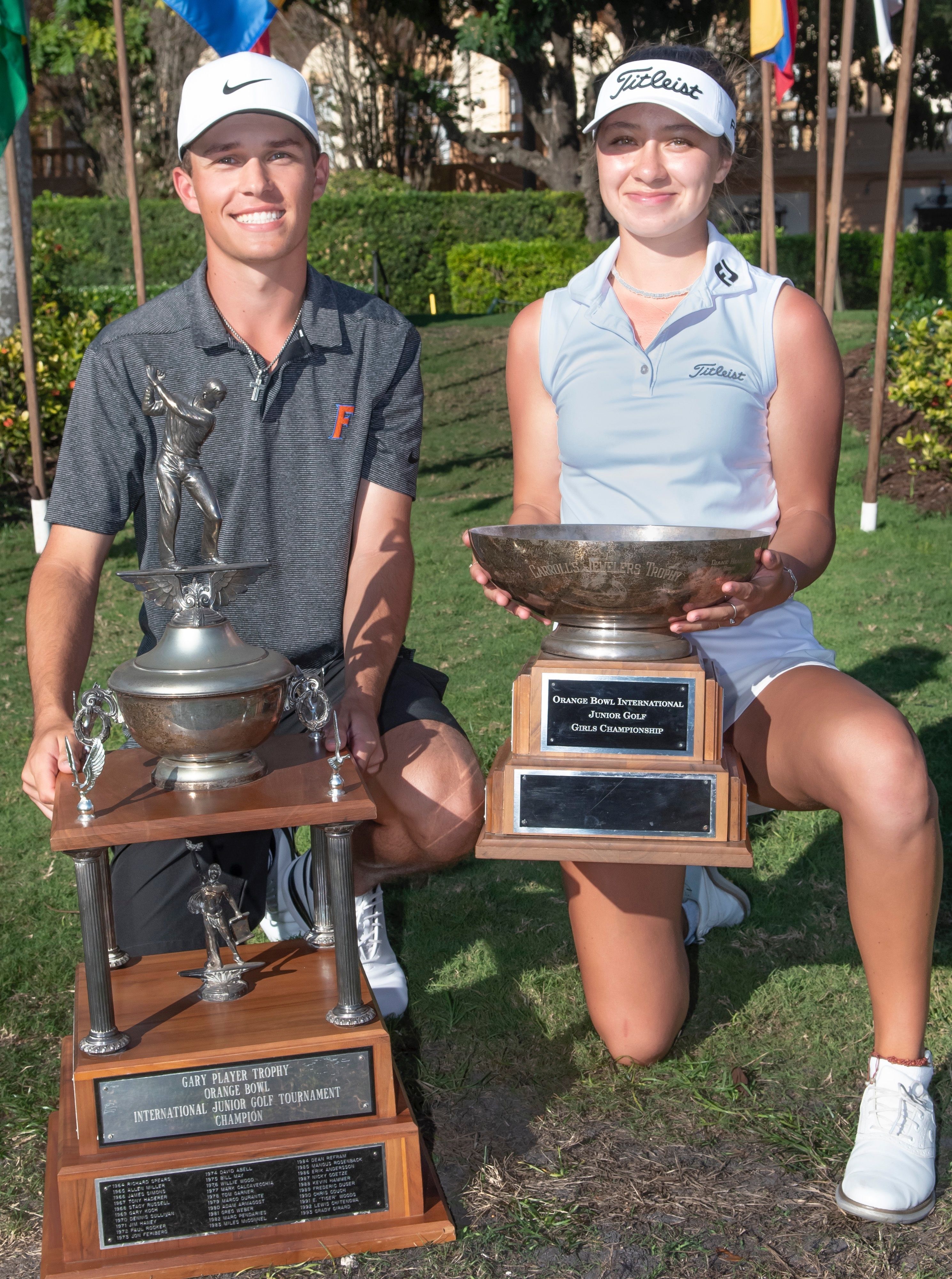 CORAL GABLES, Fla. (Jan. 6, 2023) — A year ago, Jay Brooks stood on the precipice of becoming a rare wire-to-wire winner at the Junior Orange Bowl International golf championships until getting chased down at the end by Nicholas Prieto's sizzling final 65.
Twelve months later, Brooks was never any closer to the lead than three shots after any round — until Friday.
"Today was exactly the opposite," marveled the South Florida teen, whose blistering start Friday set the stage for a role reversal and a bit of delayed gratification.
A 3-under-par 68 at historic Biltmore Golf Club, sparked by birdies in his first four holes, wiped out a four-shot deficit and finally put the champion's trophy in his hands. Brooks finished two shots clear of Marco Florioli (Italy) and Kelvin Hernandez (Puerto Rico).
"It feels great to finally win," added the Boca Raton golfer. "I had a sour taste in my mouth after last year, and it was great to finally get it done."
It was a good week for last year's runners-up. Anna Davis (Spring Valley, Calif.) also went one better in the girls' division, playing steady golf across all four days to capture a three-shot triumph over Belgium's Savannah De Bock.
"After I got second last year, I wanted to come back and win," said Davis, who went on to claim the Augusta National Women's Amateur crown three months after her runner-up finish at The Biltmore.
"I was really close last year, all four days, but just couldn't quite get it done," she added. "I guess you can say it gave me incentive."
Davis, who closed with a 73, became the first U.S. golfer to take home the Junior Orange Bowl girls' title since Lexi Thompson in 2009.
You have to go back a few additional years to find the last time the Junior Orange Bowl crowned a pair of United States champions. That would be 2001, when James Vargas and Christina Kim claimed top honors.
The roster of Junior Orange Bowl International champions also features Tiger Woods (1991), LPGA Hall of Famer Inbee Park (2002), LPGA major winners Brooke Henderson (2013) and Ariya Jutanugarn (2010) and recent PGA Tour winners Joaquin Niemann (2014) and Kevin Na (2000).
"I definitely felt confident," said Brooks, who finished four days at 8-under-par 276. "I played good enough golf to win last year, but I just got beat. There's nothing you can do about that. I just didn't want to let it happen again."
Brooks turned out to be the only golfer to break par in all four rounds, opening with a 70 and following that up with a pair of 69s. For all that solid play, though, he flew under the radar as rivals Hernandez and Florioli claimed the early spotlight with early 65s.
"Everyone was focused on them," Brooks said, "but I knew I still had a great chance at winning coming into the last couple of days. … It was just consistency and playing smart golf. I didn't make many mistakes and just played solid."
Brooks entered the final day four shots behind Florioli, whose 65 on Thursday had moved him to 9-under for the tournament. After those opening four birdies, though, he was breathing hard on the neck of the Italian.
"I knew the first five or six holes are the most gettable holes out here, and I was lucky enough to put myself in some good situations," Brooks said. "That put some pressure on Marco."
After both opened with birdies at the par-5 first hole, Brooks stiffed his tee shot at the par-3 second within a foot of the flagstick. Florioli missed the green on the way to bogey, cutting the margin to two.
Brooks made a 10-foot downhill birdie putt at No. 3 to pull within one, then nearly drove into a greenside bunker at the short par-4 fourth. He got it up-and-down from there to reach 4-under through four holes.
A two-shot swing at the par-3 eighth hole brought the rivals even, and Brooks nosed in front with a par save from the bunker at No. 10 while Florioli had to punch out from the trees for another bogey.
"That's it was just a matter of not making any silly mistakes and just playing golf as clean as I could," said Brooks, who strung together a back nine of eight pars and a bogey at the par-3 14th.
Florioli wound up carding a 74, going without a birdie over his final 11 holes.
"Tough day," the Italian said. "My putting was really bad, and my long game was not as solid. Just too many mistakes."
Hernandez carded a 70, grabbing a share of second with a near-eagle at the closing hole, but found chasing down two golfers too big a task.
"Jay was just on fire those first four holes," Hernandez said. "I kept myself cool and tried to catch up to Jay, but it never happened."
On the girls' side, Davis made sure she couldn't be caught with two birdies in her first four holes. Those turned out to be her only birdies of the day, but it was enough to keep De Bock from applying any serious pressure.
"I think it would have been a little harder if she was within one or two," said Davis, who finished four days at even-par 284. "But (the margin) was basically four the entire day."
De Bock, the reigning European Ladies Amateur champion, also finished with a 73 and lamented an inability to get approach shots close enough for good birdie looks.
"She's not one to make mistakes, so it's me that has to catch her," the Belgian said. "Overall it wasn't bad, but it wasn't good enough to catch her."
This year's field brought together entrants from such divergent locales as Ukraine, Paraguay, Finland, Hong Kong, Poland, Zimbabwe, Serbia, Iceland, Hungary, Haiti and the Cayman Islands.
A full leaderboard and other tournament information for the week can be found at JuniorOrangeBowl.org/what-we-do/sports/golf.
The Golf Championship is one of 10 athletic, artistic and cultural events that make up the Junior Orange Bowl International Youth Festival, which celebrates its 74th anniversary in 2022-23. The festival draws more than 7,500 youth participants to South Florida's community each year.
For more information on the Golf Championship or other Junior Orange Bowl activities, visit JuniorOrangeBowl.org.
#####
BOYS TOP 5
1. Jay Brooks, Boca Raton, Fla. 70-69-69-68=276 (-8)
t2. Marco Florioli, Italy 69-70-65-74=278 (-6)
t2. Kelvin Hernandez, Puerto Rico 65-71-72-70=278 (-6)
4. Marc Keller, Switzerland 72-72-69-66=279 (-5)
5. Cayden Pope, Lexington, Ky. 69-76-65-70=280 (-4)
GIRLS TOP 5
1. Anna Davis, Spring Valley, Calif. 72-69-70-73=284 (E)
2. Savannah De Bock, Belgium 73-73-68-73=287 (+3)
3. Kayla Bryant, Boca Raton, Fla. 73-71-74-74=292 (+8)
t4. Remi Bacardi, Miami 71-73-75-77=296 (+12)
t4. Valentine Delon, France 74-74-73-75=296 (+12)